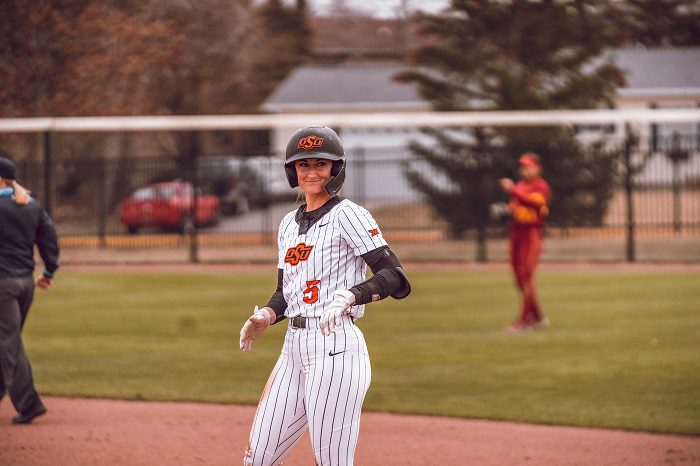 The fifth-ranked Oklahoma State Cowgirls are one of 16 teams taking part in this weekend's TaxAct Clearwater Invitational Presented by EvoShield Softball Tournament. It's a high-profile showcase featuring 12 squads ranked in the Preseason Top 25, and the Pokes played their headliner Friday morning against No. 9 Virginia Tech.
The Top 10 battle culminated in a 10-9 walk-off victory for the Cowgirls in the bottom of the seventh. Katie Lott delivered a pinch-hit, game-winning double to right center with one out, plating center fielder Chyenne Factor and improving Oklahoma State to 6-1.
With that in mind, here are three thoughts on the Cowgirls' victory:
1. Bomb Fest
The ball was flying out of the Eddie C. Moore Complex in the a.m. Friday. Oklahoma State put its power on display as part of that. It went deep three times in the first four innings. Those included a two-run home run by designated player Micaela Wark in the second and a pair of blasts by shortstop Kiley Naomi in the third and fourth, the first a solo homer and the second a three-run shot. This showcases an offense that just might be able to take some of the load off Kelly Maxwell's left arm. The Hokies, too, went deep their fair share of times. In fact, they finished with five homers, many by both teams not just leaving the yard, but leaving the zip code.
2. Lexi Kilfoyl Labors
As that previous bit of discussion would suggest, Lexi Kilfoyl did not carry her best stuff with her in West Central Florida in this one. The Alabama transfer gave up a trio of those Virginia Tech homers and surrendered six earned runs on 10 hits, with just a couple of strikeouts over five innings. She was eventually relieved by Kyra Adcock, who picked up the win despite allowing another couple of long balls and three earned runs on four hits and a walk, with a strikeout. So far, Kilfoyl has appeared in three contests and is 1-0 with a 3.41 ERA, racking up 14 strikeouts to two walks.
3. Taste of potential late postseason
Both teams advanced to Super Regionals last year, and both have aspirations of doing that and more once again in 2023. Oklahoma State, of course, finished up only one game shy of the Women's College World Series Finals, dropping two games to Texas that would have sent it there. Virginia Tech, meanwhile, suffered a similar setback in their quest for the WCWS, claiming the first game of Supers before falling to Florida in the next two. Well, if this game is any indication, both are going to be serious forces when NCAA Regionals roll around here in a few months. The pitching left plenty to be desired, but offenses and the will not to quit under high-leverage situations were on full display. These teams are both legitimate and will continue to prove so as the spring continues.