Trending Now
Deion Sanders Wants Quarterback Recruits with 'Dual Parents', D-Linemen With 'Single Mamas'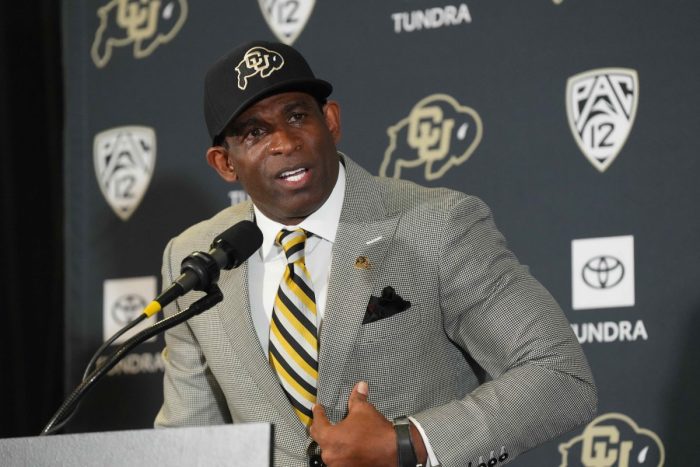 Colorado head coach Deion Sanders is a polarizing personality by every stretch of the imagination and anytime he finds himself in front of a microphone, people hold their breath for the next great quote.
Last week, Sanders was a guest on the "Rich Eisen Show" ahead of Super Bowl LVII, and "Coach Prime" had some interesting recruiting insight to pass along to listeners.
"Well, we have different attributes. Smart, tough, fast, disciplined with character. Now, quarterbacks are different," Sanders told Eisen last week. "We want mother, father. Dual parent. We want that kid to be 3.5 [GPA] and up. Because he has to be smart. Not bad decisions off the field, at all. Because he has to be a leader of men. 
Sanders' requirements for offensive linemen are similar, but his needs for a defensive lineman are a bit different.
"Defensive linemen is totally opposite. Single mama, trying to get it, he's on free lunch," Sanders continued. "I'm talking about just trying to make it. He's trying to rescue mama. Like mama barely made the flight. And I want him to just go get it. 
"It's a whole different attribute that you look for in different positions. And we have that stuff just chronicled. We know what we want, and we go get it." 
Sanders arrived at Colorado after a 1-11 season in 2022 and managed to bring in the No. 21 class in the 2023 cycle and a top-five transfer class, according to 247Sports.
After just two months on the job, Sanders has folks in Boulder believing that change is on the horizon.
"We're not recruiting just no ordinary Tom, Dick and Harry," Sanders said. "We recruited some guys that can light up the scoreboard and prevent touchdowns from occurring. We're coming. We're serious about that.
"Hope is in the house. Hope is in the air. Hope is in the city. Hope is in the community."