Big 12 News
Joe Lunardi Says Big 12 Could Have 'Historic Impact' on NCAA Tournament Bracket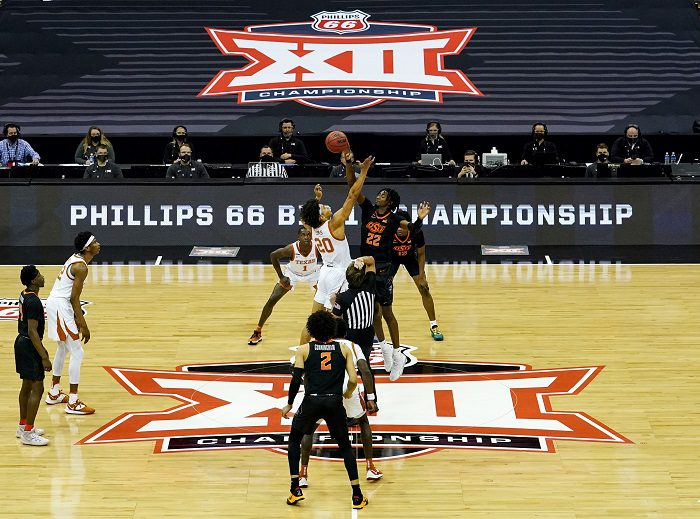 The NCAA Tournament is getting closer with conference play beginning to wind down across college basketball. Now, all eyes turn to the Bracketology expert in ESPN's Joe Lunardi. During College GameDay at Allen Fieldhouse on Saturday, Lunardi spoke about the incredible powerhouse teams from the Big 12 Conference, saying that the Big 12 could have a, "historic impact" on the NCAA Tournament bracket.
Lunardi went on to add during College GameDay on Saturday that eight Big 12 teams are solidly in the NCAA Tournament field, saying, "No matter how you slice it, the Big 12 is breaking every bracket record."
Lunardi went on to note that if the Big 12 lands eight teams in the NCAA Tournament, that's 80% percent of the league, which would be a record, topping the Big East in 1991, when seven of nine teams (77%) made the Big Dance.
Lunardi currently has the Kansas Jayhawks sitting as a one seed, Texas and Baylor as two seeds, Kansas State and Iowa State as four seeds. Oklahoma State, TCU and West Virginia are also all on their way into the tournament as of Saturday morning, and could be potential bracket spoilers in any Regional this March.
At the moment there is still potential for every single team in the conference to find their way into the tournament as Texas Tech and Oklahoma both have quality Top 25 wins on their resume.
The Big 12 basketball schedule is as follows for Saturday, February 18th:
No. 9 Baylor Bears at No. 5 Kansas Jayhawks, 3:00 CST.
No. 19 Iowa State at No. 12 Kansas State, 1:00 CST.
Oklahoma at No. 6 Texas, 1:00 CST.
Texas Tech at West Virginia, 11:00 CST.
Oklahoma State at No. 22 TCU, 1:00 CST.