Big 12 News
Sixth-Ranked Texas Hangs On to Beat Oklahoma 85-83 in Overtime in Red River Showdown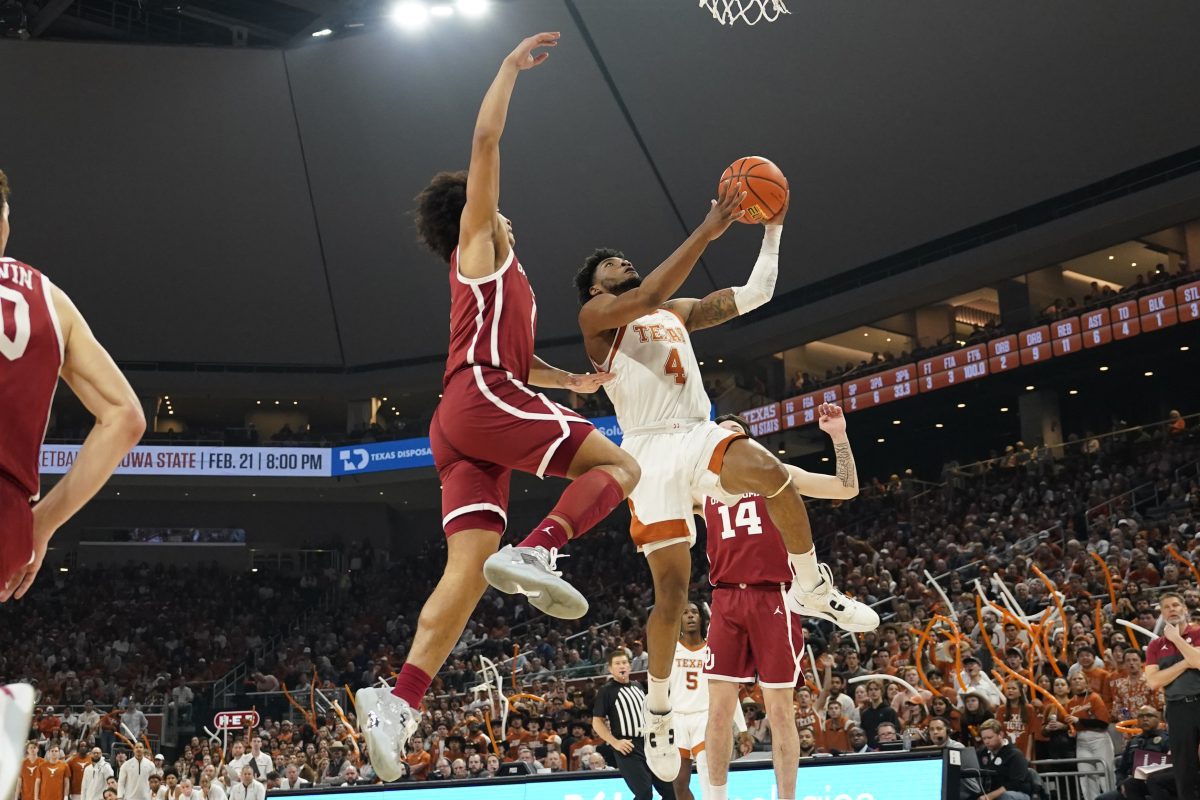 Jalen Hill drove the length of the court, then dropped off a dish to Sam Godwin, but the 6-foot-10 forward couldn't convert on what would have sent the Red River Showdown to a second overtime. Instead, the Oklahoma Sooners were left with another frustrating setback in a season full of frustrating setbacks and the sixth-ranked Texas Longhorns wound up breathing a massive sigh of relief after a thrilling 85-83 win over their arch rivals Saturday afternoon at the Moody Center.
Both Oklahoma and Texas had strong stretches in a back-and-forth first half. An 8-0 run in the opening stages helped Oklahoma grab a 10-4 advantage. Texas countered with a 17-6 extended run that pushed it out to a five-point lead at 21-16. The teams then fought to a 34-34 tie at the halfway point.
For a long stretch, neither team led by more than four points. But another 10-2 Sooners run put them up 57-50 with just more than 10 minutes remaining.
They carried that margin until the 8:06 mark. But that's when things changed, as forward Tanner Groves picked up his fourth foul and Texas surged back to tie the game by the five-minute mark.
The Longhorns then reclaimed the lead at 60-57 with a 3-pointer by guard Sir'Jabari Rice. Leading narrowly inside the final minute, they appeared to be on their way to closing it out.
However, Oklahoma guard Grant Sherfield refused to let that be the case. Misses near the rim by guard Otega Oweh and forward Sam Godwin resulted in a rebound by forward Jalen Hill and kick to Sherfield for a game-tying triple with seven seconds left. Texas guard Marcus Carr then missed at the buzzer, sending the game to an extra frame.
Rice led all scorers with 24 for the victorious Longhorns. He was joined by three others in double figures, including Carr and forwards Timmy Allen, Dylan Disu and Brock Cunningham, with 17, 15, 12 and 10, respectively.
For the Sooners, Sherfield led the way with 18 points on 7-of-16 shooting. Guard Milos Uzan, Godwin, guard Joe Bamisile and Hill joined him in double figures with 15, 13, 12 and 11, respectively.
Oklahoma actually outshot Texas 48.3% to 47.7% and had a 36-33 edge in the rebounding column. But Texas dished out 19 assists compared to 15 for Oklahoma.
The Sooners return to action when they welcome the Texas Tech Red Raiders to Norman at 8 p.m. CT Tuesday. The Longhorns next host Iowa State, also at 8 p.m. CT Tuesday.