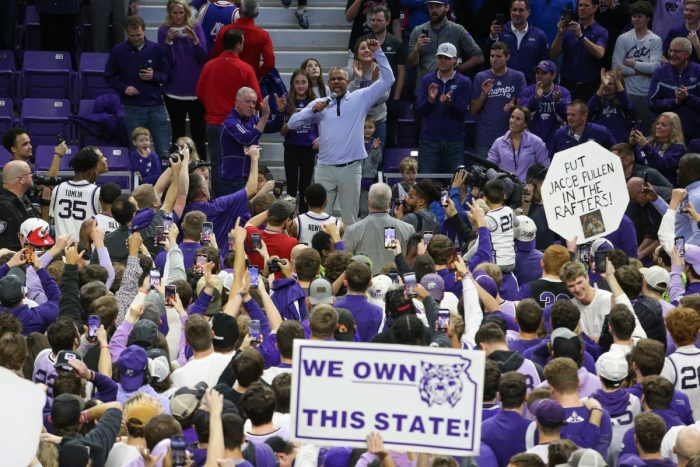 Jerome Tang's post-game celebration streak continued following Saturday's 61-55 win against the Iowa State Cyclones. After the Wildcats earned the major victory, Tang finished shaking hands and headed immediately to the crowd to celebrate.
Tang has made it his mission to celebrate with K-State fans following each win, thanking them for their support by joining in on the age old tradition of the Wabash.
Tang was asked by reporter Sully Engels after Saturday's triumph if he believed that he was the fastest coach in the nation, as his speed has been on full display on social media in his post-game celebrations this season.
"I'll be transparent and tell you I haven't been working out much," Tang said. "I haven't figured out a routine yet. I was huffing and puffing at the top of it, so I purposely made sure I slowed down through the handshake line enough because if I catch too much of the Wabash I get tired."
Tang stressed his gratitude to the students and fans for showing up and supporting the Wildcats by offering the following: "I saw students lined up. It was cold, and they were lined up early this morning. The response to the video I put out and how they said they would be there and the fact that they showed up all the way to the corner to the top. I was just so moved by their willingness to support the team and be there for us. Just very, very thankful for them."
The Wildcats have a quick turnaround for Tuesday's matchup with Tang's former team, Baylor. The Wildcats will need all the support from fans they can get in their second straight top 25 matchup at home.