Baylor Bears
Big 12 Baseball: Winners and Losers From Opening Weekend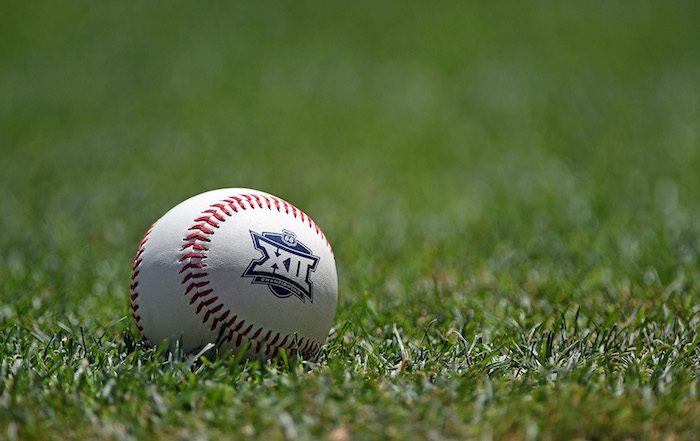 It has been a long offseason but the road to Omaha officially started on Friday. That's right folks, college baseball is back! There was plenty to take away from opening weekend between tough matchups and great games. Here are the winners and losers from opening weekend.
Winners
Texas Tech (3-0)
Friday: Won 8-4 against Gonzaga
Saturday: Won 10-3 against Gonzaga
Sunday: Won 12-3 against Gonzaga
The Red Raiders have one more game left in their series against Gonzaga, but they already won three games to take the series. The bats stayed hot all weekend long as the Red Raiders scored a whopping 30 runs in their first three games to start the season. Gavin Kash was the man on Friday as he drove in three runs and hit a homer. Meanwhile game two was more about starting pitcher Mason Molina who allowed just a single hit in five innings while Sunday's matchup saw Ty Coleman go five for five as he had a team high 3 RBIs.
Kansas (3-0)
Friday: Won 5-1 against Valparaiso
Saturday: Lost 11-3 to Valparaiso
Sunday: Won 6-4 against Valparaiso
After splitting the first two games, the Jayhawks ended up taking the series on Sunday down in Corpus Christi. Chase Jans came up big for Kansas on Sunday afternoon as he hit the go ahead three run blast to help push the Jayhawks to victory. There is still more work to be done in Lawrence by head coach Dan Fitzgerald but this past weekend was a big step in the right direction.
TCU (2-1)
Friday: Won 11-4 against Vanderbilt
Saturday: Won 18-6 against Arkansas
Sunday: Lost 9-8 to Missouri
Despite the heart breaking loss in extra innings on Sunday night, no Big 12 team had a better weekend than TCU. They manhandled Vanderbilt on Friday night as Elijah Nunez had four RBIs. Saturday turned out to be even better as they put another beatdown on an SEC team. Austin Davis led the Frogs on Saturday with three runs batted in which included a solo blast to left field. I know losing to Missouri stung a little bit but it was a big weekend for TCU as they beat two top ten teams in Arlington.
Kansas State (3-0)
Friday: Won 7-6 against Stephen F. Austin
Saturday: Won 8-4 against Stephen F. Austin
Sunday: Won 14-8 against Stephen F. Austin
Break out the brooms because Kansas State went to the Lone Star State and cleaned up against the Lumberjacks. The Wildcats took game one after Kyan Lodice's big two run double to take the lead in the eighth inning. On Saturday, the long ball was key for Kansas State as Roberto Pena, Cole Johnson, and Nick Goodwin all went yard. The hot bats continued on Sunday for the Wildcats as they put up 14 runs to complete the sweep.
Losers
Texas (0-3)
Friday: Lost 3-2 to Arkansas
Saturday: Lost 6-5 to Missouri
Sunday: Lost 12-2 to Vanderbilt
There were several Big 12 teams who had some rough starts but none bigger than Texas. The Longhorns played in the State Farm College Baseball Showdown and went 0-3 against Arkansas, Vanderbilt, and Missouri. I thought starting pitcher Lucas Gordon did a nice job on Friday but outside of that, Texas had trouble on the mound and even got blown out by Vanderbilt on Sunday as they fell 12-2. Texas better pick things up because the schedule isn't going to get easier with games against #1 LSU and Cal State Fullerton coming up.
Baylor (1-2)
Friday: Won 6-5 against Central Michigan
Saturday: Lost 20-5 to Central Michigan
Sunday: Lost 4-3 to Central Michigan
The Bears started off the weekend right with an extra innings win over Central Michigan but then face planted on Saturday and Sunday. While Jack Johnson delivered the game winning hit on Friday, Baylor didn't even come close to winning on Saturday as the Chippewas put a 20-5 beatdown on the Bears. And if not for a bad fourth inning, Baylor may have been able to take the series on Sunday.
Oklahoma (1-2)
Friday: Won 5-2 against Cal Baptist
Saturday: Lost 5-2 to Cal Baptist
Sunday: Lost 6-3 to Cal Baptist
Oklahoma got of to a solid start on Friday as starting pitcher Kale Davis pitched five quality innings in the Sooners 5-2 win on opening day. But things went south over the next two days. The Sooners collapsed in the eighth inning on Saturday giving up 3 runs after the game was tied at two. Surprisingly, that wasn't the only eighth inning collapse the Sooners would have this weekend as the same thing happened on Sunday. This is not the start Oklahoma wanted especially against a team like California Baptist.
Oklahoma State (1-2)
Friday: Won 5-3 against Missouri
Saturday: Lost 11-9 to Vanderbilt
Sunday: Lost 18-1 to Arkansas
Just like their rival in Norman, Oklahoma State started the weekend off with a win before dropping their last two games. On Saturday against Vandy, the Cowboys almost completed a major comeback behind the bats of Roc Riggio and Nolan McLean after being down 11-2. Unfortunately, that comeback fell short. To make matters worse, they were absolutely annihilated by Arkansas on Sunday in a game that was never close.
West Virginia (1-2)
Friday: Lost 4-3 to Georgia Southern
Saturday: Lost 6-2 to Georgia Southern
Sunday: Won 13-4 against Georgia Southern
While Saturday's game wasn't close, West Virginia did end the weekend with a nice win against a good Georgia Southern team. The bats were on fire on Sunday as the Mountaineers scored 13 runs. Barry Braden, Caleb McNeely, and Landon Wallace each had three RBIs. While they did manage to take a game down in Statesboro, they should have been able to take the series because they blew a 3-1 lead on Friday late in the game.