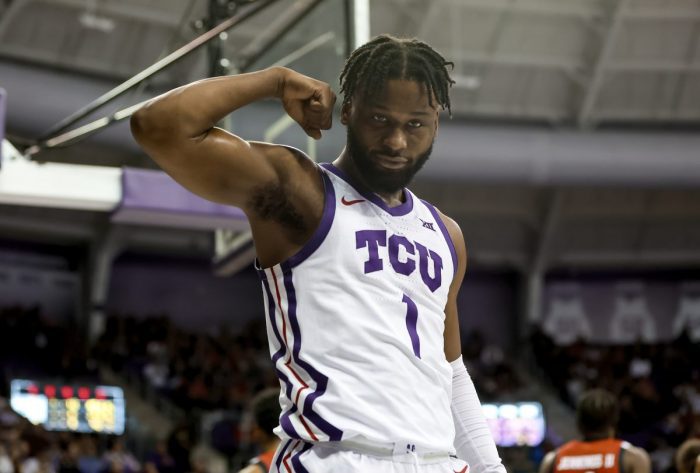 The Kansas-TCU game is in the Draft Kings Daily Fantasy Sports pool for men's college basketball as Big 12 play continues on Monday.
This season, when Big 12 games are part of the pool at Draft Kings, I'll provide my recommendations based on the lineup I'm playing that day.
In this case, since it's a specific game for just Kansas and TCU, the recommendations are for a six-player team, with one selected player — the captain — getting 1.5 times the fantasy points. The salary cap is $50,000.
The goal is to fill out a complete Big 12 lineup. With two teams and six slots, we can do just that.
Here is Monday's lineup/recommendations:
Captain
F Jalen Wilson, Kansas ($15,900)
You really can't go wrong taking Wilson as the captain in this game. Yes, grabbing Mike Miles from TCU would be an option here. But from a fantasy perspective, Wilson has been the most consistent player in the conference all year.
He's coming off a game against Baylor in which he scored more than 42 fantasy points and had a double-double. That's a big reason to take Wilson in this game, his capability of creating a double-double as one of the best rebounders in the conference. If you look back at Kansas' first game with TCU, the one the Jayhawks lost by 23 points, Wilson still had more than 40 fantasy points.
He's about as close to a lead-pipe lock for at least 35 fantasy points as you can get. And, with the captain bonus, he's the right selection here on Monday.
From here, I'll take two Jayhawks and three Horned Frogs.
The Remaining Five
Kansas: G Gradey Dick ($7,400), G DaJuan Harris Jr. ($6,800)
TCU: G Mike Miles ($7,800), F Emanuel Miller ($7,200), G Micah Peavy ($4,200)
Dick's game has come around recently. He had nearly 40 fantasy points against Oklahoma State and nearly 27 against Baylor. When his outside shot is hitting, he's invaluable to Kansas and to daily fantasy players.
I'm surprised Harris is still this cheap, considering he seems to be done being a hot-and-cold player offensively. He had 33 fantasy points against Baylor, but he's averaging about that figure in his last four games. He's not a boom-or-bust pick anymore.
Miles is the one I'll bank on for TCU on Monday night. In his first game back from injury he scored just 21 fantasy points on Saturday. But all he really did was score in that game. The assists and rebounds should come around this time.
Miles' return to the lineup boosted Miller's fantasy production, to the point where he had 31.75 fantasy points on Saturday after scoring that much in the previous two games. That's how much of a difference Miles makes for this team, and I'd trust Miller to have another good game on Monday.
Peavy has had some great games in Miles' absence, but his playing time did go down against Oklahoma State. He still had 19 fantasy points. Still, Peavy has earned coach Jamie Dixon's trust and I suspect he'll get key playing time on Monday night.
–
Scoring system: Point: +1 Pt; Made 3pt Shot: +0.5 Pts; Rebound: +1.25 Pts; Assist: +1.5 Pts; Steal: +2 Pts; Block: +2 Pts; Turnover: -0.5 Pts; Double-Double (Max 1 Per Player: Points, Rebounds, Assists, Blocks, Steals) +1.5 Pts; Triple-Double: Max 1 Per Player (Points, Rebounds, Assists, Blocks, Steals): +3 Pts
You can find Matthew Postins on Twitter @PostinsPostcard