Trending Now
Pac-12 Hopes Hinged Upon George Kliavkoff Having 'Something Up His Sleeve'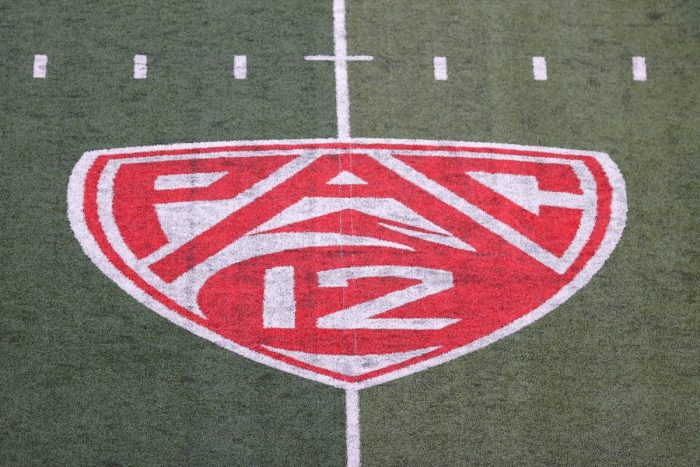 ESPN's Pete Thamel published an article on Monday detailing the situation in which the Pac-12 currently finds itself in. The short of it? It's not looking good.
Over the last several months, we have seen the Pac-12 unable to secure a media rights deal with any major television network. FOX is out of the running, as are CBS and Turner. ESPN isn't willing to pay the Pac-12 what it thinks it's worth (~$40M annually, per school). That leaves streaming options like Apple and, most notably, Amazon to pay for the Pac-12 product.
As it stands, the 10 schools in the conference just don't bring enough to the table for networks to get excited, and the schools that are available to add aren't exactly exact replacements for USC and UCLA.
So, what will they do?
In the coming weeks, Pac-12 commissioner George Kliavkoff will deliver the conference's television contract numbers, and if the member schools find it satisfactory, then a short-term deal might be made, essentially saving the conference, for now.
But, according to Thamel (Paid Content), there's not a lot of certainty on how that George Kliavkoff will make that happen.
"We're going to find out if George has had something in his back pocket the whole time," a Pac-12 source told ESPN. "Unfortunately, this next deal is about keeping this league alive after a decade of Larry Scott's poor decisions and failed strategies."
Larry Scott left Kliavkoff an impossible mess to clean up, with a mess of a television contract, broadcasting issues, and a huge overhead cost. Whether unfair or not, Kliavkoff will be judged on how he handles the television contract, and, according to Thamel, the suitors are growing thinner.
"Within the industry, there are a lot more television suitors who have passed on the Pac-12 than those who are believed to still be interested in paying market value," Thamel writes. "ESPN and Amazon have long been the speculative favorites, but the level of their interest remains the key variable. And that has caused both an undercurrent of nervousness among the Pac-12 programs and emboldened other leagues interested in adding schools."
"If [Kliavkoff] has something up his sleeve, it's with some entity that no one knows about," an industry source told ESPN.
That doesn't sound overly positive for the Pac-12, but even if they do find a way to strike a deal that is similar to the Big 12's, what does the long-term answer look like? The Big 12 is secured through 2030-31, the Pac-12 is likely looking at a five-year deal if they get one at all.
What can the Pac-12 offer to keep Oregon and Washington from jumping ship? They've already flirted with the idea of leaving for the Big Ten, and as soon as the conference extends a hand, the Ducks and Huskies are gone, and with them the hopes of the remaining schools sticking together.
You'd better believe that the corner schools are thinking about the Big 12 as a backup plan with all of this uncertainty flying around. As soon as something goes wrong, getting a piece of the Big 12 pie and starting over in a new conference is a soft landing compared to having to join up with the Mountain West or try and piece together a new-look Pac-12 with smaller Group of Five schools.
There doesn't appear to be a long-term solution, at least not for now, but the world of conference realignment is unpredictable. Who knows what might happen, but right now things don't look great and unless George Kliavkoff is secretly Harry Houdini, he might be all out of tricks.