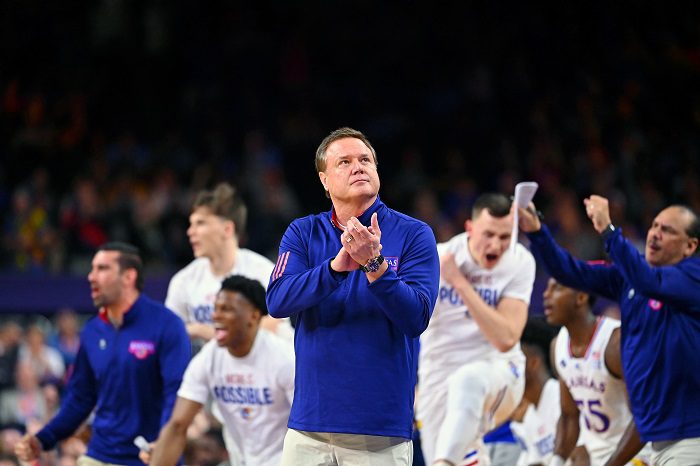 The Big 12 has two games on Monday night, with West Virginia hosting Oklahoma State and TCU hosting Kansas. Here are three thoughts on the night.
West Virginia Routs Oklahoma State
The stakes were clear going into this game.
Per ESPN Bracketolgoy, Oklahoma State was one of the Last Four Byes and West Virginia was among the Last Four In for the NCAA tournament. The winner got a boost. The loser got a little bit closer to the bubble.
West Virginia (16-12, 5-10) needed this game more than Oklahoma State (16-12, 7-8), and the Mountaineers responded in a big way, winning 85-67.
Erik Stevenson (23 points), Tre Mitchell (22 points) and Kedrian Johnson (12 points) had big games. The Mountaineers got off to a hot start and were up nearly 20 points at the break. They never looked back. If you're looking for the differentiator, look at West Virginia's 28 points off 18 Oklahoma State turnovers. That's an incredible rate of return off of the Cowboys' mistakes.
Oklahoma State shot 30 percent in the first half and despite getting back into offensive shape in the second half, the Cowboys didn't mount a credible comeback.
Caleb Asberry scored 15 points and Bryce Thompson added 14. The Cowboys lost Kalib Boone to foul trouble, including a technical foul, and he had just four points. Moussa Cissa gave OSU eight points and seven rebounds. But Boone has been the Cowboys' hottest player the past few weeks. If he's not firing, the Cowboys are going to have issues.
So now what? Both should be in the field when ESPN releases his Tuesday update. The question is where the two teams will be. Does WVU move into the Last Four Byes? Does OSU move closer to the bubble? Or, does little change? It should be interesting.
Kansas Outlasts TCU
This game was strangely lacking offense down the stretch.
Both teams went nearly the final five minutes of the game without a field goal. Kansas made one of its final seven attempts while TCU made one of its final 10 attempts. For the Horned Frogs that defined the final stretch. TCU had every chance to win but couldn't get the basket it needed to fall.
Not even TCU quarterback Max Duggan walking in from the Davey O'Brien dinner late in the second half could lift TCU, as Kansas won 63-58.
The Horned Frogs (18-10, 7-8) shot just 30 percent but made more 3-pointers (five) than Kansas (three). Both teams had 19 fast-break points, so the tempo was favorable to both teams. They combined for 18 turnovers. Despite the bad shooting down the stretch, it was a well-played game.
Kansas is still undefeated in Big 12 play when it leads at the half. The Jayhawks were up 33-29 after 20 minutes, with Gradey Dick having the big half. He finished with 19 points. Kevin McCullar chipped in 15 points, and Kansas needed it because forward Jalen Wilson had just seven points on 3-of-11 shooting. But he did grab 13 rebounds. DaJuan Harris Jr. ran the offense well, dishing out eight assists, along with six points and five rebounds.
TCU got 13 points from Mike Miles Jr., but the Jayhawks put Harris on him for most of the night and did his best to limit his effectiveness. Ja'Kobe Coles added 12 points and Damion Baugh added 11. TCU got eight points and seven rebounds from Emanuel Miller, but could have used more from center Eddie Lampkin Jr., who had two points but eight rebounds.
It's entirely possible these two teams will see each other again soon. Like Kansas City soon.
Up-To-Date Big 12 Race
Want up-to-date seedings? Here you go, from ESPN during the Kansas-TCU game.
And, thanks to a Twitter user (@mookjnsn), an Iowa State fan, he turned me on to bball.notnothing.net to check the seeding after Kansas' win. Guess what? Nothing changed.
Kansas remains the No. 1 seed. TCU remains the No. 6 seed. Oklahoma State remains the No. 7 seed and West Virginia remains the No. 8 seed.
As far as the standings go, Kansas still controls its own destiny for the Big 12 regular-season title, since it faces Texas in the season finale.
You can find Matthew Postins on Twitter @PostinsPostcard