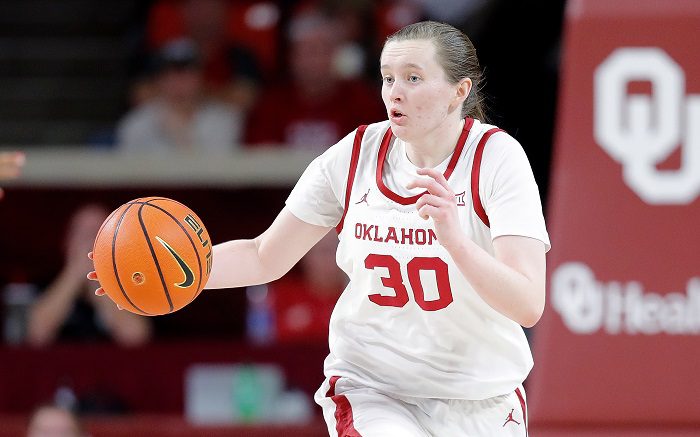 Three Big 12 teams are among the nation's best as the AP Top 25 Women's Basketball poll, released on Monday after last week's games.
Here are our three thoughts on the poll from a Big 12 perspective.
Looking ahead to OU-Texas
We will have to wait until Saturday to see it, but the big game of the week in the Big 12 is No. 13 Oklahoma against No. 19 Texas. The significance of the game has nothing to do with the rankings, although it's nice to have a Top 25 showdown on the weekend.
With both teams tied for the Big 12 lead and both off until Saturday, the winner of the game gets sole possession of first place in the Big 12 with a week to go. Odds are, we're looking at the two teams that will be the top two seeds in Kansas City at the Big 12 Tournament.
I doubt a loss by either team on Saturday will mean that they will drop out of the Top 25. I know Texas is closer to the bottom, but I think the longhorns have built up enough respect to stay in the poll even if they lose.
Iowa State Gets a Bump
Iowa State won both games last week, including a victory over Baylor, and the Cyclones moved up two spots in the poll to No. 20. Iowa State is the only other Big 12 team in the Top 25, and I suspect the Cyclones will stay there for the final two weeks of the season.
The Cyclones have a big game coming up at mid-week. When it comes to the Top 25, a win for the opponent would mean more. But for both teams, it's a critical game. The Cyclones and their opponent are tied for third in the Big 12. The winner would get third place to themselves and the potential No. 3 seed in Kansas City. The loser would most likely be No. 4.
Yes, it's time to start thinking like that. Just two weeks to go.
Oklahoma State's Big Chance
That opponent for Iowa State on Wednesday is Oklahoma State, and the game represents the Cowgirls' best chance to get into the Top 25 next week.
The Cowgirls are on a five-game winning streak and they're the only Big 12 team receiving votes this week. Oklahoma is receiving the third-most votes of any team outside the Top 25 (18 votes). OSU doesn't have a considerable gap to make up, either. No. 25 Illinois received just 29 votes.
That means OSU needs a win like the one it could claim against Iowa State to build up some credentials with voters. I don't think national voters know enough about this team to realize that they're playing like a Top 25 team right now.
A win over Iowa State, coupled with a victory over Kansas on Sunday, might change some minds.
This Week's AP Top 25 Poll
No. 1 South Carolina, No. 2 Indiana, No. 3 Stanford, No. 4 UConn, No. 5 LSU, No. 6 Iowa, No. 7 Maryland, No. 8 Utah, No. 9 Virginia Tech, No. 10 Notre Dame, No. 11 Duke, No. 12 Michigan, No. 13 Oklahoma, No. 14 Arizona, No. 15 Villanova, No. 16 Ohio State, No. 17 UCLA, No. 18 Gonzaga, No. 19 Texas, No. 20 Iowa State, No. 21 Colorado, No. 22 North Carolina, No. 23 Florida State, No. 24 UNLV, No. 25 Illinois. Big 12 Teams Receiving Votes: Oklahoma State, 18.
You can find Matthew Postins on Twitter @PostinsPostcard.