Baylor Bears
Big 12 Baseball Power Rankings: TCU Ascends in Week 1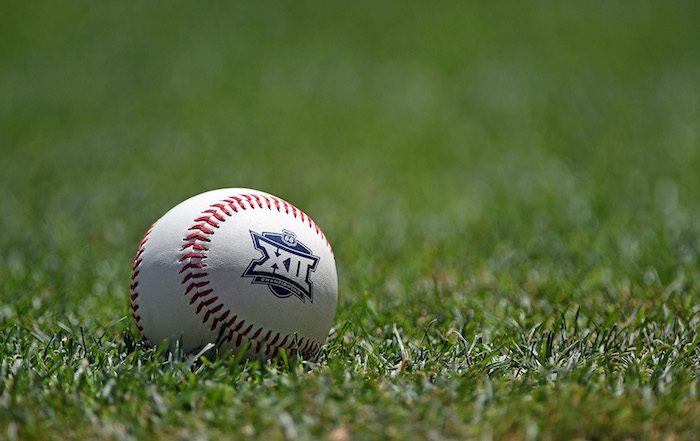 Baseball is back as opening weekend has come and gone. It was a busy weekend full of surprises and big moments.
Each week I will release my Big 12 baseball power rankings and here are this week's rankings.
1. TCU (2-1)
The Horned Frogs had one heck of a weekend in Arlington as they defeated two top-ten teams. Arkansas and Vanderbilt are really good, and TCU handled both of them with ease. Despite dropping Sunday's game against Missouri in extra innings, I thought the Horned Frogs proved themselves this weekend as they earned themselves a spot in the top ten.
2. Texas Tech (4-0)
I know Gonzaga isn't a juggernaut but the fact that the Red Raiders were able to sweep the four-game series is pretty impressive. They scored a whopping 39 runs in their first four games as their bats stayed hot all weekend long. If they continue to hit like that then the rest of the Big 12 better watch out.
3. Oklahoma State (1-2)
While Oklahoma State didn't leave Arlington with the results they wanted, they did play some tough competition. The Cowboys took care of business against Missouri but got beatdown by both Vanderbilt and Arkansas on Saturday and Sunday. The pitching scares me but it is still early in the season so no need to panic just yet.
4. Kansas State (4-0)
I thought Kansas State would have their hands full with Stephen F. Austin but that wasn't the case. Instead, the Wildcats completed a four-game sweep on Monday afternoon as their bats were hot in all four games as they ended up scoring a whopping 45 runs. I still have some question about them on the mound but if their bats stay like this then they can hang with anyone in this conference.
5. West Virginia (1-2)
Sure, the record doesn't reflect where I have them on the list, but I thought they handled themselves well against a really good Georgia Southern team in Statesboro. If not for a blown lead on Friday, then they would have likely taken the series after their big win on Sunday.
6. Kansas (2-1)
I had to put Kansas ahead of some other teams because they at least won their series down in Corpus Christi against Valparaiso. There's still plenty of work to be done in Lawrence by new head coach Dan Fitzgerald but this past weekend was a step in the right direction.
7. Texas (0-3)
The Longhorns are getting the benefit of the doubt here due to their tough opening weekend schedule. They played down in Arlington along with Oklahoma State and TCU but they didn't do nearly as well as either one of those two teams. Instead, they got annihilated on Sunday against Vanderbilt and their pitching really struggled all weekend long.
8. Oklahoma (2-2)
The good news is that Oklahoma picked up a nice win against Air Force on Monday night. However, the bad news is that they dropped a series at home against California Baptist last weekend which shouldn't have happened.
9. Baylor (1-2)
There is no easy way to put it. Baylor kept two out of their three games close but completely fell apart on Saturday as they lost 20-5 against Central Michigan. Hopefully they will have a better weekend soon.