Baylor Bears
Big 12 Softball Power Rankings: Cowgirls, Bears Rise, Sooners Fall After First Loss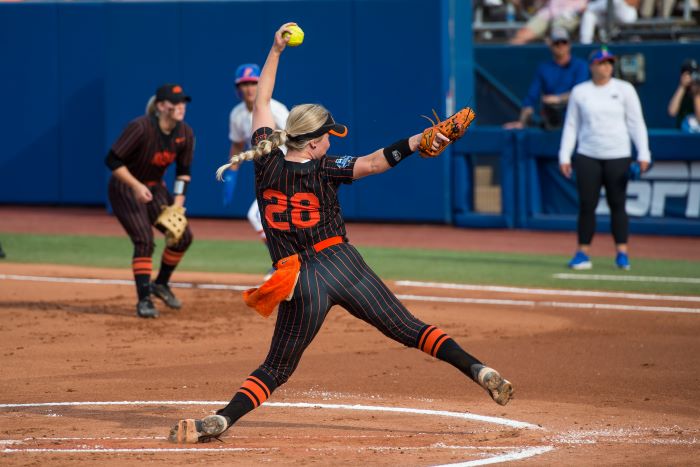 My how things change over the course of a weekend. Oklahoma came into the second week of softball as the unanimous No. 1 team in the sport, but they left Waco with their first loss of the season, a 4-3 loss to Baylor in the Getterman Classic.
Meanwhile, Oklahoma State had as dominant a showing as you could ask in the TaxAct Clearwater Invitational this weekend, going a perfect 5-0 on the week while outscoring opponents 45-17 along the way.
With some impressive performances, and some concerning ones, there's some big changes in this week's Big 12 Softball Power Rankings. Let's get to it.
Let's take a look at the Big 12 Softball Power Rankings after Week 1.
What a weekend it was for the Cowgirls. In one of the nation's most competitive tournaments, Oklahoma State ran through the competition. Outscoring opponents 45-17 over the weekend is impressive, but when you take into account that every team they played was either ranked or receiving votes, it is eye-opening. OSU's bats caught fire in Florida, with 12 homeruns over the weekend, including four homers from Kiley Naomi. That, coupled with Kelly Maxwell in the circle, will make Oklahoma State a tough out for anyone in the country.
For the first time since 2017, Glenn Moore and the Baylor Bears found a way to take down Patty Gasso and the Oklahoma Sooners. A three-run bomb from Shaylon Govan in the 4th inning made it 4-1 Bears, and that proved to be enough for a monumental win in Waco. Baylor had moved up to No. 3 in our Power Rankings last week after pushing Arkansas, but the win over Oklahoma not only vaulted them up to two in our rankings this week, but also saw them enter the Top 25. Baylor looks like a player in the Big 12 softball race thus far, and that will make for a fun season.
The Sooners have now been punched in the mouth, and it will be interesting to see how they respond. Oklahoma had outscored its first three opponents in the Getterman Classic 41-0 before Baylor took them down, 4-3. Patty Gasso's Sooners have looked a little out of sorts against good competition thus far, and some of that could be Kinzie Hansen missing from the lineup, or simply the absence of Jocelyn Alo. Either way, the Sooners are too talented to stay down for too long, and I wouldn't be surprised to see them go on a tear after dropping a game this early in the season.
Texas took care of business as the host team of its tournament this weekend, taking down Loyola Chicago and Omaha twice in the. The Longhorns were tested though, with one-run wins against Omaha on Friday, and Loyola on Saturday. Sunday's game against Incarnate Word went as many expected, but Texas did get some value out of this weekend. The Longhorns will stay home for the Lone Star State Invitational this weekend, but the competition stiffens tremendously, with No. 10 Virginia Tech coming to town.
Texas Tech went to the UTEP Tournament in El Paso and was the top team in attendance, as the should be. The difference is, in the last few seasons, we've seen Texas Tech drop way too many games that they should've won. Going a perfect 6-0 on the weekend brings the Red Raiders record to 9-2, which is fantastic considering they've got about 24 games ahead of them before Big 12 play and all of them should be wins. Racking up close to 30 wins before going into conference play would be an incredible start for Craig Snider in year one, and they are capable.
What a weird weekend for Kansas. I looked at the schedule and saw Southern Illinois and Sacramento State as the easy wins for KU this week. They proceeded to lose both of those games. However, against Cal State Fullerton, Liberty, and Ole Miss, all of whom have received votes this season, Kansas went 3-0. If the Jayhawks can find a way to win the easy ones, while elevating its play against tougher opponents, it would make things a lot easier to read, but for right now, Kansas is a mystery.
After a rough start to the season at the UNI Tournament, Iowa State went 4-1 in the Fresno State Kickoff. Another head-scratching loss, this time to Seattle, kept the Cyclones from ascending though, as Kansas' wins were just more impressive. Although they are seventh in our power rankings, Iowa State is capable of crawling out of this early season hole. It's just a matter of will they do it.