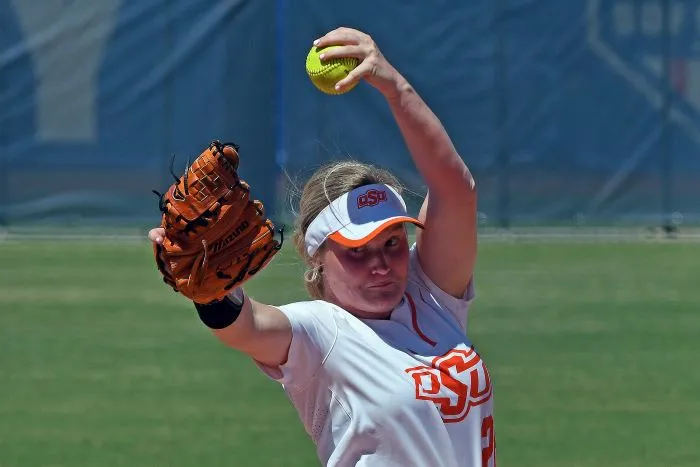 The Oklahoma State Cowgirls softball team is one of the best in the nation and is poised for a huge 2023 season. One of the biggest reasons for that is because of star pitcher Kelly Maxwell. Maxwell became a household name in college softball after a tremendous 2022 season in which she was named the Big 12 Co-Pitcher of the Year, a First Team All-Big 12 selection, along with being a First Team All-America player.
Maxwell sat down with Heartland College Sports in this week's "Heartland spotlight", which is also in podcast form and you can listen to it here, to discuss last year's College World Series run, how the team changed in 2023 and what her future plans are in the sport.
Pete Mundo: You guys were a game away from the national championship series last year. So, what has this off-season been like for you as you get motivated for this year and start thinking about national titles?
Kelly Maxwell: "Definitely, this past year, being at the World Series was very rough. I know I didn't want to be in that spot again this year. So, trying to do whatever I can in the leadership role here on the team and as a teammate just to try to put my teammates not in that situation again."
Mundo: Taking the steps you did between 2021 and 2022, what do you feel like the differences were? Was it off-season? Was it personal growth? What was it for you that allowed you to make that kind of jump?
Maxwell: "Yeah, definitely 2021 it was more kind of about getting my feet wet just because I didn't have the experience pitching in those types of games. So, being able to get my feet wet a little bit, and then having that essential role in 2022 kind of helped I think having that experience. So, I was fortunate enough to be able to have my teammates' back and get them through those games last season."
Mundo: When you think back to last season, one of the stories that was a big deal at the time was that midnight random drug test. How do you look back on that moment and everything that those few days entailed?
Maxwell: "Yeah, it was kind of rough, I mean definitely having to do that after like a game that I just threw. So, I was over-hydrated and then having to be stuck there till 3 a.m. and not getting in bed till 4. Thankfully, the World Series and the committee has pushed the World Series to have longer days so if you win, then you get a day off. So, I was just fortunate enough that we had that day off the next day to kind of recover and get some sleep. Just looking forward to if that ever happens again, you know, trying to learn from that I guess, and letting my body recover."
Mundo: Do you feel like the NCAA is taking steps in the right direction on that front, or do you feel like they could still do a better job?
Maxwell: Well, I haven't had another problem since then. So, I mean, it seems like they're taking—hopefully they listened and took the step in the right direction from that situation.
Mundo: How have you transitioned from all of these new faces, getting them all up to speed and making sure they're ready to roll right outside of the gates this season?
Maxwell: Definitely that was something that we worked on right from the start whenever all these new players came in, just welcoming with big arms, getting to know them. We went to like to a Broken Bow trip where we bonded. We rent a cabin and just hang out and get to know each other outside of softball. So, I think doing that and just kind of investing in our teammates is really what has helped us transition and make that transition very quickly. So, I was just excited that we have so many new faces and a lot of good talent here.
Mundo: The transfer portal has really changed college sports in general. How has that changed you from a leadership perspective, from a teammate perspective and feeling like every year the roster could look different so we've just got to roll with it?
Maxwell: Yeah, I think that's just the thing these days. I mean, I've done my best to accept it, and I think I use it as an advantage because when it comes down to those final games, like you can't pitch every single game, you're gonna have to have a staff. And I'm glad that we have Lexi [Kilfoyl] and Ivy [Rosenberry] and our freshmen, Bailey [Runner] and Kyra [Aycock], just to be able to take some of those innings. And it's just it takes a load off of yourself when you can actually have help.
Mundo: Were there days after last season ends and you're wondering who's going to be here next year, who's not? People are probably maybe even calling you asking you what your future is going to be. What is that like now in this crazy world of the transfer portal?
Maxwell: It's difficult because it's hard to get everyone to mesh together. But I think having that fresh kind of new culture kind of brought in is really what kind of helped us to kind of reset from last year because we were like cracking on the inside internally with some things in that sort of nature. So, it was just good to kind of refresh and reset the program on the right track.
Mundo: Kelly, you look at your head coach Kenny Gajewski, he's one of the best in the sport. He has led the Cowgirls to Oklahoma City now three straight years. What makes him so special and what makes him so fun to play for?
Maxwell: He's like a dad away from home, is the best way you could describe it. Just how open and honest he is. He's gonna tell you the truth kind of whether you like it or not. But he's not gonna sit there and lie to your face. He has an open door policy where you can come in and talk to him about anything. He's just very personable just on a friendly type of relationship, too. I mean, he's gonna goof around. He might make fun of you a little bit. But it's just a part of who he is. And I think that's what makes us so good.
Mundo: From the standpoint of navigating the new world, how does he do as the head coach in terms of making sure, hey, we've got 14 new players on this roster, we've got to make this team gel. You mentioned the trip you guys took. What else have you been able to do in the offseason, and what has coached done on that front to lead the way and making sure that that team camaraderie is there?
Maxwell: Yeah, so the second day of school actually, we had this organization called the 'Program' come in. And it's a military based organization that helps teams around the world and the U.S. on how to be better teammates and how to hold your teammates accountable in a military type of leadership style. So, we were definitely put through the wringer, I'd say, the first couple of days. I mean, we were put to the test. And that's what their job is, is they're going to break you down and see how your leadership comes out whenever you're being tested like the way we were. So, we went through a series of very, very difficult exercises, just mentally, physically went through a pool workout where you have to take sweat shirts off and put them over your head and as you're treading water. And it's a scary thing. And so I think doing that at such an early stage really taught us like who we are as leaders and how we can hold each other accountable in those situations when times get rough.
Mundo: You are coming back for the 2024 season. So, this is not your last year in Stillwater. How did that decision go down? And how difficult of a decision either way was that for you, Kelly?
Maxwell: I was definitely back and forth the past couple of years because I knew I always had a sixth year. But I had aspirations to go to medical school, and I think I didn't want to push that back too long because I knew that is gonna take many years in itself. So, I was kind of just worried about that. But then recently when we took that trip to Broken Bow, we were talking about, you know, what it means to be a Cowgirl and the Cowgirl way. And we had some really heartfelt deep conversations about like how you come in here as a young girl but you leave out of here as a woman. And just the conversations we had really just solidified that like I could work the rest of my life. Like, why [not come back] and regret it, you know? So, I'm excited to be coming back.
Mundo: So, that Broken Bow trip was big in a lot of ways. That really solidified your return next year?
Maxwell: Uh huh. Definitely. I think I told Coach John [Bargfeldt] first, and then he kind of spilled the beans. Yeah, he didn't let me keep it a surprise.
Mundo: So, if Kelly Maxwell was not a star pitcher at Oklahoma State, what would she be doing? What would she be thinking about right now in terms of what her next is career wise?
Maxwell: Definitely something in the medical field. I've always been passionate about helping others. I think I just have that type of nurturing style. But I'd probably make a lot better grades if I wasn't playing softball. So, I'd probably definitely be like a book nerd or something like that. But I love to hang out with my family and friends. And I have a dog, and I love to do things with him. And I like to fish when I go home. We have a boat and we go out quite a bit on the lake. I love being on the lake, enjoying my time wakeboarding or kneeboarding or tubing, just things like that.
Mundo: And I know people are gonna ask me this so I'm just going to ask you now so I don't get the questions after the show. What kind of dog and what is his name?
Maxwell: Okay, I have an eight month old French Bulldog. He's blonde, and his name's Gus.