Baylor Bears
Oklahoma No. 1 in Big 12 Women's Basketball Power Rankings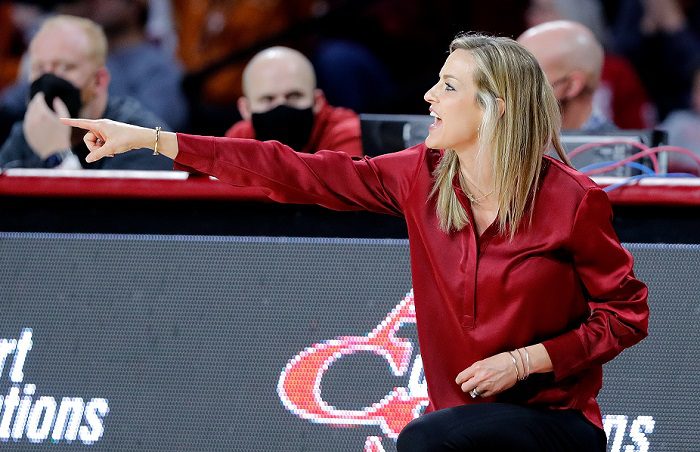 The Oklahoma Sooners are No. 1 in the Heartland College Sports Big 12 women's basketball power rankings after the seventh full week of Big 12 Conference action. Our Power Rankings appear every Tuesday.
Check out Heartland College Sports for men's and women's basketball coverage every day, including our thoughts on big games, the previous week's action, our weekly schedules, and daily fantasy lineups as we march toward, well, March.
1. OKLAHOMA (22-4, 12-3: Last Week — 2)
Oklahoma has now won six straight games since its back-to-back losses to Texas and Iowa State. Perhaps more importantly the Sooners haven't scored fewer than 84 points in a game during that six-game winning streak. Oklahoma gets the entire week off before hosting Texas on Saturday in a game that will likely be for the Big 12 regular-season championship and the No. 1 seed in Kansas City.
2. TEXAS (21-7, 12-3: Last Week — 1)
The Longhorns drop one spot after their loss to Iowa State on Monday. Texas still appears on track to be one of the top two seeds in Kansas City in a few weeks. But the Longhorns' loss makes their game with Oklahoma so much more meaningful. If Texas expects to win against Oklahoma, Rori Harmon will have to have a big game.
3. OKLAHOMA STATE (19-7, 9-5: Last Week — 3)
The Cowgirls had the week off before going to Lubbock to face Texas Tech, and they needed three overtimes to overtake the Lady Raiders. Oklahoma State has now won five straight games and will face Iowa State later this week for the right to take over third place in the Big 12. It's a big leap for first-year OSU coach Jacie Hoyt and her Cowgirls.
4. IOWA STATE (17-7, 9-5: Last Week — 7)
Just like that the Cyclones move back up in the power rankings. Two straight wins last week, including a victory against Texas, have them moving back in the right direction. Ashley Joens is now the second-leading all-time scorer in Big 12 history and the Cyclones are primed to take on Oklahoma State with a Top-4 seed in Kansas City in their sights.
5. WEST VIRGINIA (16-9, 7-7: Last Week — 4)
West Virginia started the week by beating Kansas at home but followed that up with a loss at Texas. No shame in that — Texas has only lost one game at home this year. But a big stretch awaits if the Mountaineers want to be a candidate for the NCAA Tournament. WVU has winnable games with Texas Tech and Kansas State.
6. BAYLOR (16-10, 7-7: Last Week — 5)
I know the Bears have lost four games in a row, but I don't think it's enough to bump them out of the NCAA Tournament. Far from it. They have opportunities to get close to 20 wins by the Big 12 Tournament and I think Nicki Collen will get her personnel turned around. We just have to acknowledge that this team has a lower ceiling than we expected.
7. KANSAS (16-9, 6-8: Last Week — 6)
Kansas probably has enough in the tank to win a couple more conference games and get into the NCAA Tournament. But we have to acknowledge that more was expected from the Jayhawks this season, especially after an exceptional non-conference record and beating Arizona on the road. Kansas is still a talented team, but it could be playing one of the first two games of the Big 12 Tournament.
8. KANSAS STATE (15-12, 4-10: Last Week — 9)
Even with the loss to TCU, Kansas State did win its mid-week game over Baylor, notching a win over the Bears for the second season in a row. That's enough to nudge them up. Gabby Gregory continues to have a fantastic year for Kansas State.
9. TEXAS TECH (16-11, 4-10: Last Week — 8)
I thought the lady Raiders might make a move toward contending for the NCAA tournament. But after four straight losses, the lady Raiders look like they'll do just enough to slip into the women's NIT. Still, for a program that hasn't made the postseason in more than a decade, getting back to any postseason action is a good step forward.
10. TCU (7-18, 1-13: Last Week — 10)
The Horned Frogs finally got their first win of the season by beating Kansas State on Saturday in Fort Worth. But it wasn't enough to boost them in our power rankings this week. It was TCU's first Big 12 win in more than a calendar year.
You can find Matthew Postins on Twitter @PostinsPostcard