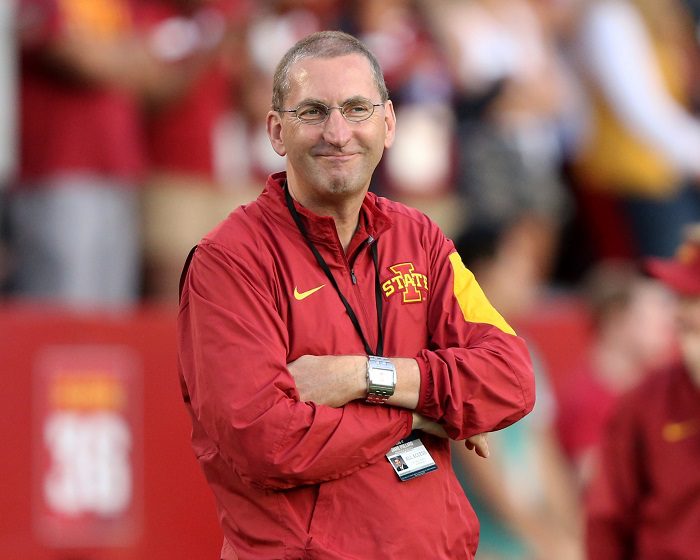 The "Remaining Eight" have had their fill of Oklahoma and Texas. That much has been apparent for a while and has even come out in reports at times with relationships being strained.
One of the biggest annoyances over the years has been Texas' precious Longhorn Network. The entity that essentially broke up the Big 12's members in 2011-12 is still causing problems for opposing fan bases, as once or twice a year they won't be able to watch their team play the Longhorns in Austin without a subscription to the LHN.
On Tuesday night, the Iowa State men's basketball team was in Austin to face the Longhorns and got trounced, 72-54. To some, it was probably a relief that they didn't have to watch a disappointing game of that nature, but Iowa State athletic director has had his fill with missing out on Cyclones' sporting events in Austin.
In an interview with 365Sports, Pollard was asked if he could express his reaction towards Iowa State games being played on the Longhorn Network, and his answer was quite hilarious.
"Can't leave soon enough," Pollard said quickly, sending the entire 365 staff into a flurry of laughter. "Does that answer your question? Does that answer your question?"
Pollard then expanded on the fact that the Longhorns and Sooners finalized an agreement to leave for the SEC in 2024, and what that means for the Big 12.
"To get it finalized just allows us to move forward and be a lot more productive," Pollard said. "Quite frankly, having that hanging out there, you had to do double of everything. 14-game schedule, 12-game schedule. You know, 14 teams, 12 teams, and you do that through all the sports and so it just caused a lot of extra work. So, now just having that finalized is just nice. We can start having the streamlined meetings where, you don't feel like you have to say, 'okay, for this part of the meeting the two of you need to leave the room.' And, I think it really allows us to really start to coalesce around the 12 with the four new [teams] coming onboard and developing those relationships and starting to develop some rivalries."
We certainly can't wait to see what rivalries develop in the new-look Big 12, and its great to hear that the athletic directors are excited about life after Texas and Oklahoma as well.