featured
Will Brett Yormark Target the Big East for Basketball Expansion?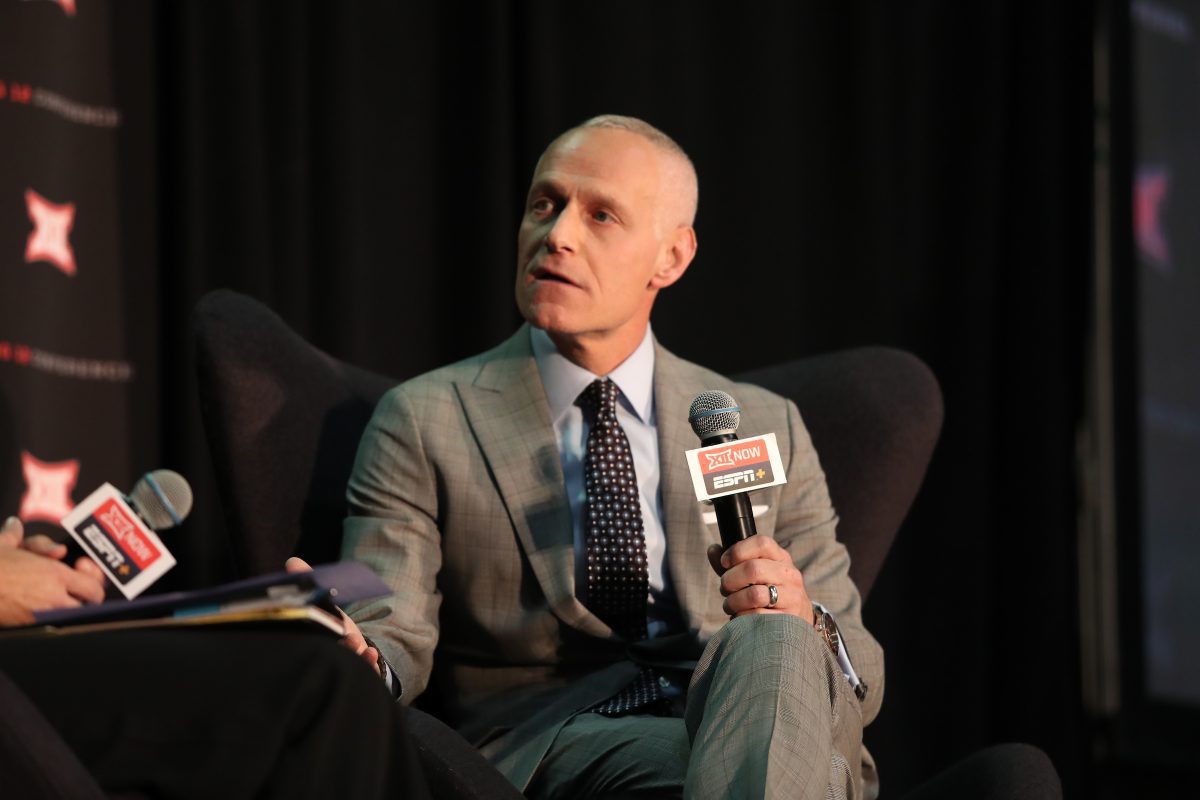 So what will the Big 12 and Commissioner Brett Yormark do next?
That's one of the many questions circulating around right now. Sure, the Pac-12's television deal and potential expansion is on everyone's minds (hello Apple TV?).
Those answers will come in due time. We think.
But it's not as if Yormark has been sitting around and doing nothing. He's reportedly been talking to other universities about expansion. He even went into 'enemy territory,' one might say, and talked with John Canzano and Jon Wilner for their Pac-12 podcast (Canzano and Wilner are among the most plugged-in Pac-12 writers out there. Some Big 12 Twitter fans have been known to call them other colorful phrases).
It was an interesting conversation. Yormark assured the pair he doesn't have it in for the Pac-12 (which is exactly what you would say if you, you know, did have it in for someone or something). One could say the Pac-12 has been its own worst enemy at the moment.
But Yormark also added this during the podcast, something I found quite interesting.
Yormark believes college basketball is undervalued. I couldn't agree more. I'm glad he's saying that out loud. He's interested in generating as much revenue as possible from every area of the Big 12, and that includes basketball. While I'm lukewarm about covering the Big 12 Tournament from the hockey press box at T-Mobile Arena in Kansas City, I get why Yormark is turning where I usually sit into premium seating.
That's just one way he can do it. Basketball makes up about 20 percent of the revenue from conference television contracts. My guess is you can maximize that in other ways and he's trying to figure that out.
You can also … expand membership. You may have heard Yormark is interested in such things.
Most conferences want to expand with schools that play all the major sports. That makes the Big 12's conversations with Gonzaga a bit unique. The Bulldogs don't play football. I doubt they ever will. I'm pro-Gonzaga joining the Big 12. But Gonzaga isn't the Big 12's only option if you're interested in basketball schools.
Seeing Yormark's desire to maximize basketball in black-and-white and knowing where he just came from leads me to believe that Gonzaga isn't the only basketball school he's flirting with.
The Big EAST may be on his list, too.
Yormark spent more than a decade with the Brooklyn Nets, then with Roc Nation Sports. He's lived in that part of the country. He knows the value of the Big EAST and he understands the value of basketball in the northeast. When the Big 12 ventured outside its footprint in October for a basketball media blitz for the first time under his watch, where did it go? New York City.
If you watched the ESPN documentary "Requiem for the Big East," you know about the league's rise. It was built around big markets. Adding Gonzaga would give the Big 12 a great basketball school, but not a big market.
The Big EAST would provide the latter.
St. John's gives you access to New York City. Georgetown, even as bad as it is at the moment, gives you access to Washington D.C. DePaul gives you access to Chicago. Villanova gives you access to Philadelphia. Those four schools would give the Big 12 four more Top 10 media markets, to go along with Dallas-Fort Worth and Houston.
It would give the Big 12 a significant differentiator when it comes to basketball, a league that is already considered the best in the game.
It also aligns with Yormark's goal of maximizing revenue. Imagine creating an east wing of the Big 12 built around those four schools? Or, any four Big EAST schools, honestly?
Now we can't ignore the obvious. Why? Why would Big EAST teams be interested in this?
Revenue would have to be a factor. And it could be. The Big EAST television deal is miniscule compared to Power 5 leagues that have football — $4.6 million per team per year. The deal ends after the 2024-25 season. My guess is that some Big EAST schools would at least listen. There's a value proposition that Yormark can lean into. An unequal share of the Big 12's new media deal would still be more than what the Big EAST is getting now.
Next, there's the football problem. If you watched the documentary, you know the league expanded to help the few teams that played major college football and it ultimately helped accelerate the league's breakup.
It's less of a problem this time, I think. UConn is the only team that plays in FBS and the Huskies are independent. In fact, it left the American Athletic Conference to return to the Big EAST and probably won't mind remaining independent in football.
Butler, Georgetown, and Villanova play football at the FCS level. I doubt they're interested in moving up and it shouldn't be a requirement for membership.
There's also the question of whether the current Big 12 membership — namely the university presidents — think something like this would be a good idea. Ultimately, it's their votes that Yormark must court and get.
What if this all comes down to expansion on multiple tracks? It could be a group of schools that play all sports going west and a group of schools that are basketball only going east. Could that be Yormark's grand plan? Or at least one of the tracks he's pursuing?
He's talked about expansion, generating revenue, improving the league's profile, and taking it national. A plan like this would do all of that, especially if part of his goal is to make basketball revenue more relevant.
If that's what he wants, then the Big EAST is a pathway to do it all.
You can find Matthew Postins on Twitter @PostinsPostcard