Baylor Bears
Big 12 Softball: Three Must-Watch Games This Weekend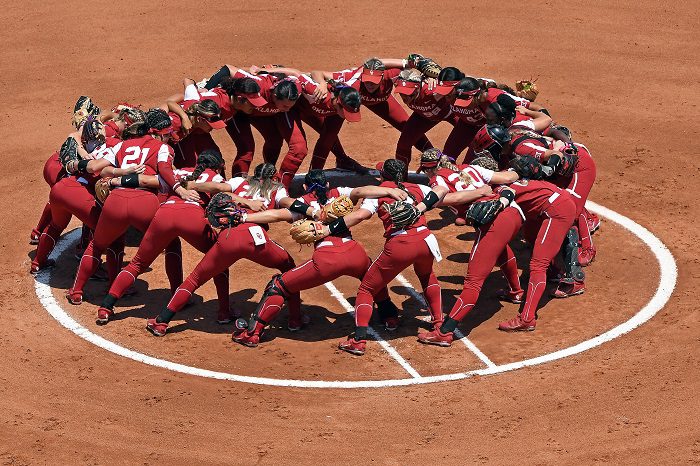 We have another big weekend of Big 12 softball ahead of us with four ranked vs ranked matchups on the docket.
There are a few games that you simply can't miss this weekend, and we've got them ranked for you right here.
Disclaimer: subscriptions to FloSoftball or ESPN+ might be necessary to catch the action, as the tournament portion of the college softball season is largely televised by streaming services.
3.) No. 21 Maryland (8-1) at No. 25 Baylor (8-1)
Date: Friday, Feb 24 | Time: 1:30 p.m. CT | Location: Waco, TX | TV: ESPN+
The Baylor Bears have gotten off to a red-hot start in 2023, with an 8-1 record through two weeks of action and a massive 4-3 win over Oklahoma. Their only loss, an 11-7 defeat at the hands of No. 7 Arkansas, even showed that this team is capable of fighting against the nation's best. Dariana Orme has built on her success from last season, while Amber Tovan (.500), Shaylon Govan (.500), Aliyah Binford (.500), and McKenzie Wilson (.414) have all started of the year hot at the plate.
In the other dugout, Maryland is off to a fast start as well, sitting at 8-1 through two weeks of action. Dominant wins over Oregon (7-3) and Oklahoma State (11-6) have validated their start and the Terps are looking to prove a player in the Big Ten race this season. Maryland's offense has shown up in big games thus far in the season, and there's no doubt that they will bring it to Waco with them as well. This game will be an excellent measuring stick for both teams, as they're off to very similar starts and are looking to keep the momentum rolling early in the season.
2.) No. 10 Virginia Tech (7-3) at No. 9 Texas (8-1-1)
Date: Fri-Sat, Feb 24-25 | Time: 4:00 p.m. CT, 4:00 p.m. CT | Location: Austin, TX | TV: LHN
Okay, so I cheated on this one a bit because these two will play twice this weekend, but there's no way I could leave one of them off the list. Texas has stabilized after a weird start to the season, but played with fire a bit against Omaha and Loyola Chicago. The competition this weekend is much tougher though, and letting the Hokies stick around late will lead to trouble. Leighann Goode leads the Big 12 with a .576 batting average through two weeks and has been the lightning rod for the Texas offense while Viviana Martinez(.516), Mia Scott (.472), and Katie Cimusz (.417) are all batting over .400.
Meanwhile, Virginia Tech has played some tough competition already this season with games against Oklahoma State, UCLA, and Arizona already under their belts. Both teams are capable in the circle, but I see this turning into a couple of offensive shootouts. In one of the most entertaining games of the season so far, VT and Oklahoma State traded home runs in a 10-9 victory for the Cowgirls. This pair of contests could end up looking a lot like that.
1.) No. 2 Oklahoma (8-1) vs. No. 1 UCLA (12-0)
Date: Sunday, Feb 26 | Time: 11:30 a.m. CT | Location: Cathedral City, CA | TV: FloSoftball
If this were football, this would be dubbed a "Game of the Century" with the rare No. 1 vs. No. 2 matchup in the regular season. Oklahoma was knocked from its perch as the top-ranked team in the country after a loss to Baylor last weekend, a perch it had held since the 2021 season. Now, with UCLA as the perceived favorite, it will be interesting to see how the Sooners look in this game.
Oklahoma's offense has struggled at times to this point in the season, with a couple of its newcomers, Cydney Sanders (.227) and Alynah Torres (.176) struggling to get go at the plate through the first two weeks. Jocelyn Alo.. er.. I mean Erickson leads the Sooners' offense with a .556 batting average as a freshman and looks like the big bat thus far with four homers. Oklahoma feels like its in a bit of a slumber, which is funny to say because it outscored its opponents 44-4 last weekend, but if the bats catch fire against good competition, watch out.
Meanwhile, UCLA has been, without a doubt, the best team in softball to this point in the year. At 12-0, with wins over Alabama (No. 11), Florida State (No. 6), Virginia Tech (No. 10), and Louisiana (RV) in just the last weekend of play. At the Mary Nutter Classic, UCLA will face No. 3 Florida, No. 18 Kentucky, Iowa, No. 19 Northwestern, Texas A&M, and No. 2 Oklahoma. Talk about a slate. The Bruins are led by a red-hot Maya Brady (.568, 5 HR) and Megan Faraimo (1.26 ERA, 7-0) and will look to prove their ranking against the reigning back-to-back national champions. This will certainly be one to tune in for.