Oklahoma Sooners
Oklahoma, Texas Among College Football's Top 10 Most Lethal Rosters Entering 2023, Per Athlon Sports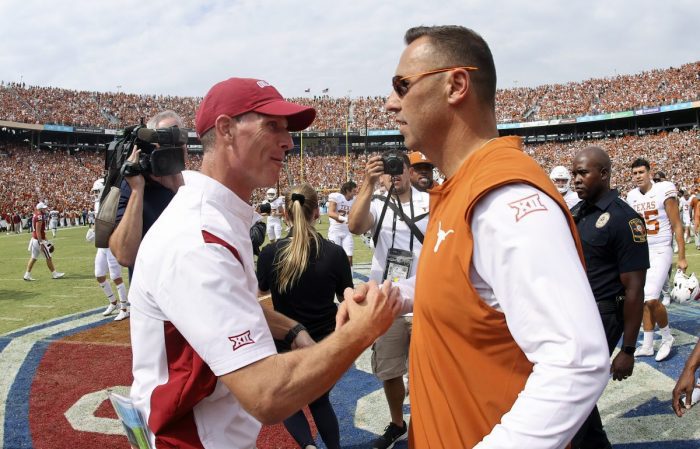 In recent days, Athlon Sports ranked college football's best rosters entering the 2023 season by using the average of every program's last five signing classes in the 247Sports' Composite Team Rankings. A pair of Big 12 schools are among the Top 10.
Standing in a tie for fifth are the Texas Longhorns. They have an average signing class of 6.8 over the past five seasons after hauling in the nation's No. 3 class this month.
"Given the wealth of talent that has been signed in Austin over the last five recruiting cycles, the Longhorns' overall record doesn't match up," wrote 247Sports' Brad Crawford. "That's part of the reason this program has had a revolving door at head coach since Mack Brown's decision to walk away. Boosters are hoping that coach Steve Sarkisian is the right man to lead Texas back to the national spotlight in 2023 with a top class coming in, highlighted by several five-stars. This isn't Arch Manning's team yet, but it will be down the road."
Shortly behind them on the list are the Oklahoma Sooners, now about to go into their second season under the helm of Brent Venables. They boast an 8.0 average signing class and stood fourth in 2023.
"Recruiting is the lifeblood of any successful program, and that's no different at Oklahoma, a blue-blood accustomed to winning big," Crawford wrote. "Unfortunately, that didn't happen in Year 1 under coach Brent Venables, who came over to the Sooners following a lengthy tenure as Clemson's top recruiter on staff under Dabo Swinney. The arrival of three five-stars in the 2023 recruiting cycle, however, is going to be a shot in the arm for Oklahoma prior to the school's entry to the SEC in 2024. According to 247Sports' recruiting rankings, Oklahoma has the second-most talented roster in the Big 12. You can probably guess who owns the league's most lethal collection of talent."
Both are soon to head to the SEC, so that will only add to the prestige of a league that has four teams in Athlon Sports' rankings here. Of those, Alabama, Georgia and LSU are in the top three spots, with Ohio State tied for third with LSU. Texas A&M, the fourth and final SEC team, is tied for fifth with Texas. Then, it's Clemson in seventh, Oregon in ninth and Notre Dame in 10th.
It should be noted that every national champion over the past decade has signed at least one top-five class per 247Sports' rankings within three years of their title. So the Longhorns and Sooners have to like where they're at in that regard.