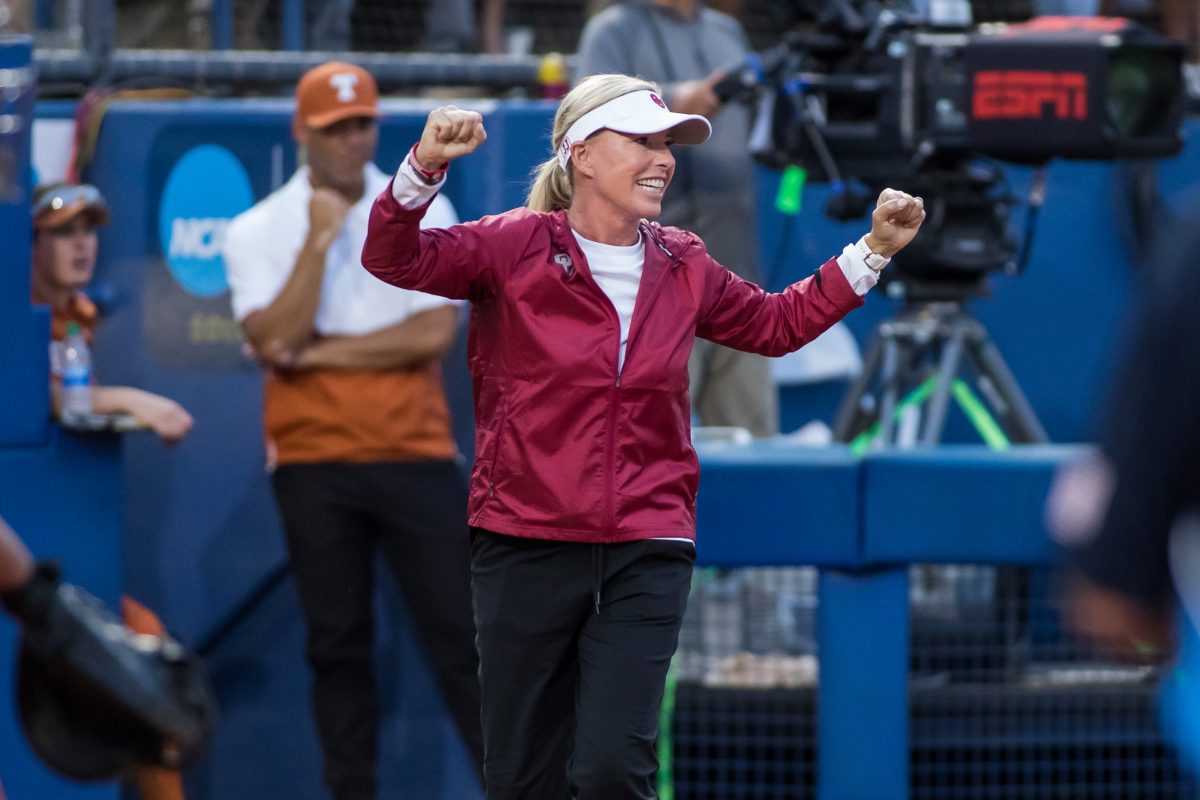 The now-second-ranked Sooners are coming off a surprising first loss of the season last weekend at Baylor. So, next they'll try to respond from that the right way when they head to the Mary Nutter Collegiate Classic in Cathedral City, Calif.
Matchups await them against Cal State Fullerton, Texas A&M, Utah, Loyola Marymount and the big one against UCLA on Sunday. The Bruins, of course, took over the top spot after Oklahoma dropped that 4-3 decision in Waco this past Sunday.
With that all in mind, head coach Patty Gasso met with a bunch of media before the trip. Heartland College Sports was on the scene and brings you the entirety of the discussion.
What the first couple days back on the field have been like since the loss: "Good, good. Before we even started the season, I prefaced it by saying we're going to lose games. So, just it's a learning experience. And it's amazing when we lose everything starts to open up and all the things that we just get away with are now brought to everybody's attention. So, they do it themselves. They talk about how to get better and how we need to change and so forth. So, some good things came from it. I'm anxious. I think a different kind of energy, and there's just that lingering pressure I think that is on. There's sometimes the overwhelming amount of people that want autographs and are there. And it's just it gets smothering. That's no excuse. But it's just it's constantly on your guard, and that's something that we just have to get used to. But our practices have been good. Our adjustments have been good. The energy has been very good."
What she thought of their offense against Baylor and their adjustments: "Yeah, I think we did it a little bit late. We looked like we were not ready for the pitching change. We did not have the right mindset at the plate. We came back. We made an effort to come back. They're always a feisty team. I'm not taking anything away from them. They earned that. They played harder. They hit better. They were timely. Their pitching was fantastic. They earned that, and we walk away knowing exactly what we need to do these last two days, which we did. So, I'm anxious to see it play out again. But we came back and we worked specifically on some things offensively and with our swing and with our timing."
If she expected this good hitting out of Jocelyn Erickson so early: "Yeah, she's a good hitter. I mean, she can change the game. She definitely has a good, strong, lefty swing, a good feel for the ball, things like that. I think as we get further on and elite pitching, she's going to see it look a little bit different. And a lot of our hitters felt that against Baylor. But we also felt it in the first week. Our first weekend, we faced some good pitching. So, the schedule is tough. And so I'm just telling Cyd [Sanders], 'Don't you dare look at your numbers. Nothing to look at there.' Because you can't even compare our schedule to what it was last year. So, things are just different. The road is different. And the grind is different. And the learning curve has got to be fast, and that's what we're trying to do."
What it was about Erickson that made her really want to have her on this roster: "Her size and her strength and the fact that she was capable of being a good catcher, she could play first, she can move in the outfield. She's got a really good arm. And she played on a good travel ball team that I knew she was going to get better with. So, [it was] all of those things. I knew that she would find a place eventually. I wasn't sure she would be ready for this level of pitching, but she's proved me wrong thus far."
What she thought of Jordy Bahl's performance last weekend: "I thought it was good. I thought it was just a little more settled, a little more Jordy-like. I think everybody's looking for like the dominant, where's Jordy? Look, any freshmen that have great years, they go into their sophomore year and it's different because who knows what they're thinking. Are they trying to match it? You know, Jocelyn Alo, some of my greatest players have gone through trying to find themselves their sophomore year. And Jordy is making really good progress, and I thought she threw well, threw well enough against Baylor for a win. It was just that one untimely hit that cleared the bases for them. So, I think she's on the right path."
How much it helps to go into this event this weekend knowing they have to play their best to win after they lost last weekend: "I guess I don't like that wording, the way. I wouldn't say that to them, like you have to do anything. It's the journey. It's the process. We could end up losing two or three games this weekend, and we're still going to be okay. We play over 60 games. So, I don't want them to feel that kind of pressure. I want them to learn how to play free and confident and not worry about the outcomes because that's the problem, that's where problems come in, is when you're afraid. 'Oh my gosh. They're up by four, and it's already in the fourth inning. Oh my goodness.' Just continue to stay on track in the way we do things. That's what's important, is that we don't change what we do, because what we're doing usually is good enough. So, there's no panic and there's no like we have to do anything. We don't have to until we get down to the very end. And if you don't, then you're going home. So, it's just staying with that mindset that we've had, just staying calm and continuing to grow and improve and listen and learn."
How she approaches players when they have to work through their sophomore years after a great freshman season and how much the players just have to feel it out, like Jordy is: "Jordy's a very mature young lady. And we talk a lot, and just it's her journey, and we talk and we share and she tells us how she feels. She's very close with Coach [Jen] Rocha as well. So, there's a lot of conversation. I know that she's been answering questions about like you don't look the same and things like that. I mean, it's growth. It's growth. Like, every year, you know, you're finding a new way to do something, or the feeling's different so I need to try this. I mean, just she is creating that. And I see that it's starting to really—it's gonna start really blossoming. I know that. I feel it. So, I'm just letting [her work through it]. We're along to guide her or help her, but this is within her. It's in her, is how she's going to approach this."
If this weekend is just viewed as a huge test or learning experience for several of the new players: "It's a little bit of both. I mean, it's definitely gonna be a test because we've got good competition so we're gonna have to play well, pitch well, hit well. But always they understand there's a lot of growth that needs to happen. And we've had—this program might seem like it has a lot of returners, which it does, but there were some pretty significant players that we've lost. And I think of one that was just so much in charge and as a leader was Lynnsie Elam. And I don't know that you can build or make natural leaders. So, it's kind of a committee of athletes this year that are trying to help in that place. And we're feeling that out, but Grace Lyons is the one that we depend on. And we all understand that this is a journey. It's just a journey, and it's so much different than it was last year. I'm going to tell you that already. I know this team is good. But are they out hitting 100 home runs right now? No. But we've been in positions where they understand we're facing drop ball pitchers, the fences are further, the wind is coming in. Like, it's not about the home runs, [but] finding ways to string things together and learn from it. So, we've got to [move forward]. We're not looking at last year. It's so much different. It really is. And so in many ways it can be better. But it's just still learning the system offensively, JT's [Gasso] style, my style. We've played against each other. That's one thing. But now we're all in one dugout and it's just different and they're just trying to understand it, learn it, all of that. But I am not sitting in front of you worried at all. I'm more than anything very excited about the future and the direction that we're going."
On the competition they'll play this weekend: "It's good. And that's good. This is good for us because last year, I mean, you guys remember run-rule, run-rule, run-rule, and loss of innings, loss of innings, loss of innings. So, now my future gets work. Our pitching staff gets innings. I think that's all good. But feeling that pressure early is important, and we felt it our first weekend. And we did not play very well, and we found ways to win. That is something I felt very good about and confident in. And the fact that we would be playing our best softball right now would be very worrisome, worrisome for me. We are a team that starts okay, but we are notorious for finishing with our best. And that's what I know who we are, and so personally I know we're right where we need to be."
On facing Utah again and UCLA: "Yeah, they're tough. They're tough. Utah's very good, good pitching. An average hitting coach there. That might be a problem for them. I'm kidding. I'm kidding. I'm kidding. It's tough. Fullerton just beat Tennessee. I mean, there's good competition up and down. And what I'm really going to sit back and pay attention to is the camaraderie and the fight of our team. And against Baylor it was kind of that ho hum kind of attitude that is just unlike us. So, I'm glad we got to see what that looked like. But we've had some pow-wows. This team has figured some things out. They're ready to go into Palm Springs with a new approach, just a little more feisty, more they use the word like emptying the gas tank out there and just letting it all flow and go. And so that's what I'm anxious to see."
If it's night and day for Alyssa Brito hitting the ball considering she isn't carving a role out this year: "Yeah, she's gritty. I really have been impressed with her in the fall and in spring thus far where she is just really excelling at a craft. She has really turned into a smart hitter, understands what she wants to swing at, timely hitter, clutch hitter. And yeah, she's locking it in in the middle of the lineup and a good example of what extra work in the indoor looks like. She puts in the time, and it's paying off."
If Hannah Coor is all right: "No, she's not. So, I might as well [say it]. She is going to take a medical. She has some back issues that's going to cause surgery. She's been in constant pain, and it's hard to watch an athlete in that space. So, first of March that will happen, and we're not expecting her to be back. She could potentially towards the end of the season, but I would rather save that year for her."
On her athletic ability to fight through it some: "Yeah, this has been going on for a long time. Long time. So yeah, I think she didn't want to make the decision, but she made it, and I 100% support it."
On Avery Hodge becoming the primary pinch runner now: "Hodge, yeah. Yeah. I mean, I've still got lots of really good options out there."