Trending Now
Arizona State Exec Anxious to Have Media Rights Deal Done in 'Next Couple, Three Weeks'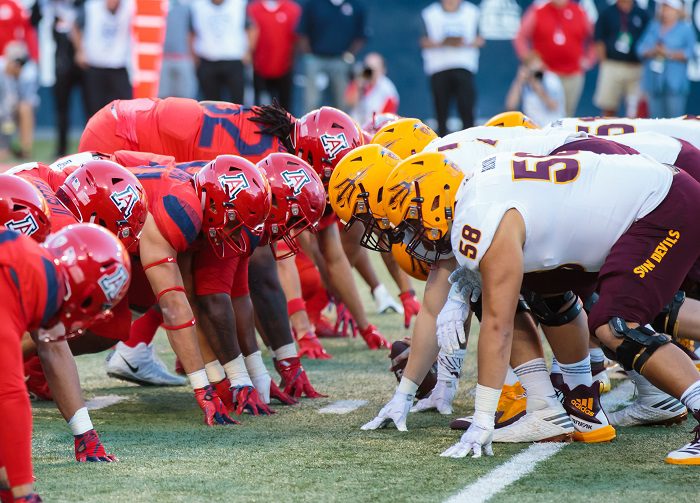 The Pac-12 has been under a magnifying glass for several weeks now as the pressure of not having a media rights deal is starting to make the conference squirm.
With the Big 12 securing a strong agreement through 2031, the Pac-12 is the only Power Five conference that doesn't have a long-term agreement in place at this time. Reports suggest that something could be coming sooner rather than later, with Apple emerging as the primary candidate for the Pac-12's television rights.
However, that doesn't mean that the Pac-12 school executives aren't sweating bullets throughout the process.
Arizona State Vice President of University Athletics, Ray Anderson, recently did an interview with Bickley & Marotta on Arizona Sports on Thursday, and he wasn't afraid to share his frustrations with the situation.
"We're managing it by being patient and letting the process with our new commissioner take its course. It's been challenging and it's been frustrating, I don't think anybody can deny that," Anderson said.
"And so we've had to be patient because, very frankly, we're not in control. We certainly believe in the value of this market and certainly, the value ASU as an institution brings to the Pac-12 conference.
"We've just been forced like everyone else, unfortunately, to let this thing play out because we're not directly in the driver's seat. That being said, we have confidence our commissioners and our presidents and chancellors are going to get to a place where a media rights deal and a grant of rights is done. It may not be the projections originally contemplated but will be a solid enough financial situation to keep this conference together and then (we will) really work hard to move forward positively."
When asked if the schools had been given any assurances on a timeline for the deal to get done, Anderson had a response that spoke volumes.
"Assurances is a very strong word. Guarantees, assurances, can you promise? I can't, I can't speculate," Anderson said.
"Certainly, we're all anxious to have something resolved here in the next couple, three weeks, so we can take next steps and get some of this speculation out of the air in regard to what other conferences may be thinking in terms of trying to pick off Pac-10 teams, if you will, and what we may do in terms of adding institutions," Anderson told Bickley & Marotta. "Getting a media rights deal will clear the air for figuring out some of that other stuff."
Can the Pac-12 get a deal done that will keep its institutions happy, or will their best efforts end with the conference dissolving and being picked apart by sharks in the water like the Big 12 and Big Ten?
That's anyone's guess for now, but if Apple is indeed the buyer, it will be interesting to see how schools like Oregon and Washington react to their exposure being limited to the subscribers of Apple TV+.