featured
The Pac-12 Can't Survive If Apple TV is the Best It Can Do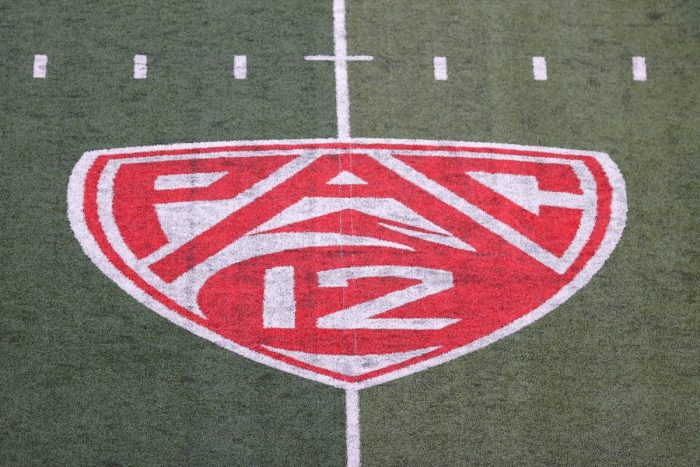 The Pac-12 has spent the last five months trying to secure a media rights deal that will not only keep its member institutions satiated financially, but also a deal that will preserve its integrity for the foreseeable future.
However, the conference has not been able to do that to this point, and there have been several reasons for the delay, most notably, the Big 12. Now, the Pac-12 is hoping that Apple TV can be its savior in their time of need, and I'm not confident that is the best plan of attack. But, before we get into that, let's look at what has transpired, bringing the Pac-12 to this pivotal decision.
How Did The Pac-12 Get Here?
Let's jump back all the way to September 20, 2011.
Pac-12 commissioner Larry Scott had a chance to make a massive shift in the college athletics landscape by adding four of the biggest brands the Big 12 had to offer: Texas, Oklahoma, Oklahoma State, and Texas Tech. His reasoning? Texas wouldn't back an "equal revenue sharing plan" if the league added the four Big 12 schools.
"After careful review, we have determined that it is in the best interests of our member institutions, student-athletes, and fans to remain a 12-team conference," Scott said in a statement. "While we have great respect for all of the institutions that have contacted us, and certain expansion proposals were financially attractive, we have a strong conference structure and culture of equality that we are
committed to preserve."
This wasn't the only mistake that Larry Scott made in his tenure as the Pac-12's Commissioner. No, there have been several major issues that he left for George Kliavkoff to clean up, including but not limited to:
Locking the Pac-12 into a 12-year media rights deal that has left the conference where it is today
An overreliance on the Pac-12 Network to distribute its product in terms of programming content
An outrageous overhead cost of nearly $7 million in rent per year for conference headquarters
Now, with Kliavkoff cleaning up messes, the biggest elephant in the room is, and has been, the conference's media rights, which are set to expire in the summer of 2023.
In late summer 2022, the Pac-12 opened up a negotiating window with its television partners to try and get something done following the exit of USC and UCLA to the Big Ten. However, the Big 12, under the new leadership of Brett Yormark, completely outmaneuvered the Pac-12 and got a deal done, worth $2.28 billion over six years. By signing that deal with ESPN and FOX, the Big 12 satisfied the needs of the two major players that were looking to add to their inventory. Now, the Big 12 (ESPN, FOX) Big Ten (CBS), SEC (ESPN), and ACC (ESPN) are all locked in with television partners, leaving the Pac-12 all alone without a deal.
The Pad-12's television partners have been less than enthusiastic about making a deal, with ESPN severely undershooting the mark that the conference feels it is worth — $40 million per school annually. Instead, ESPN's deal was closer to $25 million per school, leading Kliavkoff and the Pac-12 to let their product hit the open market in search of a better deal.
Unfortunately, that hasn't gone well for the conference either.
Another issue that the Pac-12 is dealing with is that George Kliavkoff has been playing the game a bit, in terms of the numbers on the table.
A little over two weeks ago, The Athletic published an article claiming that George Kliavkoff had been overoptimistic about the conference's value in terms of media rights.
"Kliavkoff overpromised his members on how many bidders there would be and what dollar amount they could command — a target north of $40 million per school, according to one league athletic director. Today, it's uncertain whether the Pac-12 will even be able to exceed the $31.6 million average the Big 12 reportedly landed in a six-year extension with ESPN and Fox it reached last fall."
Now, with time running short and a deal still not secured, the Pac-12 is in its current predicament with little to no answers on its future security.
What is the Pac-12's Strategy Now?
As the weeks turned into months, it became apparent that there was a major gap between what the Pac-12 felt it is worth, and what the rest of the conference is willing to pay.
ESPN doesn't seem all that interested in making a deal and FOX, along with CBS and Turner have pulled their hats out of the ring. That leaves the Pac-12 with two options: take what ESPN is willing to give them on the open market, which is probably a fraction of what they offered during the negotiating window, or take their product to a streaming-only platform.
Amazon, and more recently Apple TV+ have emerged as candidates to take the Pac-12's media rights, but will they pay enough to keep the conference's member institutions happy?
As one source told ESPN's Pete Thamel, George Kliavkoff had better have something up his sleeve to make all this work.
"We're going to find out if George has had something in his back pocket the whole time," a Pac-12 source told ESPN. "Unfortunately, this next deal is about keeping this league alive after a decade of Larry Scott's poor decisions and failed strategies."
"Within the industry, there are a lot more television suitors who have passed on the Pac-12 than those who are believed to still be interested in paying market value," Thamel writes. "ESPN and Amazon have long been the speculative favorites, but the level of their interest remains the key variable. And that has caused both an undercurrent of nervousness among the Pac-12 programs and emboldened other leagues interested in adding schools."
"If [Kliavkoff] has something up his sleeve, it's with some entity that no one knows about," an industry source told ESPN.
Another strategy that the Pac-12 is attempting to employ is adding schools to bring their value up in the eyes of television partners. There's just one issue with that. Adding San Diego State and SMU isn't a net positive when USC and UCLA walked out the door. Losing the Los Angeles market greatly decreases the value of the Pac-12 conference as a whole, and that isn't something that is going to magically disappear. There's a reason why a deal hasn't been made. When you strictly look at the viewership numbers in the Pac-12, outside of LA, it's not good.
Excluding games with USC and UCLA, the top Pac-12 football game from 2022, in terms of viewership, was Oregon vs. Oregon State, at 3.65 million viewers. Comparatively, Michigan vs. Ohio State drew 17.14 million viewers, while Tennessee vs. Georgia pulled 13.06 million. NC State vs. Clemson (4.98M) and TCU vs. Baylor (4.35M) even outperformed the Civil War. If that is the best game that they can offer going forward, why would any television company be excited about jumping into bed with the Pac-12?
Sorry, But Apple TV+ Isn't Going to Save the Day
This week, reports surfaced that Apple TV had emerged as the leader in the clubhouse to take the Pac-12 media rights. While that might sound like a savior descending from the heavens in the eleventh hour for the conference, I believe it might be quite the opposite.
If Kliavkoff takes a proposal of Apple TV to his member schools, it might spell the end of the conference as we know it.
Look at it from this perspective.
Just months ago, it was reported that the Pac-12 was looking to fetch somewhere north of $40 million per school annually in its new deal. Now, the expected number on the market is somewhere closer to $25 million per school, putting it dead last in the Power Five pecking order. By waiting it out, Kliavkoff has lost the leverage that he thought he had, and now he's getting lowball offers. If Apple "overpays" and hits that $25 million mark, it will likely expect to own all rights and keep the Pac-12's sporting events exclusively on its streaming service.
The New York Post's Andrew Marchand was the first to report that Apple was emerging as a favorite to land the Pac-12's inventory, but had this say about the school's reception of the potential deal.
"If the universities will be interested in a potential all-streaming deal and if the terms will end up being good enough to prevent schools departing to other conferences are yet to be determined," Marchand writes.
The biggest issue I have with Apple TV is the limitation of viewership that it will present, on top of a conference that already lags behind the rest of the pack. I have legitimate concerns that the Pac-12 can survive with Apple TV as it's exclusive broadcast rights holder.
Will schools like Oregon and Washington put up with their exposure being limited to the number of subscribers that Apple TV+ has? A survey in 2022 showed that just 20 million people, worldwide, subscribed to the service. Apple has just 6% of the market share of streaming services, lagging behind Netflix (21%), Amazon Prime Video (20%), HBO Max (15%), Disney+ (14%), and Hulu (10%).
When Oregon and Oregon State were on national TV, only 3.5 million people tuned in. What will that number look like when only 17% of the population has access to the game?
It's just not a feasible longterm solution for the conference, and it's a sad attempt at a band-aid fix if that is what they land with. Unfortunately, the Pac-12 should've just taken what ESPN would've given it and waited it out for another five years. Now, it might be in some real trouble.
If George Kliavkoff comes to the Pac-12 table and tells them that Apple TV is their best chance, I see the conference collapsing. A low-ball offer and a streaming-only platform will be the straw that finally breaks the camel's back, and the rickety empire that Larry Scott left for George Kliavkoff to clean up will come crashing down. So, get ready, because if this plays out, there's more expansion coming and you can take that to the bank.