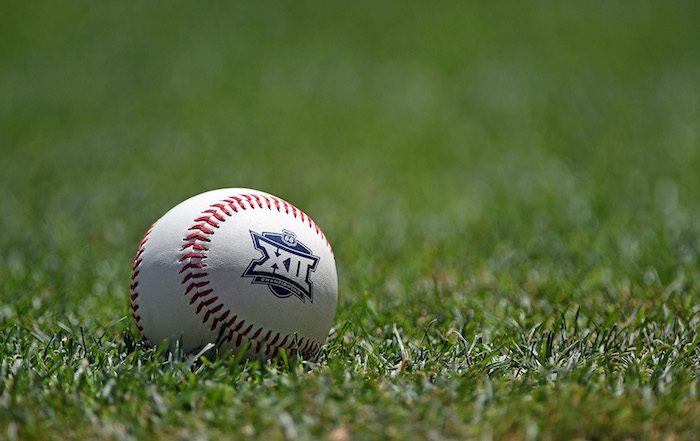 The Big 12 baseball season is in full swing as we are in the second weekend of action. Before conference play arrives, these team will be competing in non-conference matchups. Here are the best things I saw on Saturday around the Big 12.
Game of the Day
Texas Tech vs Western Illinois (Game #2)
When Saturday started, I didn't think that the Red Raiders would be in a tough battle with Western Illinois. They handled the Leathernecks (yes, that is their names) with ease on Friday night in their 11-3 win. Texas Tech carried their momentum from Friday into game one of the doubleheader with a an easy victory where they scored a whopping 24 runs. However, the second game on Saturday was a little bit of a different story.
Taber Fast took the mound for the Red Raiders and gave up two runs in the first inning. Luckily for Texas Tech, their bats were able get going early to tie the game quicky. Western Illinois would once again take the lead in the fifth inning thanks to a big two-run double by Jake Allgeyer. But Texas Tech wouldn't go down that easily. Kevin Bazzell drove in a run and Austin Green brought in another in the fifth inning to tie the game at four. The big moment came in the eighth inning when Drew Woodcox hit a monster two-run blast to put Tech on top. That home run was huge in the 9-8 victory for the Red Raiders. With the win, Texas Tech moves to 7-0 and remain as the only undefeated team in the Big 12.
Biggest Win
West Virginia over Arizona
I have had faith that this West Virginia team would make some noise this season and they have managed to do that just in just one week. After a tough weekend against a good Georgia Southern team last weekend, they managed to take the series in Arizona in just two games. They took game one on Friday on a whacky steal and they won on Saturday thanks to the arm of Blaine Traxel who I will talk about later in this article. Arizona is a good baseball team and the fact that West Virginia took the series on the road is very impressive to me and should put the entire country on alert.
Worst Loss
Baylor
The Bears made the trip east to take on Duke for a three-game series and so far it has been ugly to say the least. They lost 20-1 on Friday and then got blown out once again on Saturday with another loss where they gave up 22 runs. Baylor has played six games this season and they have given up 20 or more runs three times already. Something has to change and change quickly.
Saturday MVP
Texas Tech 1B Gavin Kash
They call this man Kash money for a reason because all he does is hit well. Gavin had a monster game one against Western Illinois on Saturday as he had a team high 6 RBIs on the day. Two of his four hits were home runs. He also was able to get a hit in game two of Texas Tech's doubleheader against Western Illinois. With a performance like that, I had to give this man the MVP award for Saturday.
Pitcher of the Day
West Virginia RHP Blaine Traxel
Someone give this man an ice bag or two because he went the distance against Arizona on Saturday afternoon. Blaine pitched a complete game against the Wildcats as he allowed just one run in nine full innings of work. While he only struck out six batters, he did a great job at just getting guys out. It's not often we see complete games in college baseball so nobody was more deserving of this award than Blaine Traxel.
Best Home Run
Texas Tech INF Drew Woodcox
Another Red Raider makes the list and rightfully so. Drew Woodcox hit a clutch home run in the eighth inning on Saturday that helped lift his team to a 6-5 win over Western Illinois.
Full Scoreboard
Florida State: 10, #8 TCU: 8
West Virginia: 5, Arizona: 1
Game 1: #24 Texas Tech: 24, Western Illinois: 9
Game 2: #24 Texas Tech: 6, Western Illinois: 5
Game 1: #15 Oklahoma State: 1, Loyola-Marymount: 0
Game 2: Loyola-Marymount: 10, #15 Oklahoma State: 8
Oklahoma: 7, Rider: 2
Kansas: 4, Oakland: 1
Texas: 5, Indiana: 2
Sam Houston: 8, Kansas State: 3
Duke: 22, Baylor: 3