Big 12 Basketball
Jennie Baranczyk, Oklahoma Forward Liz Scott React to Blowout Loss to Texas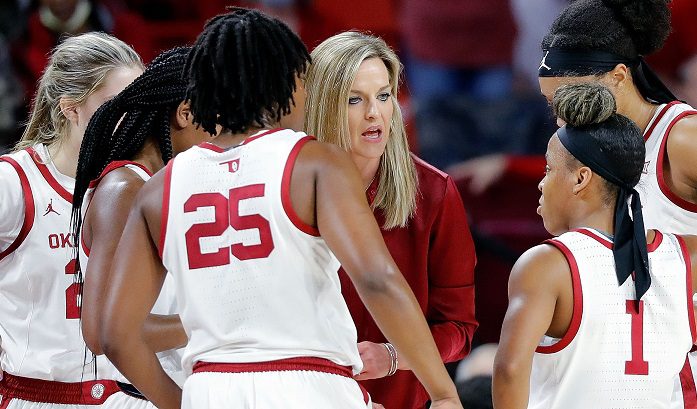 In a tilt almost certainly deciding the Big 12 race, the Texas Longhorns came into Norman and dominated the Oklahoma Sooners 67-45 Saturday afternoon at Lloyd Noble Center. The high-octane Sooners were anything but, and the Longhorns abused them with their size.
So, now with two games remaining, Texas has a game lead with the season sweep and tiebreaker. Oklahoma, meanwhile, will be hoping upon hope for some chaos.
Afterwards, Oklahoma head coach Jennie Baranczyk and forward Liz Scott met with the media to talk about the setback. Heartland College Sports was on the scene for all of that discussion.
Baranczyk:
Opening statement: "I'm really disappointed. Obviously, Texas played really, really well and they're a very good basketball team. And we definitely weren't tonight. I do want to thank all of our fans. I thought we had an incredible crowd. And I've been begging everybody all week, and we showed up from a crowd standpoint. And our team just didn't get—we just didn't. And so we will look in the mirror first, and we'll be better."
What happened from an offensive standpoint against Texas' defense: "Well, I think after the first quarter we just stopped moving. And the second quarter when we missed some shots, we got on our heels a little bit and then things went downhill. We had some good positions in that first quarter, especially when we started to come back and move the ball better. Our decision making on some of those turnovers weren't great. But we just stood a lot. And yes, you want to credit Texas. I totally agree. And I feel like we just were not ready, especially offensively. And they got every loose ball. Now, I feel like we had possessions where we played hard. We got a lot of offensive rebounds. But a lot of those were dead ball. So, it's a lot better when we can get them and then go right back up with it."
What changed in the third quarter: "I feel like it changed in the second quarter. I felt like our defense in the first half was just good enough to kind of stay in it. And that third quarter, I feel like we just aren't—we've got to respond better. You know, whether or not things go our way, we have to respond better. and right now the way that we respond is we might foul, right, or then we'll try to make a home run play and try to get it back all on one possession or things like that. And so we need to do a better job of just response and just our possession-by-possession. We're at our very best when we just take everything out and we just play. And I don't think that we necessarily did that, especially in that third quarter, especially to start. There was a possession I think they had, what, four offensive rebounds in one possession and it just went right off our hands and out of bounds. And so those are the ones we've got to bring in."
What it does when Texas has a set of bigs they can rotate: "Well, it provides a mismatch on one end, but it shouldn't on the other. And so I feel like that's where some of our [issues came]. They had a lot of blocked shots, too. And so we needed to get a little bit more movement before we got in there, and I think we did that a little bit. At the very beginning of the game, we got a couple reversals and then got the ball in. We had some good movement there. But those possessions were few and far between, and usually that's most of what we do. And so I feel like we just did a lot of one-on-one stuff today, and we're not as good there."
How they go about fixing things to play their style: "Yeah, I mean it's going to be paced. It's going to be taking care of the ball. I mean, even when they would pick us up, even when they didn't pick us up, the pace of us bringing the ball down was different. Normally, we're bringing the ball down faster, whether there's somebody on us or not, and they control the tempo. You know, normally we do a great job of being able to get the ball from one side to the other. We didn't do that today, and we stood a lot. We stood a lot outside the 3-point line. What we do really well is to be able to really have actions where we move the ball. And instead today we just kind of stood there and screened, and then they'd kind of just switch or not really have to guard it and then we would be kind of lost. So, I feel like to be honest, we've got to get a heck of a lot better. And so this is either going to be a really good wake up call for us. We're going to go one of two directions right now. So, if I know the character and I believe of character of who we are, I think we're gonna go the right direction. But we've got choices to make and we've got to be able to choose to respond how we want to respond."
If this is the most frustrating game this season so far: "No, I think we've had a couple. You know, to be honest, it feels that way because of the magnitude of today. It feels that way when it's at home and you have such a good crowd. It feels that way when it's supposed to be a rivalry game and they've owned us. So, that's something that whatever we're doing, we've got to change it and be a lot better."
If the crowd challenge was answered today: "I mean, our crowd was phenomenal. We gave them nothing to get into it. And that's what's so heart wrenching because I feel like we did show up and our fans were awesome. And they were there, and they were trying, and we passed it to Texas too much. And we didn't get to just be us, and I think that's going to be our disappointment. And I hope that they stay with us. You know, I really do. And I think they will because there are some great things ahead of us. There's some great things ahead for this team. And I think we can feel that and see that, and just today it just does not feel good."
If open shots just weren't falling or if it was bad shot selection: "Honestly, I felt like we could have pulled the trigger a little bit more on some things, I felt like. And again, that's partially to their pressure. I think we created some of that. and that's what they do. They do a great job. I mean, they're in your shorts. No question. Rori Harmon was absolutely incredible tonight. She played 40 minutes. She's all over the place, hit big shots, made big passes, a lot of emotion, had her team going. And I feel like we had some opportunities where some were really good looks, and I feel like we felt guarded a lot more than we were at times. And again, that's no disrespect because they guarded us. But there are moments where it might be a one-on-one coverage or there were moments where we had some opportunities. And you know what? We're going to keep working. So, do I think they were all bad shot selection? Not necessarily. I felt like we could have pulled it a little bit more."
If this game will be more of an outlier than something to come: "I guess you hope so. Right? I mean, we've had a couple that we haven't felt good about, and we've had opportunity. The first time we played Texas I don't know if we necessarily bounced back. So, here's a lesson again. You know, the first that we played at Utah, and it was it just didn't feel good. But that was there. That wasn't in conference. And so it took us a while to bounce back. So, again, we've got to be ready. We've got to be ready tomorrow. We've got to be ready for the next game and the game after and then the game after. And so we have three games left for sure, probably four for sure. But that's all that's guaranteed. So, again, for us to be able to say like let's go, we've got to start to go. And so I guess I don't know if excited is the word, but how are we gonna respond? And we're gonna see. So, it's the same thing that we're talking about with our fans. Like, we're gonna see if it's important. We're gonna see if we can respond. We will see on Wednesday. I'll see probably before that. But we've been practicing really well, so I will see if we can respond on Wednesday. And you will, too."
Scott:
What they have to do moving forward to get the offense going: "I mean, it just there's really movement. I feel like we were easy to guard today because we weren't moving a lot, we weren't doing the usual things that we do. And it showed in the score. We had a career low 45 points scored all game, which is uncharacteristic for us. So, just movement is a big thing right now."
If Texas' size got them into a lull: "I necessarily don't think it's size because, like I said earlier on the radio, we play teams like that, having 6-6 players, playing against them. I just think that we were forcing a lot of shots, myself included, where we could have made the extra pass or pop out screen someone, just stuff like that. So, I just feel like that."
What some of the emotions were walking off the court in front of a huge crowd: "Honestly, personally, I just felt like we let a lot of people down. We had 10,000 people. That was the most we had in like a decade. So, it kind of hurt in that aspect. I'm also hurt that we were battling for first place. But we're going to bounce back, learn from it and get ready for next game."