Big 12 News
Oklahoma Upsets Iowa State to Keep Hopes of Winning Season Alive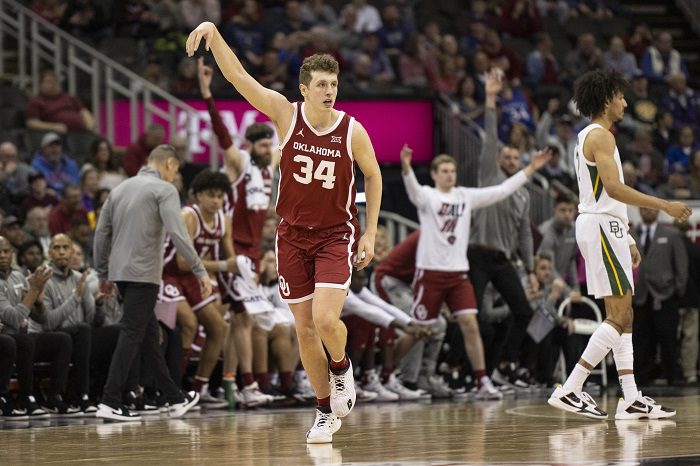 The rollercoaster of a season continues for the Oklahoma Sooners. They upset the 23rd-ranked Iowa State Cyclones 61-50 Saturday afternoon at Hilton Coliseum for only their second road win in league play all year.
Sluggish out of the gates, the Sooners (14-15, 4-12 Big 12) rolled in the second half. They completely turned around an early 14-3 deficit, leading by a dozen and then as much as 15 when time started to tick away in the final few minutes.
div id="inline_1″>
They were able to get there thanks to a huge performance off the bench by guard Jacob Groves, who's been off in recent days. He certainly wasn't this time around, however. The former Eastern Washington transfer poured in four triples and 16 points total while hitting six of his eight shots from the field.
Meanwhile, Oklahoma held Iowa State (17-11, 8-8 Big 12) in check on the other end of the court. Normally a hot shooting group in Ames, the Cyclones were anything but that, with what the visitors did to them defensively. They connected on only 31% from the floor.
That's while Oklahoma buried a scorching 46.3%. That included 43.5% from long range.
If you were to nitpick, the Sooners committed 18 turnovers. But they were dominant in all other manners, largely rendering those meaningless. They had a huge edge on the glass, with a 39-27 advantage.
Outside of Groves, scoring was pretty well dispersed for the Sooners. Four other players finished with at least seven points, but only guard Grant Sherfield in double digits out of those.
For the Cyclones, a pair of players finished in double figures. Guard Gabe Kalscheur led those with 12 points, while guard Tamin Lipsey added 10.
div id="inline_2″>
The Sooners keep their slim hopes for a winning season alive and will now look to continue their push for that with a 7 p.m. CT Wednesday contest at Kansas State. The Cyclones will next host West Virginia in a quick turnaround at 8 p.m. CT Monday.