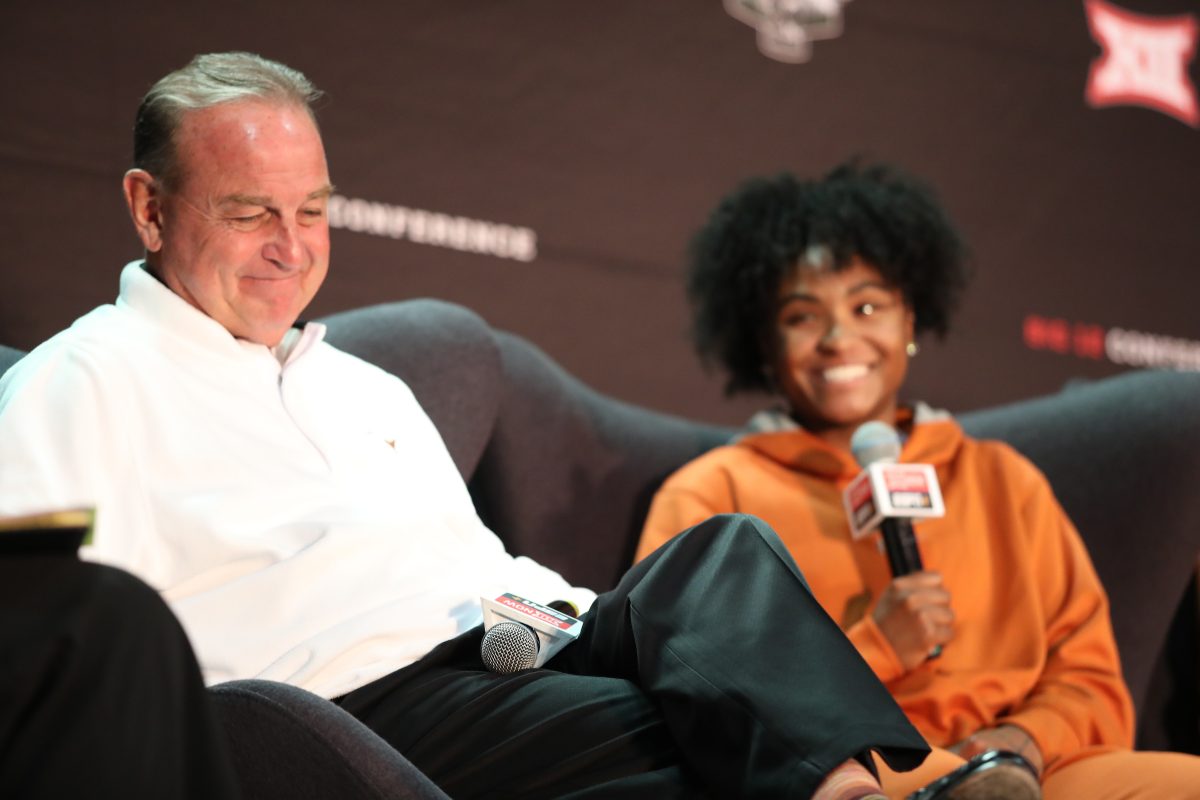 In a tilt almost certainly deciding the Big 12 race, the Texas Longhorns came into Norman and dominated the Oklahoma Sooners 67-45 Saturday afternoon at Lloyd Noble Center. The high-octane Sooners were anything but, and the Longhorns abused them with their size.
So, now with two games remaining, Texas has a game lead with the season sweep and tiebreaker. Oklahoma, meanwhile, will be hoping upon hope for some chaos.
Afterwards, Texas head coach Vic Schaefer and players Rori Harmon, Shay Holle and Shaylee Gonzales all met with the media. Heartland College Sports was on the scene and brings you all of that discussion.
Schaefer
Opening statement: "Yeah, first of all just thanks for everybody being here and for your coverage of women's college basketball. Giving God the glory for number 22 today. The first thing that comes to mind is it's just amazing how hard our kids played and how well they played, especially defensively. I'm not sure we missed more than a handful of assignments today and how to defend that high octane offense out there. They're averaging 90 points in their last five games. And to hold them to 27% field goal percentage, 14% from 3, I mean, I'm just so proud of our kids for how hard they played. Anybody in that arena today, you come away talking about how hard our kids played, first of all. That's what jumps out. That's what jumps out at me. And again, you win with guard play. I know we have some guards up here. Shaylee six out of 14, had 19 and five steals, and Rori seven out of 15, and Shay's 4-8, three out of four from three. But defensively, what these kids did today on the perimeter is just amazing. I'm so proud of them. It's hard to do. You've got to have kids that are committed to wanting to do it that way. Force 22 turnovers, we had 10 blocked shots. I thought Taylor [Jones] in the third quarter was a big difference for us. She was way different than her first time through in the first quarter when I thought Beatrice [Culliton] really hurt us a little bit in the first half. But boy, Taylor was really special there in the third quarter and allowed us to do some good things. And Rori has eight assists and does her normal from the field, seven rebounds. I asked her to get six. She got seven. So, just again, it's hard to do y'all, to hold that team to six and eight points in the second and fourth quarter. But we talked about it. You give these kids four days to get ready for somebody, these kids, they can do it. And we talked about toughness today, about being resilient, about a game of runs and about the building's quiet, that means you're winning. You're doing something right. You're keeping people [at bay]. You're not letting them make those 3's and make the spectacular. So, super proud of our team. When we made our run in the third quarter, they were contesting the rebounder with two people. And once we got it to Rori, then it became three-on-two. Shay was down there in her home away from home in the right corner and knocks down two big 3's for us. And so give Rori credit. She found her. So, I thought we executed some good stuff down the stretch. Shaylee made some big buckets for us. And again, these three right here played their guts out today. I am so proud of them, proud of our entire team."
What it meant to have Shay so hot in this one: "Well, I mean, anytime we can get her some looks, look, she is shooting the ball really well right now, her and Shaylee both. When you look at our last five, they're all shooting the ball well. I mean, you cannot not guard either one of these kids right now. They're really shooting it well. I'm talking about from 3 and 2. But they're putting in the work. You know, you can throw Rori in with them. They're all three putting in the time in the gym to shoot the basketball. But all you saw today's what she's been doing in practice. And again, the stats don't lie. You look at her stats right now. I've told her, I don't care if you miss one. If you're open again, take the shots. She's got to because she's a good shooter. So, I think then she had a best overall game today. She didn't get back-doored I don't think she gave up a 3. She was really good defensively. I don't know if she didn't have how—many rebounds did you have, Shay? Yeah, she only had three. But I mean, she didn't turn it over. She had three assists, and a block shot. So, I thought today might be her best overall game. Again, we've got some weapons. You don't have to do a lot over there. Just don't turn it over, and defend and rebound a little bit, and that'll help us. And then when you leave her open, you've got to make a shot. Like at this level, you've got to make horse shots. To me, those shots were horse shots, and she made them."
If he feels like they can make a run: "I do. I mean, I've said this all year. We're the tallest team in the league. We block shots, alter shots. We work on defense every day over an hour.; these kids put in the time. We have to be rewarded for being that, everything I just said. And we can't—you know, so I thought tonight we did that. When you've got Taylor back there blocking shots and DeYona Gaston blocking or altering, it allows these guards to maybe be aggressive and take some chances and do some things. So, I agree with you. When you go out and play like that now, you've got a chance. But we haven't done that consistently all year. That was a four days of prep game. Man, you give these kids four days of prep and give my staff four days. We've been down the road a little bit. We've been around the block. So I thought these kids did a great job with it."
How they've been able to slow down Madi Williams and Ana Llanusa both times: "It's like playing Roger Maris and Mickey Mantle. I mean, they're in the chase right now for—they're the third and the fourth leading all-time scores in the history of Oklahoma, and they're both neck and neck. So, like I said earlier in the week, it's like having Maris and Mantle out there. And then you've got Ana, who if she hadn't been hurt, she's liable to be number one or two. I mean, the kid is an offensive machine. And so all three of them, you think about it, y'all. Y'all know what the stats are. They put four people out there that you're going to lose the horse game. You're going to lose it. You can't play horse with them. There ain't no hope you miss defense when you play Oklahoma and Coach [Jennie] Baranczyk. She does a great job with that group. And so you've got to be locked in. You cannot have many mistakes. So yeah, that whole group is just they're so good offensively. And for our kids, man, I think you saw a little pride out there today. I think you saw some kids that really took a challenge and know what's on the line and went out there and made it happen."
What the difference has been in these two blowout wins over Oklahoma: "Well, again, I just think it's our kids taking to the floor what we work on every day. Having a pride in defending and taking pride in the challenge. I mean, that is one of the best offenses in the country. Those three, all those shooters out there, but those three in particular that you just brought up again. There's been some pretty good players here at OU. It's number three, number four, number 12. And I just think our kids understand the importance of we're not going to beat Oklahoma 90 to 80. It ain't gonna happen. We're not a team that can go get 90 right now. I mean, we've got our second leading scorer that's out right now. But there's other ways to win, y'all. And I think our kids have embraced, 'Okay, this is what we have to do.' And it's not just this team. I mean, it's everybody we've played we've really tried to hunker down and defend a little bit. I think we held West Virginia to 48 in the last game. So, you know, maybe we're starting to get it. I'm not a guy that gets to [overreactive], I'm always coaching against the ghost and I'm looking for that consistency. But if you play like you played today, you've got a chance. And I think maybe they get this now. They see it. They got a little taste of it. But look, we've got two monsters left. I'm gonna let them enjoy today. But when we get off the plane and get back to campus, we've got to put it in the sink and flush it because we've got to get ready for Baylor on Monday night. And you've got one day of prep. It's beyond me how we get all year long and now all the sudden we've gone Saturday to Monday, Saturday to Monday, Saturday at the end of the year. But this is the hand we've been dealt with, and both Monday games were against top three teams. So, we've got to get ready. And you know what? We've got to do better than the last time we did this. So, we'll get ready. And I promise you. Our kids will be excited. We're gonna have a sold out arena on Monday night. I think we had 9,000 tickets sold when we left yesterday, and I'm betting by midnight tonight it's sold out. So, it should be a great atmosphere, and you've got a really good team coming to town."
Harmon:
How they celebrate this win but also focus on the next game Monday: "Of course we're going to celebrate this big win. I mean, I think one of the interviewers on the court asked me like you held a team that usually scores pretty much 100 points a game—I know I'm being dramatic, but that's just what it looks like—to 45. And that just means you're just playing. That's the definition of textbook defense, in my opinion, or even just Texas, like Texas defense. Of course we have to focus on the games ahead of us. They're as important as well. But we'll set aside some time to celebrate this win."
How excited fans should be about this team: "Well, one, it's our senior night, so that's always great. I love my seniors and all that. But it's always fun to play at Moody now. I mean, it's just it looks so good. And it's just it's just a new year. I'm just so appreciative of the fans that come out. I promise you when I looked at the attendance from the Irwin Center, it was about 2,000, 3,000. And now when I look it's about like 5,000, 6000, maybe 7,000 here and there. And that just means everybody's putting in effort to come support us, and that just means a lot coming from the team and staff and everybody here."
Holle:
What was working for her in the third quarter: "Yeah, I mean, I thought Rori just found me in really good spots. She got me the right shots at the right time, and we kind of just came together. Yeah, I mean, open transition threes, we work on that. So, I was pretty comfortable."
Gonzales:
How she feels about the team as they gear up for the postseason: "It's super exciting. You know, this win is huge for us. And I feel like it just adds more excitement to the game. And we're super excited for our next game, and hopefully we have a good practice and we're ready for the next game."