Baylor Bears
Sunday Six-Pack: TCU's Comeback vs. Florida State, Baylor Bad Loss, Jake English's Big Day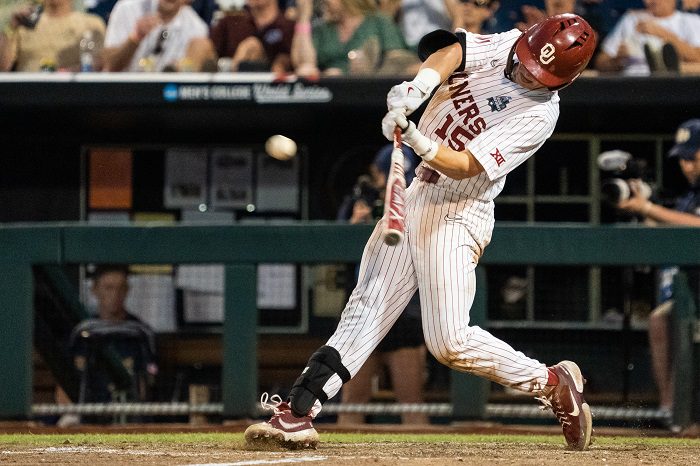 Is there anything better than cold beer and baseball? It's a combination that is hard to beat during the season. No matter what kind of beer you drink (or how many), let's take a look at some of the best action on the Big 12 baseball diamond from Sunday with a nice six pack.
Best Game
TCU vs Florida State
This wasn't your typical high scoring game but it certainly was entertaining to say the least. TCU starting pitcher Cam Brown got himself into a jam early as he walked in two runs for the Seminoles in the first inning. He did end up settling down as he went on to pitch four scoreless innings after his early struggles.
It took TCU four innings to get on the scoreboard as David Bishop knocked in a run to make it a 2-1 ballgame. But then the Frogs found a little magic in the seventh inning when Kurtis Byrne drove in a run and an error helped TCU take the a 3-2 lead. From there, it was all Kole Klecker who didn't allow a single hit in his four innings on the mound. With the win, TCU avoided the three-game sweep.
Biggest Win
Kansas over Oakland
I could have went with TCU here but it was hard to ignore the Jayhawks performance on Sunday afternoon as they scored a whopping 26 runs on the day. By the end of the fourth inning, Kansas already had a nine run lead and they didn't stop there. The Jayhawks went on to score 12 runs in the sixth inning. It was one of the wildest innings I have seen in awhile and the crazy thing is that they weren't even done scoring. After the run filled sixth inning, Kansas ended up scoring four more runs as they went on to win 26 to 3. It was a great day for Kansas baseball as they took the series on Sunday. They will get another chance at Oakland on Monday afternoon as they look to complete a four game sweep.
Worst Loss
Baylor
Once again, the Bears find themselves on the losing end of their series with Duke. In the first two games, Baylor was outscored 42 to 4 and they ended up dropping game three of the series in a 10-3 loss. Overall, the Bears gave up 52 runs this past weekend while scoring just seven runs. I think it's time for Baylor to get back to the drawing board and figure some things out quickly.
Sunday MVP
Kansas C Jake English
The Kansas catcher had himself a day in North Texas as he hit two home runs against Oakland. Jake hit his first bomb of the day in the very first inning and then followed that up with a monster two-run blast in the sixth inning. He ended up finishing the game with four runs batted in. Without a doubt, he was the Big 12 MVP of Sunday.
Pitcher of the Day
TCU RHP Kole Klecker
I mentioned Kole earlier for the game of the day but I wanted to give him so more praise for his great performance on Sunday. He cam in the game in the sixth inning and pitcher four hitless innings to help TCU win the game. Florida State is a good team and Kole did a fantastic job against a solid lineup. That is very impressive for a true freshman.
Best Home Run
Oklahoma State INF Roc Riggio
If you follow college baseball at all then you know who Roc Riggio is. He is the leadoff man for the Cowboys and he went deep on his first at bat of the game. His home run really set the tone for Oklahoma State as they went on to run rule Loyola Marymount.
Full Scoreboard
#8 TCU: 3, Florida State: 2
#15 Oklahoma State: 11, Loyola Marymount: 1
#24 Texas Tech: 14, Western Illinois: 8
Oklahoma: 11, Rider: 1
Kansas: 26, Oakland: 3
Indiana: 4, Texas: 2
Duke: 10, Baylor: 3
Iowa: 6, Kansas State: 5
Arizona: 15, West Virginia: 5