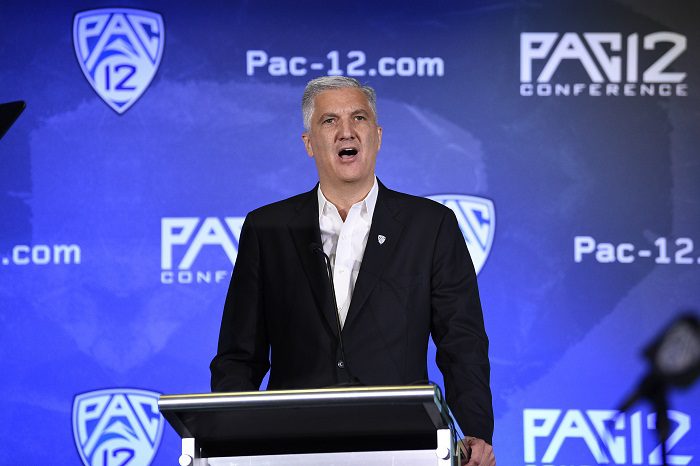 Postscripts
What's going on in the Big 12 and beyond? I expand and explain every Sunday in Postscripts at Heartland College Sports, your home for independent Big 12 coverage.
This week, the Wildcats need a backup plan for when they lose their beloved offensive coordinator, let's get ready for the Pac-12 on Ion TV, Chris Beard's coaching path and more.
Preparing for Life Without Collin
It's not often that a program's beloved quarterback becomes a program's beloved offensive coordinator. But here's Collin Klein at Kansas State.
His first year calling plays full-time led to the Wildcats winning the 2022 Big 12 Championship game over TCU. Even though the Horned Frogs went on to the College Football Playoff, if this season had an expanded playoff the Wildcats would have been there, too.
Success brings inevitable interest from other programs. Ask Iowa State about Matt Campbell.
Well, Klein got that interest in this hiring cycle, most notably from Notre Dame, which lost its offensive coordinator, Tommy Rees, to Alabama after Bill O'Brien left Alabama for the NFL's New England Patriots.
Klein ultimately withdrew his name from consideration. But he did interview. Just like getting reps at quarterback or as a play-caller, that's valuable experience.
Klein has the talent to be a head coach one day. But, given K-State's current trajectory, it's unlikely Klein will be K-State's head coach. He'll have to go somewhere else to get that experience.
None of these are bad problems. If Klein does a great job, Kansas State plays great football and his boss, Chris Klieman, can attract a quality coordinator when the time comes.
I'm not trying to push Klein out the door. Far from it. But preparing for the inevitability means there's less of a chance of a downturn in Manhattan.
This Week in 'As The Pac-12 Turns'
Remember when the Big 12 was teetering on the brink of destruction, way back in the summer of 2021? I'm sure you remember that. Those were the days.
The Pac-12 has asked the Big 12 to hold its beer.
Just this week, Arizona State's athletic director, Ray Anderson, told a Phoenix radio show that that he is admittedly "frustrated" by the media deal process. But he was optimistic a deal could be done in the next two to three weeks.
Washington State president Kirk Schulz told media outlets that resolution was needed by the middle of March. So, at least Anderson and Schulz are the same page, right?
We've already written about the fact that San Diego State, a potential Pac-12 expansion candidate, is waiting in the wings, rather impatiently at that. But that athletic director says he's expecting an invite soon.
As for that TV deal — which many have reported is down to ESPN and Apple+ — well, Friday was a barrel of laughs.
Action Network's Brett McMurphy reported this:
If that sounds absurd, well, maybe it was. McMurphy is as reliable as they come. But, a few hours later, The Athletic's Stewart Mandel — basically every Big 12 fan's favorite Athletic writer, right? — had this to say about the same rumor.
Ion Television, if you don't know, basically re-runs a lot of cop shows, including NCIS, Law and Order: SVU and Criminal Minds. So getting the Pac-12 would be, well, a step up. As for Scripps Sports, it has a history of dipping its toe into local sports markets but snagging the Pac-12 would be like winning the lottery, and that's saying something.
So … this is all nuts right? We're agreed on that?
Good.
Meanwhile, our Bryan Clinton has a point about the reported Apple+ deal (or non-deal, if McMurphy is right).
They say it gets worse before it gets better, right? Is the Pac-12 tempting fate?
The Chris Beard Watch is On
I never thought that former Texas coach Chris Beard would be a candidate for the Notre Dame job. That's not the type of athletic department that would take on a coach with Beard's obvious baggage.
But after Ole Miss pulled the trigger on Kermit Davis and fired its basketball coach, speculation centered directly on Beard.
The Rebels' job isn't going to set the coaching world on fire. But it's had a baseline for regular-season success. Ole Miss has 20 wins in 10 of its last 13 seasons. It just hasn't had NCAA Tournament success. That's where the right coach could elevate the Rebels. It's a low-pressure job in the SEC. Expectations are moderate and the right coach and players could make it a powder keg of a program.
That's where Beard comes in. He'll be a candidate. I suspect he'll get an interview. Whether he gets the job is up to athletic director Keith Carter.
Let's be clear. I believe that Beard did what he's accused of. The district attorney didn't move forward because he said he couldn't prove the case beyond a reasonable doubt, and the change in testimony of Beard's accuser probably had a lot to do with that.
It doesn't bar him from getting another head-coaching job. But I wouldn't hire him. And Ole Miss shouldn't either.
But I have this sneaking suspicion that Ole Miss will.
I Leave You With This
The Big 12 Conference is doing a much better job of promoting itself, especially socially, these days. I've written plenty about the conference's overall basketball quality this season, both on the men's and women's side, and I have talked about it with KXNO Radio in Des Moines, Iowa, and on Siriux/XM's Big 12 Radio.
That quality is showing up in the turnstiles, too.
As I write this, I'm looking at a sold-out United Supermarkets Arena in Lubbock for an 11 a.m. game against TCU. So, just know that when arenas aren't full in this league, it's the exception and not the rule.
You can find Matthew Postins on Twitter @PostinsPostcard