Baylor Bears
Three Must-Watch Big 12 Women's Basketball Games for Week of Feb. 27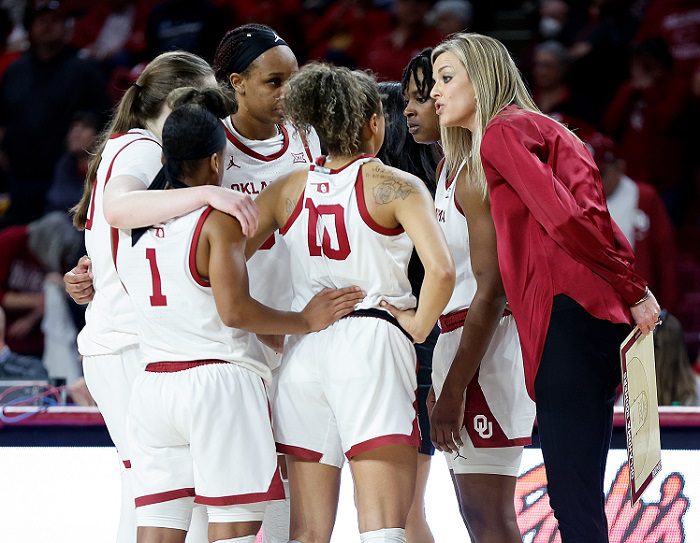 Here are the top three Big 12 women's basketball games for the week of Feb. 27 as the league heads into the final week of the season.
Baylor at Texas, 6 p.m. CT Monday, ESPN2
Baylor has won two straight after a four-game losing streak, but the Bears head to Austin trying to improve their seeding any way they can. The Bears are two games ahead of Kansas, and the Jayhawks are the No. 7 in Kansas City. Baylor wants no part of a first-round game. Going to Texas is tough, but this is a game the Bears can get up for.
Thing is, Texas has been incredibly tough to beat in its new building, the Moody Center. Texas has lost there just once. That was against South Florida in December. The Bears are going to have to do something no Big 12 team has done this season to improve their Big 12 standing.
Oklahoma State at West Virginia, 6 p.m. CT Wednesday, Big 12 Now/ESPN+
Oklahoma State is in the NCAA Tournament, at least from my perspective. So its loss to Kansas on Sunday wasn't nearly as damaging to the Cowgirls as the Mountaineers' double-overtime loss to Texas Tech last week.
The Mountaineers need all the wins they can collect before they get to Kansas City as they try to avoid a first-round game. WVU is on the bubble of the NCAA Tournament and with a home game against the league's hottest team outside of Texas, this is a game the Mountaineers could really use.
The Cowgirls have been a solid road team this season. This is a winnable contest for them and they've won six of their last seven.
Oklahoma at Oklahoma State, 2 p.m. Saturday, Big 12 Now/ESPN+
So stay with me. The first Bedlam game was one of the most enjoyable games of the season, men's or women's. Oklahoma won, 98-94.
Entering the week the Sooners are a game ahead of the Cowgirls with two games to play. Let's assume both win on Wednesday. Then the second Bedlam game could be for the No. 2 seed in the Big 12 Tournament, if OSU wins.
Why? Well, the Sooners and Cowgirls would have split their season series in that case. The next tiebreaker would be their record against the conference's best team, and guess which one of them beat Texas? Oklahoma State.
So, what I'm saying is that I think there's a chance.
This Week's Schedule (all times central)
Monday
Baylor at Texas, 6 p.m., ESPN2
Wednesday
Kansas State at Oklahoma, 6 p.m., ESPN+/Sooner Vision
Oklahoma State at West Virginia, 6 p.m., Big 12 Now/ESPN+
Iowa State at Kansas, 7 p.m., Big 12 Now/ESPN+
TCU at Texas Tech, 7 p.m., Big 12 Now/ESPN+
Saturday
Kansas at TCU, 1 p.m., Big 12 Now/ESPN+
Oklahoma at Oklahoma State, 2 p.m., Big 12 Now/ESPN+
Texas Tech at Iowa State, 3 p.m., Big 12 Now/ESPN+
Texas at Kansas State, 4 p.m., Big 12 Now/ESPN+
West Virginia at Baylor, 5 p.m., Big 12 Now/ESPN+
Links to Use
Rankings
AP Top 25 | USA Today Coaches | NCAA NET
Team Schedules, Results
Baylor | Iowa State | Kansas | Kansas State | Oklahoma | Oklahoma State | TCU | Texas | Texas Tech | West Virginia
Signing Classes for 2023
Baylor | Iowa State | Kansas | Kansas State | Oklahoma | Oklahoma State | TCU | Texas | Texas Tech | West Virginia
Tournaments
Big 12 Women's Tournament | NCAA Women's Tournament
Bracketology
You can find Matthew Postins on Twitter @PostinsPostcard