Big 12 News
Kansas Announces Upgrades to Football Facilities Ahead of 2023 Season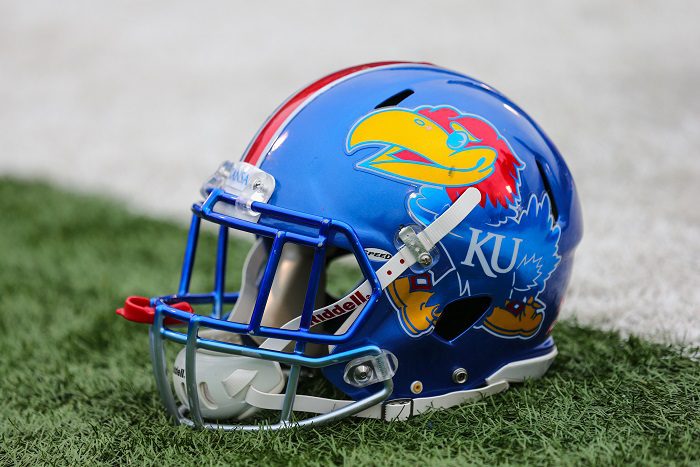 The Kansas Jayhawks football program got a big surprise ahead of spring practice as they learned that the Anderson Family Football Complex is set for some major renovations.
Kansas football announced on Monday that there is a two-phase revamp of the football facilities coming to Lawrence, with the first phase being finished ahead of KU's 2023 season.
That phase will include major upgrades to the Jayhawks' locker room and weight room, which will instantly benefit Lance Leipold's squad going into Year 3.
Take a look at some of the renderings of what is coming to Kansas football over the next few months.
"This is a day that will be remembered as the very first step of the transformational changes that are about to occur at Anderson Family Football Complex and David Booth Kansas Memorial Stadium," athletic director Travis Goff said. "This is another sign of the institution's commitment to providing the very best resources available for our football program. There is still much work to be done, and there is intense planning and preparation happening behind the scenes. But today is a day of celebration and a true indicator that we are all-in on making Kansas Football an elite program nationally."
Kansas released some exciting renderings and information about the upgrades coming to Lawerence in a press release, including:
8,000-square-foot locker room, up from 6,000 sq. ft.
State-of-the-art custom lockers
Lockers withextensive storage space and and air flow drying for equipment
124 total lockers, up from 110
15,000 sq. ft. weight room
Brand new state-of-the-art weight equipment
Major investments to sports science with more force plates and 1080Sprint
After going bowling for the first time since 2008, this is exactly the kind of surprise that Kansas football deserved. More upgrades are coming in Phase Two as well, but details on that will be released sometime later in 2023.