Baylor Bears
Three Thoughts on Big 12 Men's Basketball for Feb. 27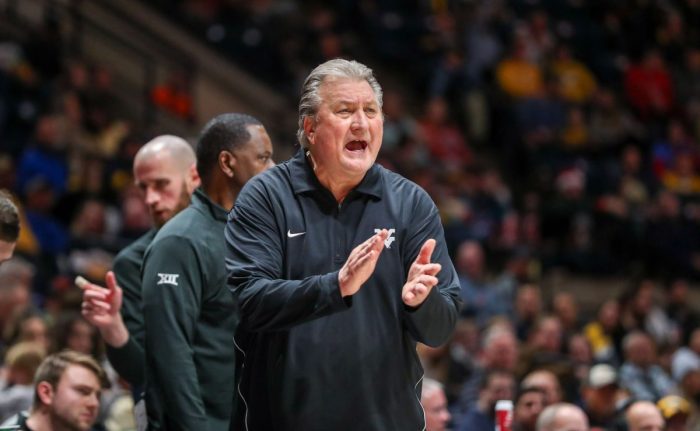 The Big 12 had two games on Monday night, both of which had serious implications in the Big 12 race. Here are three thoughts on the night.
Mountaineers Pull It Off in Ames
Let's start with what I'm sure everyone wants to talk about — West Virginia Tre Mitchell's flagrant two foul on Iowa State's Aljaz Kunc.
I think the flagrant two was justified. But what followed next may have determined the direction of the game. Kunc missed both free throws to lead ISU up 52-46 with 10:44 left. Then, West Virginia's Joe Toussaint took two free throws as a result of Caleb Grill shoving Toussaint after the flagrant (Toussaint took the free throws because he replaced Mitchell). He made both. Then West Virginia got the ball and Seth Wilson drained a 3-pointer.
Then it was a one-point game. Iowa State (17-12, 8-9) built a lead, but the Mountaineers (17-13, 6-11) took it away with a 7-0 run to take a 67-64 lead with a minute left. Those points were scored on Toussaint's brilliant feed to a streaking Emmitt Matthews Jr. through the paint.
On the next possession, Toussaint pulled some NBA mojo on Iowa State freshman guard Tamin Lipsey and drew a foul with the freshman in the air. Toussaint made both free throws with 19 seconds left.
Iowa State's Gabe Kalscheur hit a 3-pointer to cut the lead to two points with 9.9 seconds left. What did WVU do? Got the ball to Toussaint for two free throws and he made both. ISU cut the lead to two with 1.9 seconds left. WVU's Erik Stevenson was fouled with 1.2 seconds left and he missed the first. He made the second and …
Lipsey threw it to Matthews and the game was over. West Virginia won, 72-69. Iowa State lost its sixth game in its last seven. WVU may have rescued its NCAA Tournament hopes. The Mountaineers are among the last four byes in the ESPN field.
Stevenson finished with 23 points. Toussaint had 19 and all eight of his second-half points came from the free-throw line. Matthews scored 13. Kalscheur had an incredible game, scoring 26 points. Jaren Holmes added 16 points.
Baylor Outlasts Oklahoma State
First, some housekeeping. With guard Keyonte George out with an injury, Langston Love made his first start of the season. He played seven minutes. Why?
ESPN reported that Love had a scratched cornea. He spent a good portion of the game with a towel over his left eye.
Enter Dale Bonner. The backup point guard had another fine game for Baylor (22-8, 11-6), as he scored 15 points off the bench. No two points were bigger than the free throws he hit with 25.2 seconds left to give the Bears a six-point lead. Baylor went on to win, 74-68.
Bonner's performance was vital because Oklahoma State (16-14, 7-10) nearly went from zero to hero in the final minutes. John-Michael Wright's 3-pointer punctuated a 15-2 run for OSU with 33 seconds remaining to cut the Bears' lead to four points. But OSU couldn't get it down to one possession, thanks in part to Bonner.
Baylor guard LJ Cryer also had 15 points, while forward Jalen Bridges had 14 points and guard Adam Flagler had 13 points. Each of them hit three 3-pointers. Both Bridges and forward Flo Thamba (eight points, eight rebounds) fouled out.
Wright ended up with 17 points, while guard Caleb Asberry and guard Quion Williams each had 12 points. Neither Kalib Boone nor Moussa Cisse, Oklahoma State's talented forwards, managed double figures in scoring.
Oh, and we had the Big 12 basketball equivalent of a Yeti sighting tonight — a Scott Drew, gulp, technical foul.
Eight Seniors? Wow
Iowa State had its senior night, and I guess it just didn't dawn on me, being knee-deep in tournament seeding scenarios, that they were honoring eight seniors.
In this day and age that's pretty incredible.
Those seniors are forward Tre King, guard Caleb Grill, forward Aljaz Kunc, forward Robert Jones, guard Jaren Holmes, center Osun Osunniyi, guard Gabe Kalscheur and forward Hason Ward. Now, some may have COVID waivers to exercise and they'll announce their intentions in the coming weeks.
And don't cry for Iowa State. Head coach T.J. Otzelberger has procured perhaps the best recruiting class in program history, led by Omaha Billew. Plus, Tamin Lipsey should grow in leaps and bounds after a solid freshman season. And, Otz has proven adept at working the transfer portal. See Holmes and Osunniyi, along with last year's star guard, Izaiah Brockington.
But, clearly, Iowa State will look much different next season.
You can find Matthew Postins on Twitter @PostinsPostcard