Baylor Bears
Big 12 Softball Power Rankings: Sooners Storm Back to the Top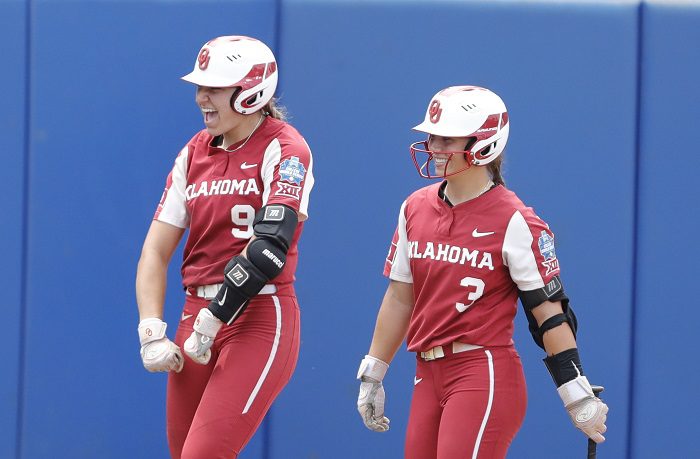 The Big 12 softball picture is starting to take shape as there are now three weekends of softball behind us and just three more tournament weekends before conference play begins.
In this week's Big 12 Softball Power Rankings, there will be a shake-up at the top as the Oklahoma Sooners, who fell to Baylor at the Getterman Classic in Week 2, returned to form in a big way this weekend. After a 14-0 (5 inn.) victory over top-ranked UCLA, the Sooners are back atop the national polls, and they're moving back up in our rankings as well.
Let's take a look at the Big 12 Softball Power Rankings after Week 3.
I think Baylor owes UCLA an apology for what just happened. In the first two weekends of action, Oklahoma's bats weren't rolling like many were used to seeing, and when they faced good competition, like Baylor, they struggled. Well, that loss certainly woke up the Sooners' offense, which outscored its opponents in the Mary Nutter Classic, 50-4. Against UCLA, who came into the game 17-0, the Sooners put up 14 runs on 20 hits, including six home runs. Alex Storako went the distance in the circle as well, dominating one of the top offenses in the country in a scoreless showing with five strikeouts, no walks, and just three hits. After a performance like that, the Sooners deserve to be back at the top, and that's where they are.
While Oklahoma State's weekend didn't feature games against teams like UCLA, the Cowgirls were equally effective against opponents as their in-state rivals. OSU outscored its opponents 49-8 on the weekend and won three of its five games by run rule. Kenny Gajewski's squad is showing early promise at the plate, and if they can keep that rolling, Oklahoma State will have no problem being a Super Regional host again in 2023. Kelly Maxwell continues to shine as the nation's best arm, and with her offense giving her plenty of run support, the Cowgirls are a formidable opponent that is capable of winning another Big 12 championship.
Last week, I had Baylor at No. 2 in the Power Rankings after their big-time win over Oklahoma. Now, after the Sooners seemed to have turned the corner, I have the Bears back at No. 3. However, this isn't an indictment of how good I think Baylor is. At this point in time, I think Baylor is more deserving of a Top-15 ranking than Texas is, yet Baylor is No. 19, while Texas sits at No. 11. I really like how balanced BU has been to this point and Dariana Orme has been one of the best pitchers in the country through the first three weeks of action. If Baylor can keep this up for the length of the season, they could be a real threat to make it to Oklahoma City.
After starting off their weekend with a loss against No. 12 Virginia Tech, the Longhorns finished strong in the Lone Star State Invitational. In Game 2 against the Hokies, Texas won 8-2 and looked dominant from the start after jumping out to a four-run lead in the first three innings. After that, Texas went on to outscore Abeline Christian and Texas Southern by a combined 30-0, with Texas Southern getting blasted 22-0 in a game that included a no-hitter from Citlaly Gutierrez. Texas is a bit harder to get a feel for than the top-three teams in this league right now, but there is still a massive gap between the top four teams in the Big 12 and the bottom three.
Last week, I said that Texas Tech needed to lose no more than two games this weekend for me to start taking them seriously in the Big 12 race. Well, they lost three games. In the Mary Nutter Classic, Texas Tech was capable of winning at least five of its six games, but dropped contests to UC Riverside, Utah, and Cal. While it was disappointing to see them drop half of their games this weekend, their worst loss was a 6-2 defeat at the hands of Utah and otherwise was very competitive. Texas Tech is improved, but not quite ready to challenge the next tier of teams in the Big 12.
Kansas continues to be an extremely difficult team to project going forward after another odd weekend of outcomes. The Jayhawks throttled UT Arlington, a team that had wins over No. 18 Kentucky and Texas Tech, by a score of 14-0 (6 inn.). However, the game that followed against Texas State didn't go their way, losing 2-1 to the Bobcats. KU's offense explodes at times, and when they do, they are dangerous. Unfortunately, that's not something we can count on every game, and is indicative of KU's hot-and-cold season thus far.
Simply put, Iowa State is in a tier of its own right now when it comes to the Big 12 softball pecking order. After getting swept by Arizona State, the Cyclones are under .500 and have a tough weekend at the Woo Pig Classic coming up this week. Without a major turnaround, the Cyclones could find themselves well under the .500 mark heading into a Big 12 slate against at least four teams that look like tournament contenders right now.