Baylor Bears
Big 12 Women's Basketball Tournament Seeding Scenarios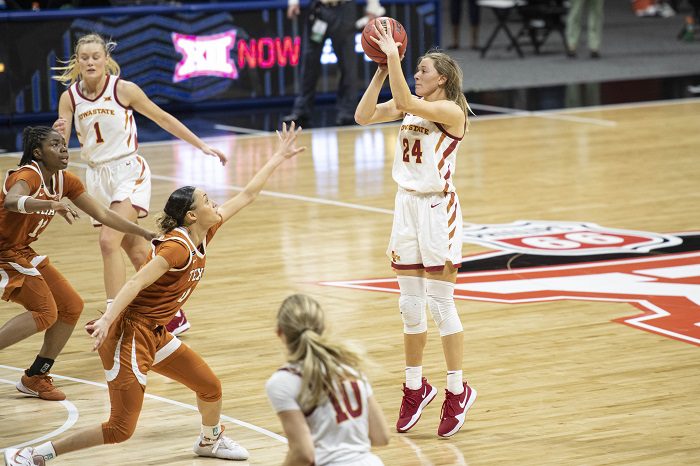 The Big 12 women's basketball tournament is a little more than a week away. With nine games remaining, here's how seeding and scenarios shape up.
Note: Scenarios were updated after Baylor defeated Texas and will be updated again after Wednesday's mid-week games. Tiebreaker rules are set forth by the Big 12.
No. 1-2 Seeds: Oklahoma and Texas
Baylor's victory over Texas on Monday threw the top two seeds into flux. Oklahoma and Texas are back in a first-place tie. Oklahoma still has two more games to play. So here are the relevant scenarios:
If Oklahoma (vs. KSU Wednesday, at OSU Saturday) wins on Wednesday, the Sooners will be no worse than the No. 2 seed;
If Oklahoma and Texas (at Kansas State Saturday) end up tied, Texas will be No. 1 and Oklahoma will be No. 2 because Texas swept Oklahoma;
If Oklahoma wins its final two games and Texas loses its final game, the Sooners will be the No. 1 seed and the Longhorns will be the No. 2 seed by virtue of conference record.
For a first-place tie, these tiebreakers are pretty simple.
No. 3-4 Seeds: Oklahoma State and Iowa State
There is much to be determined here. The Cowgirls (at West Virginia Wednesday, vs. Oklahoma Saturday) and the Cyclones (at Kansas Wednesday, vs. Texas Tech Saturday) split the season series. So, if the pair end up tied we won't know just yet who gets No. 3 and No. 4 because the next tiebreaker would be against the No. 1 team in the conference, and we don't know WHO that team is yet.
But, for the sake of argument, it may all come down to Oklahoma State's game with Oklahoma on Saturday. OSU and ISU split with Texas, and if the Longhorns end up being the No. 1 seed, the next tiebreaker would be Oklahoma, assuming the Sooners are No. 2.
If OU beats OSU, I believe ISU would be No. 3. If OSU beats OU, then we go deeper into tiebreakers. Let's save that for after Wednesday's games because neither team's mid-week games is easy.
No. 5 Seed: Baylor
Baylor's win on Monday put Baylor in fifth place and the Bears now control their own destiny. They host West Virginia on Saturday. If the Bears win, they will be no worse than No. 5.
There is a chance that Baylor could end up in a tie with either Oklahoma State or Iowa State, or both. But we'll go through those scenarios in-depth after Wednesday's mid-week games.
No. 6 Seed: West Virginia
If the Mountaineers win out (vs. Oklahoma State Wednesday), including that game against Baylor on Saturday, then West Virginia will be the No. 5 seed. If West Virginia splits its remaining two games, then it will likely be the No. 6 seed. Entering the mid-week games West Virginia has a one-game lead on Kansas, and the Mountaineers split with the Jayhawks. More in-depth tiebreaker information coming after Wednesday's games.
No. 7 Seed: Kansas
As long as Kansas (vs. Iowa State Wednesday, at TCU Saturday) wins one of its remaining two games, the Jayhawks can be no worse than the No. 7 seed. Kansas can move up to No. 6 if it wins out and West Virginia loses out. Kansas cannot get to the No. 5 seed. If Kansas and West Virginia win mid-week, the best Kansas can do is No. 6. As noted, the Jayhawks and Mountaineers split their head-to-head.
No. 8-9 Seeds: Texas Tech and Kansas State
The Lady Raiders (vs. TCU Wednesday, at Iowa State Saturday) and the Wildcats (at Oklahoma Wednesday, vs. Texas Saturday) are each 5-11 in league play. Neither can fall any further than No. 9. The only way either can move up a seed line is if either wins out and Kansas loses out. So if Kansas wins on Wednesday, these two teams are locked in.
No. 10 Seed: TCU
The Horned Frogs (at Texas Tech Wednesday, vs. Kansas Saturday) are locked into playing the No. 7 seed in Kansas City. It may be the final game of Raegen Pebley's career at TCU, as she announced on Monday that she will leave the program after the season. If the Horned Frogs lose, the coaching search begins.
You can find Matthew Postins on Twitter @PostinsPostcard