Big 12 News
Bill Self Raves About Texas Tech Ahead of Tuesday Match Up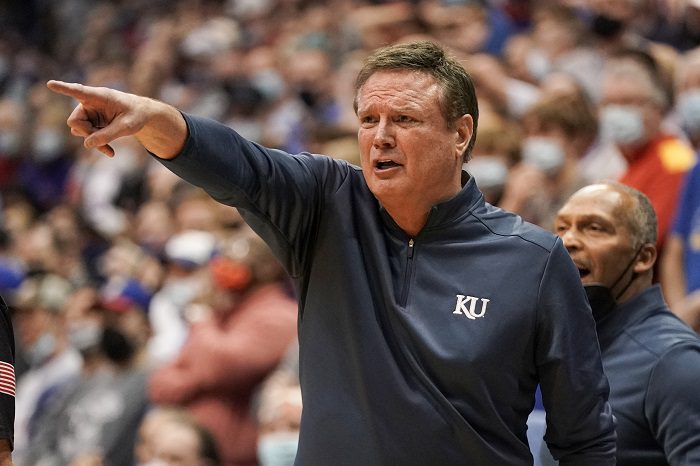 Nearly two months ago, the Kansas Jayhawks took down Texas Tech 75-72 in just their second game of the Big 12 conference schedule. Since then, the Jayhawks have improved to 24-5 (12-4 Big 12) and look like a lock as a No. 1 seed in the NCAA Tournament.
Meanwhile, Texas Tech has taken a much bumpier road to the final week of the regular season, with a 16-13 overall record, with a 5-11 record in the toughest conference in basketball.
In their last five games though, the Red Raiders have taken down No. 11 Kansas State and No. 9 Texas, picked up two tough road wins at West Virginia and Oklahoma, and taken No. 22 TCU to the wire, losing 83-82.
After a rough start to conference play, the Red Raiders are now trying to sneak in the back door for a March Madness bid, and Kansas head coach Bill Self attributes their recent success to big-time offensive improvement.
"They've definitely improved," Self said. "They've got the young man back, obviously, the big fella that was hurt and not playing. Of course, Batcho isn't playing now, unless he plays against us, which I don't know if that's going to be the case or not. If they do, they'll have two seven-footers that they can throw at us. Certainly, his skill level's very, very high.
"When you think of [De'Vion] Harmon and Pop [Isaacs] and [Kevin] Obanor and [Jaylon] Tyson, there's four guys that are all capable of getting 15-25 in a game. I think they're a lot better offensively than they were when we played them the first time."
Now, with the last week of the Big 12 regular season upon us, Bill Self's Jayhawks and Mark Adam's Red Raiders are playing some of their best basketball of the season.
Texas Tech will get a chance to add to its tournament resume on Tuesday night when they take on the Jayhawks in Allen Fieldhouse, with tip set for 8:00 p.m. CT.