Baylor Bears
Three Thoughts on Big 12 Women's Bracketology for Feb. 28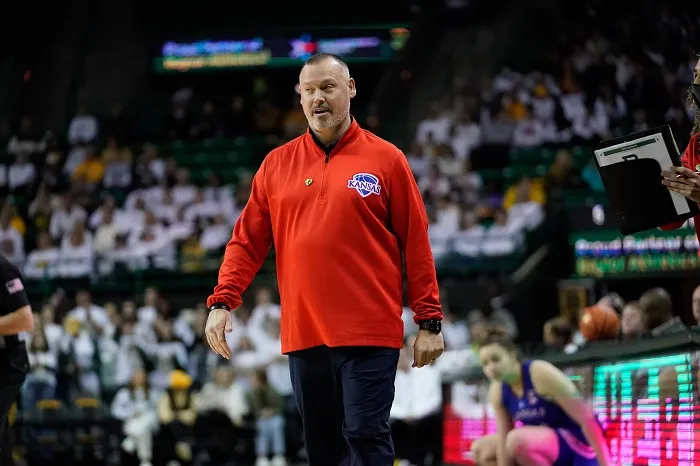 The Big 12 has six teams in ESPN's most recent Bracketology for the Women's NCAA Tournament in March.
The Big 12 had seven teams last week. So there have been some changes. Here are three thoughts on ESPN's latest Women's Bracketology from a Big 12 perspective.
West Virginia is No Longer in the Party
That double-overtime loss to Texas Tech really damaged West Virginia's chances of getting into the NCAA Tournament (also note the win didn't really help TTU at all). Last Tuesday the Mountaineers were the last team in the Tournament. Now they're the second team out behind Oregon.
So what does that mean as we look ahead? The Mountaineers have two games remaining, both of which are important to not just their NCAA Tournament hopes but to their Big 12 Tournament seeding.
West Virginia hosts Oklahoma State on Wednesday and then travels to Baylor on Saturday. A spit is necessary, at minimum, to have any chance of sneaking into the field of 68.
Catching up With Kansas (and Kansas State)
Kansas has fallen to seventh place in the Big 12 Standings with two games left. The Jayhawks aren't on the bubble … yet. But they're close.
This week Kansas is among the Last Four Byes. That's the final staging area before the bubble. Kansas has been an average team for the last month and it is now a No. 10 seed. Still, Kansas is at a point where it's more about not playing your way out of the NCAA Tournament.
Kansas has to face Iowa State at home and TCU on the road. The Horned Frogs will be dangerous simply because of the emotions of senior day and it being coach Raegan Pebley's last home game.
As for Kansas State, the Wildcats are back on the Next Four Out bubble. I'd love to sit here and tell you that I feel good about K-State building a case. But the Wildcats' last two games are against Oklahoma and Texas. I still think K-State is a solid bid for the WNIT and could do a lot of damage there.
Baylor Needs a Bit More Help
Baylor's win over Texas on Monday helped the Bears move up to the No. 8 seed line. But the work isn't done yet. Why? Baylor would face Miami (FL) in the first round and, if the Bears were to win, well the prize would be facing South Carolina.
That's not a prize, when you think about it.
Baylor has one game remaining against West Virginia on Saturday. The Mountaineers, as noted, have a great deal to play for. Baylor is in the field. But the Bears would much rather be a No. 7, or even a No. 6 seed, and that's going to take at least two more wins. But there is a path for Baylor now to get off that No. 8 seed line. That path wouldn't have existed if it had lost to Texas.
Big 12 Teams in Projected Women's Field
The Big 12 has seven teams in the field. The seeds include:
Texas, No. 4 seed (Seattle Region 4), vs. Illinois State, at Austin, Texas.
Oklahoma, No. 5 seed (Greenville Region 1), vs. UNLV, at Boulder, Colo.
Iowa State, No. 6 seed (Seattle Region 4), vs. Middle Tennessee, at Durham, N.C.
Baylor, No. 8 seed (Greenville Region 1), vs. Miami (FL), at Columbia, S.C.
Kansas, No. 10 seed (Greenville Region 1) vs. Ole Miss, at Iowa City, Iowa.
Oklahoma State, No. 8 seed (Greenville Region 2) vs. Georgia, Bloomington, Ind.
You can find Matthew Postins on Twitter @PostinsPostcard.