Texas Longhorns Sports
Alabama EDGE Will Anderson Singles Out Bijan Robinson as Toughest Player He Faced in College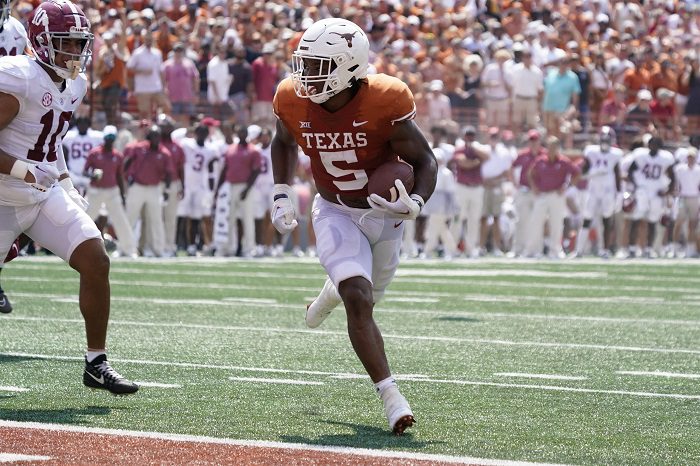 Former Alabama EDGE rusher Will Anderson played in the SEC, so he saw tons and tons of offensive talent on a weekly basis. But the toughest player Anderson squared off against in college is none other than former Texas running back Bijan Robinson, he said Wednesday at the NFL Combine.
"Bijan Robinson, the running back from Texas, he was a big back," Anderson said. "We had to gang tackle him. We had to get all hats to the ball. He was going to break a few tackles. We had to tackle him the right way. But he was probably the most toughest person I played in college."
The two faced each other last September in a high-profile, non-conference game in Austin that Alabama won narrowly, 20-19. In it, Anderson and the Crimson Tide held Robinson to less than three yards per carry on the ground, as he rushed for 57 yards on 21 totes.
But Robinson ripped off a 42-yard reception in the passing game and finished with three catches for 73 yards. He also recorded a touchdown early in the second quarter that capped off a quick six-play, 75-yard scoring drive. It notched things up at 10 apiece at the time.
Anderson, too, was his normal disruptive self in the matchup. He logged a couple tackles for loss and a sack, with five total stops, as well as a pass breakup.
Throughout his Texas career, Robinson racked up 3,410 yards and 33 touchdowns on 539 carries. He added another 805 yards and eight scores on 60 receptions out of the backfield.