Big 12 Basketball
Caleb Grill Releases Statement Following Dismissal, Cites Being in a 'Dark Place' This Season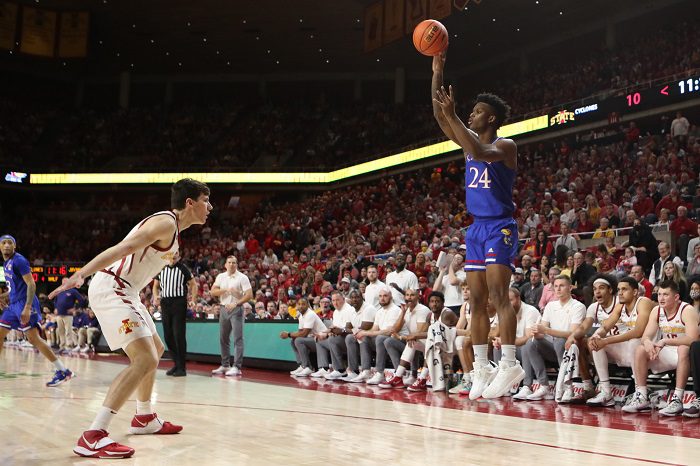 Iowa State guard Caleb Grill was shockingly dismissed from the team Wednesday after head coach T.J. Otzelberger said he failed to "meet the program's expectations." It didn't take Grill long to then release a statement in light of the events.
"I am very grateful to Iowa State University for the last 4 years of my life," Grill started in the lengthy statement. "I got the opportunity to live the dream ever since I was a kid, being able to play in Hilton Coliseum was a dream I've had since I was 13 years old. Every moment I've had at Iowa State has been the best blessing I have ever received in college. I cannot thank the support network from Iowa State and the fan base [enough] for truly being one of the best fan bases in the country."
While thanking former head coach Steve Prohm, current head coach T.J. Otzelberger and many others, Grill also mentioned that during his first college year elsewhere, he also envisioned coming to Ames.
"My year at UNLV, I watched every single Iowa State football game, every single Men's Basketball game, and many of the Women's basketball games as well," Grill said. "I love Iowa State to the extent that I felt I was a student at Iowa State."
Of course it took only one season for that to then become the case. Following those and some other previous remarks, Grill opened up on what's been a trying time, given some mental health issues he's been dealing with.
"Lastly, one day, when I am brave enough, I hope to be able to share my story about my mental health and my mental illness I have been battling through all season," Grill said. "While everyone was commenting about the hair, or the funny actions on the court, it was a way for me to get out of that state of mind and feel like be being myself instead of the dark place I have been in this season…Unfortunately, I said something that I regret, which has cost me the opportunity to finish out my dream at Iowa State. I hope that all the players and Iowa State fans can find it in their hearts to forgive me."
Earlier, here's what the school's press release said about Grill's dismissal from the program, as well as Otzelberger's comments on the matter.
"Senior guard Caleb Grill is no longer with the Iowa State men's basketball team, due to a failure to meet the program's expectations."
"We hold our players to high standards and there are expectations that our student-athletes are held accountable for," said Iowa State head coach T.J. Otzelberger.
Grill appeared in 25 games with 22 starts, this season. He averaged 9.5 points, 4.0 rebounds and 1.4 assists per game.
Iowa State is reeling after having lost each of its last four games, including a 72-69 setback to West Virginia this past Monday on Senior Night. It's now dropped six of its last seven overall.
And this news of Grill's dismissal is only the latest in a long list of bad events recently in Ames after Iowa State raced out to a 13-2 start to the 2022-23 season.
The Cyclones have one game remaining in their regular season, an 11:00 a.m CT contest at Baylor on Saturday morning. They're currently the No. 6 seed in the Big 12 and would also face Baylor in the opening round of the conference tournament if the season ended today.