Big 12 News
Niners GM John Lynch Updates Brock Purdy's Status, Surgery Timeline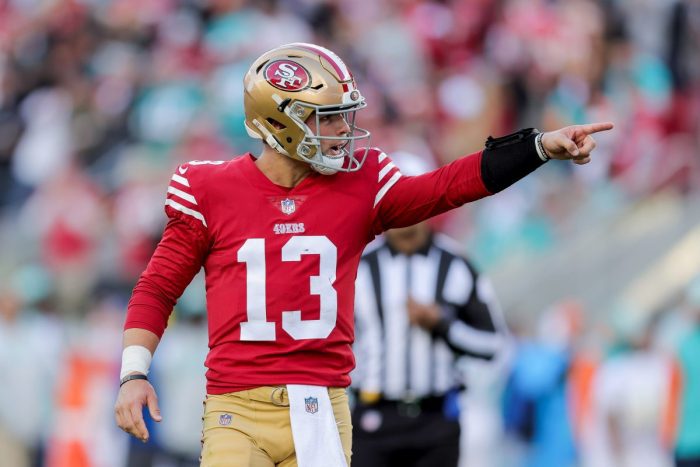 It sounds like a procedure is now about to happen for San Francisco 49ers quarterback Brock Purdy. After his elbow surgery was pushed back last week because of inflammation, Purdy is set to meet with his surgeon and appears ready to move forward, 49ers general manager John Lynch announced Tuesday.
"Dr. [Keith] Meister is the orthopedist for the Texas Rangers. He'll be traveling to spring training later this week," Lynch said. "And so they're gonna meet there, and hopefully everything's good and he's made the progress necessary."
Meister has obviously kept Lynch informed throughout the process. So, there's been great communication between all parties regarding the former Iowa State star and electing to go the surgery route.
"You know, just commenting on that, I really want to thank Dr. Meister," Lynch said. "He called me when he made that decision. That's a tough decision to make. But I really appreciate the courage and the conviction to make that decision. It's all about the best outcome. Is it ideal? No. For a variety of reasons, time being number one, you want every waking minute that you have.
"But ultimately, he's 22 years old. We want the best outcome. And that's what Dr. Meister made a really tough decision [with], and we're very appreciative. And he's done 1000s of these surgeries. And just when you have all the swelling out, when you have all the stiffness out is when he's had the best success with the outcomes.
"And so we're very thankful and we're hopeful that when they meet down in Arizona this week that they can move forward. And then it would be early next week as to when they would go in there and have the surgery."
After stepping up in a major way as a rookie, Purdy saw his season come to an abrupt end when he suffered the injury in the NFC Championship Game against Philadelphia. He actually came back in to finish the game when Josh Johnson also went down, but Purdy was unable to throw in that return.
Meister is known for his many ulnar collateral reconstructions, more commonly known as Tommy John surgery, on baseball pitchers. So he's quite adept in recovery of the likes Purdy needs. However, there's some hope and belief that Purdy's injury will only require a UCL repair rather than the full reconstruction of the ligament.