Basketball
Sooners Pull Through in Overtime Against Kansas State to Keep Big 12 Regular Season Title Hopes Alive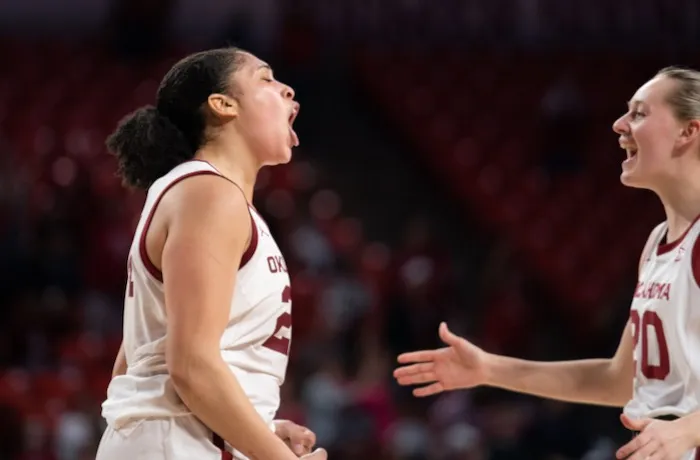 It looked like Oklahoma's Big 12 regular season title hopes were officially slipping away for the final time in the final seconds Wednesday evening against Kansas State. But some missed free throws and a well executed backdoor cut to forward Skylar Vann later, and the Sooners had new life.
They used that new life to emerge with a 90-86 overtime victory at Lloyd Noble Center. That victory now again has them tied with the Texas Longhorns atop the league standings with only one game to go.
Early on, it sure didn't look like the Sooners (23-5, 13-4 Big 12) would need an overtime to make this a one-day race. They led it 24-8 following a dominant opening frame for what appeared to be set up for a second straight runaway over the Wildcats (16-14, 5-12 Big 12) after their earlier season blowout.
It still looked to be the case at the halfway point. Oklahoma held a 45-29 advantage at that point.
But then came the third quarter, and then came the visiting Wildcats. They used a 28-13 period after intermission to close to within one, at 58-57, entering the fourth.
When guard Serena Sundell hit a 3-pointer early in the fourth, Kansas State had its first lead of the contest. It was tight from there, although Oklahoma built an eight-point lead with less than six minutes to play.
Kansas State then countered and led by four inside the final 30 seconds. Forward Madi Williams' layup, though, closed Oklahoma to within two, and missed free throws allowed the hosts to force an extra period, which it would prevail in.
Off the bench, Vann provided a tremendous boost with a team-leading 24 points. All the storied Sooner seniors finished in double figures as well. Williams had 19, and guards Taylor Robertson and Ana Llanusa added 15 and 10, respectively. Forward Liz Scott, too, joined them with 11.
For the Wildcats, Sundell exploded for a game-high 33. Guard Jaelyn Glenn, forward Oklahoma guard Gabby Gregory and forward Eliza Maupin joined her in double figures with 21, 16 and 14, respectively.
Kansas State outshot Oklahoma 43.5% to 42.3%, but Oklahoma had a huge edge in the rebounding department, with a 51-33 margin there. The Sooners dished out 19 assists to 13 for the Wildcats, but they committed 26 turnovers that turned into 35 points for the visitors.
Now Oklahoma closes out the regular season with a 2 p.m. CT Bedlam battle at Oklahoma State. Kansas State polishes off the regular season against Texas at 4 p.m. CT, and Oklahoma now obviously becomes huge Wildcat fans.