Basketball
Watch: Eight Players Ejected in Florida-Kentucky Women's Basketball Game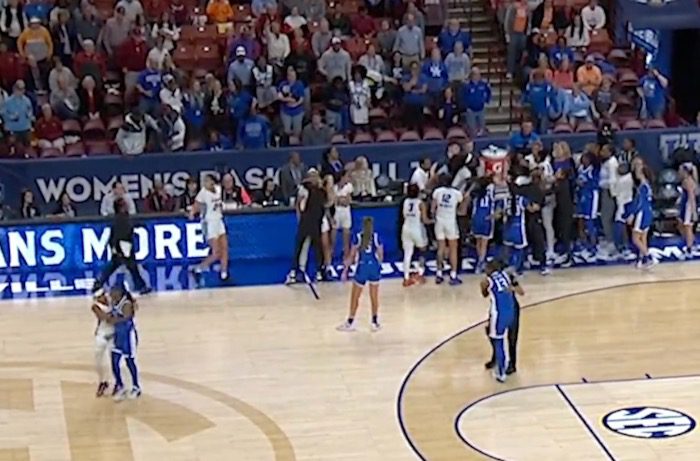 Bad blood spilled over in a major way during the opening round of the SEC Women's Basketball Tournament between Florida and Kentucky Wednesday afternoon. The two teams engaged in a fight that halted play for 22 minutes and resulted in eight ejections.
It started following a made basket by Kentucky, as forward Ajae Petty got caught up against Florida forward Tatyana Wyche. Wyche chucked the ball in her direction, and things escalated in a huge way from there.
Both sides ended up going to the other side of the court, where they mixed it up right in front of the Kentucky bench. At one point, even a player in street clothes got involved in the brouhaha.
Petty and Wyche were among the players ejected from the contest, as it reconvened with the Wildcats leading 22-14. Petty had hit a couple of shots for four points and blocked a trio of shots to go along with two rebounds before departing, while Wyche knocked down her only shot for two points and brought down a pair of boards prior to her exit.
Teams continued to engage in a close battle throughout the remainder of the first half, with Kentucky failing to score from that point on until intermission, when it led 22-21. However, it eventually pulled away in the second half for a fairly decisive 72-57 win.
That sends the Wildcats on to the second round, where it'll face No. 6 seed Alabama at 7 p.m. CT Thursday. Florida, meanwhile, likely sees its season come to a close after a 16-14 finish.