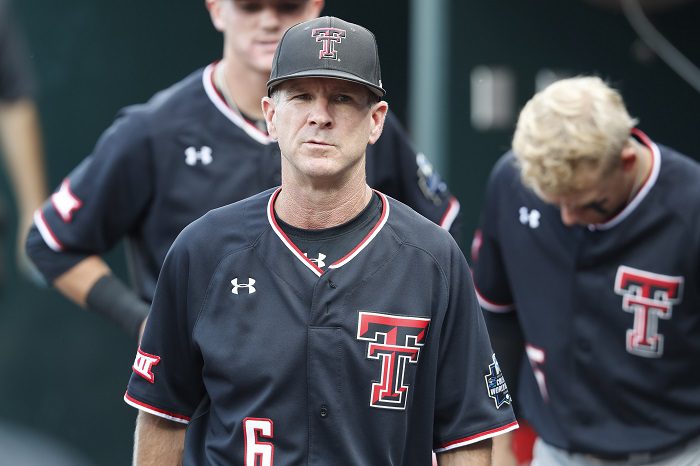 A couple of weekends of baseball are already in the books for the 2023 season, and the action continues to heat up as Big 12 Conference season play nears. A trio of teams are in the D1Baseball Top 25, and they're the expected suspects, with preseason league favorite TCU leading those at No. 10, Oklahoma State just behind at No. 12 and Texas Tech checking in at No. 24.
The former two have started off at 5-3. The latter, meanwhile has raced out to an 10-0 start, overmatching its competition.
With that said, there are some intriguing matchups for weekend No. 3. Here are three games that you absolutely cannot miss if you are a Big 12 baseball fan.
3. Texas (3-5) vs. Cal State Fullerton (2-4)
Date: Friday, March 3 | Time: 8:00 p.m. CT | Location: Fullerton, CA | TV: ESPN+
This is the all-name matchup of the weekend, and therefore warrants its inclusion. These teams have met in Omaha in the past, and it's been quite the show. While neither are off to a hot start and Fullerton isn't exactly your Fullerton of old, it's still intriguing because of what's on the front of those jerseys.
Lucas Gordon will get the ball against Tyler Stultz to start the three-game set. So far this season, Gordon has been really good, with a 0.84 ERA and 13 strikeouts to four walks. He lost his opener against Arkansas, but bounced back with a win last weekend against Indiana. Stultz grabbed the season opening win over Stanford while tossing five innings of one-run ball, with seven strikeouts to two hits and three walks.
2. No. 24 Texas Tech (10-0) vs. No. 15 Texas A&M (5-3)
Date: Sunday, March 5 | Time: 7:00 p.m. CT | Location: Houston, TX | TV: AT&T SportsNet SW & Astros.com
It's an old Big 12 and, before that, Southwest Conference rivalry. The Red Raiders and Aggies will conclude a fantastic weekend at the Shriners College Classic at Minute Maid Park. It's the first time in six years the former longtime rivals have faced off. In fact, it'll serve as only the second time Tim Tadlock has ever coached against the Aggies as a head skipper.
The Red Raiders enter as hot as anyone nationally, having swept Gonzaga and Western Illinois in four-game sets and Air Force in a midweek series. But this task is far tougher than any of those. That offense looks potent so far, though, with already six double-digit outputs, including three of 14 or more runs. Next up in the line of fire in that is Aggies flamethrower Chris Cortez, who has picked up a pair of wins to this point.
1. No. 10 TCU (5-3) vs. No. 14 Louisville (7-1)
Date: Saturday, March 4 | Time: 3:00 p.m. CT | Location: Houston, TX | TV: AT&T SportsNet SW & Astros.com
The Horned Frogs and Cardinals are set to do battle in the lone Top 15 matchup for the Big 12 this weekend. This marks the second showcase event so far in the Lone Star State for the Frogs, who went 2-1 previously at the other Big League ballpark in the state, Globe Life Field. Those two wins came over then-10th-ranked Vanderbilt and then-eighth-ranked Arkansas, and the loss to Missouri.
Now an offense that put up a combined 29 runs in those victories, but was held to three or fewer twice in a series loss last weekend to Florida State at home, will have to deal with Louisville day two hurler Riley Phillips, who is 1-1 so far. We'll see who TCU elects to counter with, whether it's Cam Brown or Luke Savage.
Regardless, these are two teams who could advance really far if things come together. It's a tremendous matchup in the afternoon on the second day of the Shiners College Classic.