featured
Bill Self is the Greatest Regular Season College Basketball Coach of All-Time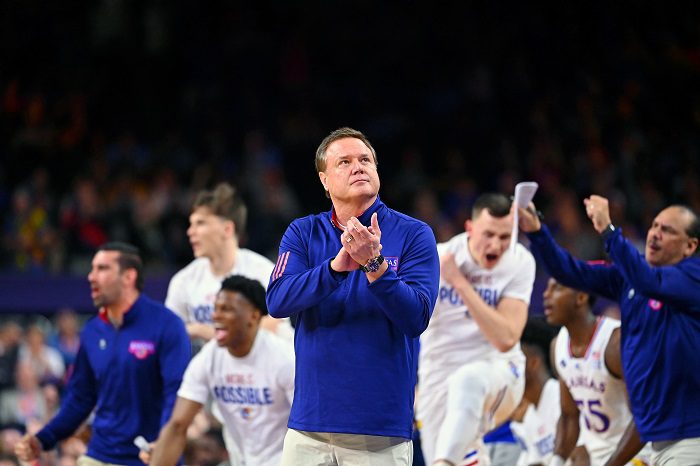 There's not much to be argued at this time: Kansas head coach Bill Self is the greatest regular season college basketball coach of all time. After a win on Senior Night at Phog Allen Fieldhouse in Lawrence, Kansas on Tuesday night, and a Texas loss at TCU on Wednesday night, it was another outright regular season Big 12 championship for Self and the Jayhawks.
Self, who was inducted into the Naismith Memorial Basketball Hall of Fame in 2017, has a winning record at each of his stops as a head coach (Oral Roberts, Tulsa, and Illinois) and has an unimaginable 557-129 record since taking over at Kansas. His overall record as a head coach, 784-234, is good for fourth all-time among active coaches and he is the youngest among those near the top of the list at 60 years old. He is 14th on the all-time wins list and will move up to 13th with three more wins this season.
Self still has a ways to go to catch the all-time wins leader, Mike Krzyzewski, who finished his career last season atop the list with 1,202 career wins. Self would need to coach 14 more seasons and continue averaging 29 wins per season which is the number he has averaged over his first 20 years at Kansas. Self won't catch two of the three coaches who currently sit ahead of him on the list as long as they are active. Syracuse head coach Jim Boeheim is nearing retirement but has over 1,000 career wins to his name. Fellow Big 12 coach, West Virginia's Bob Huggins, has 932 wins to his name heading into the final week of the regular season. Self is getting closer and closer to passing Kentucky's John Calipari each passing week. Calapari is only ahead of Self in total wins by a handful of games.
Self has done something that no other college basketball coach in the history of this great game has done: He has won 17 regular season Big 12 titles out of the 20 years he's been coaching in the league. Even the great John Wooden only won 15 conference championships in 27 seasons at UCLA. Krzyzewski only won 13 ACC regular season titles between 1980-2022. Boeheim only won 10 Big East titles between 1976-2013 and he has not won an ACC regular season title over the past decade since the Orange left the Big East for the ACC. Calipari won five regular season titles with UMass, five with Memphis, and five with Kentucky. Self won four regular season titles in the WAC and Big 10 before arriving at Kansas, which makes him the only D1 coach to have won over 20 conference regular season titles in his career and he's not close to finishing his coaching career yet.
Self's regular season success is unmatched. From 2005-2018, Self won 13 consecutive Big 12 conference titles. The Big 12 conference has never been a scrub conference, either. Self has continually out-recruited and out-coached the Big 12 and his dominance has been proven time and time again.
Consider this year's Big 12 conference, which is widely considered the best conference in college basketball this season. Self had to re-tool a roster that was completely mixed and matched coming off a National Championship season which saw Kansas lose three starters and a few other regular contributors to their team due to graduation or leaving for the NBA. What did Self do? He adjusted, dipped into the transfer portal, snagged a game-changing freshman, and coached some of the younger talents up to a standard that has been set for the years leading up to the 2022 season.
The consistency with which Self has continued winning is truly an incredible thing to watch. Most pundits thought Kansas would take a bit of a step back this year, and understandably so coming off a National Championship run where they lost major contributors. Maybe Baylor would win the Big 12, maybe Texas would take over the top spot in the league. Betting against Kansas to win the Big 12 is never advised, but it seemed like more folks than usual were picking against them this year.
Self proved some of the doubters wrong, but nobody is really surprised by the result. Winning consistently, and winning the Big 12 consistently, has made the media numb to what Self has been able to do at Kansas. Don't lose sight of how impressive Self has been in his first 20 years at the University of Kansas as their head basketball coach. Self is only 60 years old and has many good years of coaching ahead of him. The sky is still the limit for Self and that should be terrifying for the rest of the Big 12. The best regular-season college basketball coach of all-time isn't going anywhere.