Kansas State Wildcats
K-State's Felix Anudike-Uzomah on Oklahoma's Anton Harrison: 'He's the Best Tackle in the Class'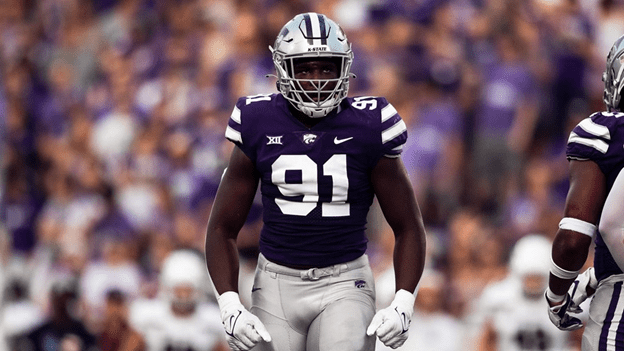 Former star Kansas State defensive lineman Felix Anudike-Uzomah battled it out against some great offensive tackles throughout his collegiate career. None were better than Oklahoma's Anton Harrison, he said this week at the NFL Combine.
And that includes a matchup against Alabama's Tyler Steen in the AllState Sugar Bowl.
"It was pretty good, it was not the best tackle I went against my whole season," Anudike-Uzomah said of that one-on-one. "I feel like Anton Harrison was the best one I went against my whole season…He just has quick feet. He has aggressive hands. And honestly, like I feel like he's probably the best tackle here in this draft class, in my opinion."
Anudike-Uzomah and Harrison duked it out multiple times throughout their collegiate careers, of course. One of those was in a 41-34 Wildcats victory in Norman this past fall.
And one can see Anudike-Uzomah's point when looking at the following play. Harrison easily gets the better of his praising counterpart here.
And that's why some NFL Draft projections are now mocking him in the first round. In fact, ESPN's Mel Kiper has Harrison as high as No. 13 to the New York Jets.
Harrison, who opted out of the Cheez-It Bowl, started every other game in 2022 and 24 over the past two seasons at tackle for Oklahoma. All but one of those starts came on the left side of the line, as he played in 34 games over the course of his three-year career. This fall, he earned All-Big 12 First Team honors, and he permitted only one sack on 173 pass-blocking plays in his initial season back in 2020.