Big 12 Previews
Patty Gasso, as Oklahoma Opens Home Slate: 'It's Nice to Put Away Our Suitcase, Get Our Home Crowd'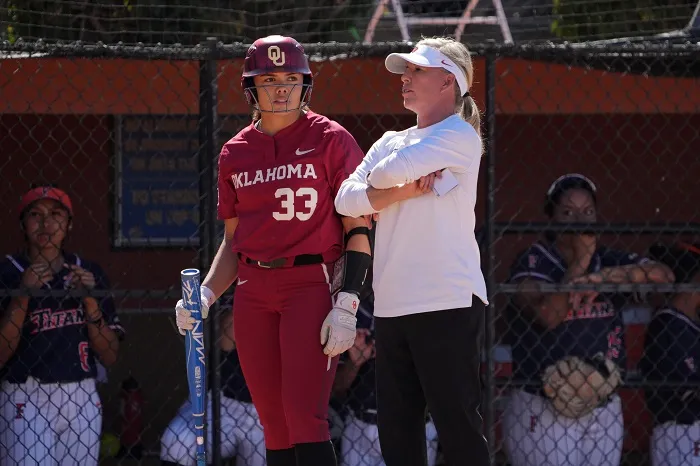 For the first time in 2023, the back-to-back national champions will play on their home field. They're finally back at Marita Hynes to take on UIC for a couple of games, sandwiched around a pair of contests against No. 16 Kentucky.
That's after the Sooners spent a wild three weeks on the road. That included a very surprising upset loss to now-No. 19 Baylor, as well as a 14-0 run-rule in a Top 2 matchup against UCLA, after they dropped out of the top spot.
"Excited is the word, as we've been on the road for three weeks and it's keep your suitcase out, which is awful," Gasso said. "I tell these guys go home and put your suitcase away, don't look at it. But I know they don't. I think they just leave everything sitting until they throw it in the washer and put it back in. So, it's nice to put away our suitcase, get our home crowd.
"Our home crowd follows us. So, when we walk in wherever we go, even at Baylor, you felt a big contingency of Sooner fans. So, it wasn't like we were on the ropes in a hostile environment anywhere that we've been thus far. But just to sleep in your bed, have familiar faces here and just your home crowd, your music is important, hitting out on our field instead of hitting in pop up cages, things like that. It's just everything about it is always exciting. The families all come in.
"So, I know they're looking, we're all looking forward to it."
For pitcher Alex Storako, it'll be the first time she steps on Marita Hynes Field in an official game. She did, though, do so during fall ball.
"I'm pumped," said Storako, who carries an unblemished 4-0 record and nearly unblemished 0.34 ERA into the initial home weekend. "I'm really excited to see the fans and the line that everyone talks about before a game and just really excited to see what Sooner Nation really brings to the table at Marita Hynes. So, really, really pumped about it."
Catcher Kinzie Hansen has stepped onto Marita Hynes Field plenty of times in the past. But she just returned after missing the first couple weeks of the season, promptly blasting a pair of homers in that rout over the Bruins, and is ready to continue that momentum.
"This 2023 Sooners softball team is something special," Hansen said. "And I know that we say that every year, but every year it's different. And, you know, being out those first two weeks, it was tough. I will admit, especially last year after having my injury and then being out these first two weeks, it was tough. But I learned from it. And I was just so happy to be with the team. They're all so good, and I had so much fun. It wasn't really about the outcomes for me. I just wanted to go and play hard and be with them, and it was just a joy to be back."
First pitch for the opener against UIC is set for 3 p.m. CT Friday, with game two against Kentucky at approximately 5:30 p.m. CT. Oklahoma will turn around and face Kentucky at 3 p.m. CT Saturday, with the weekend finale vs. UIC at 5:30 p.m. CT.