Big 12 Basketball
T.J. Otzelberger on Caleb Grill Situation: 'I'll Always Have His Back'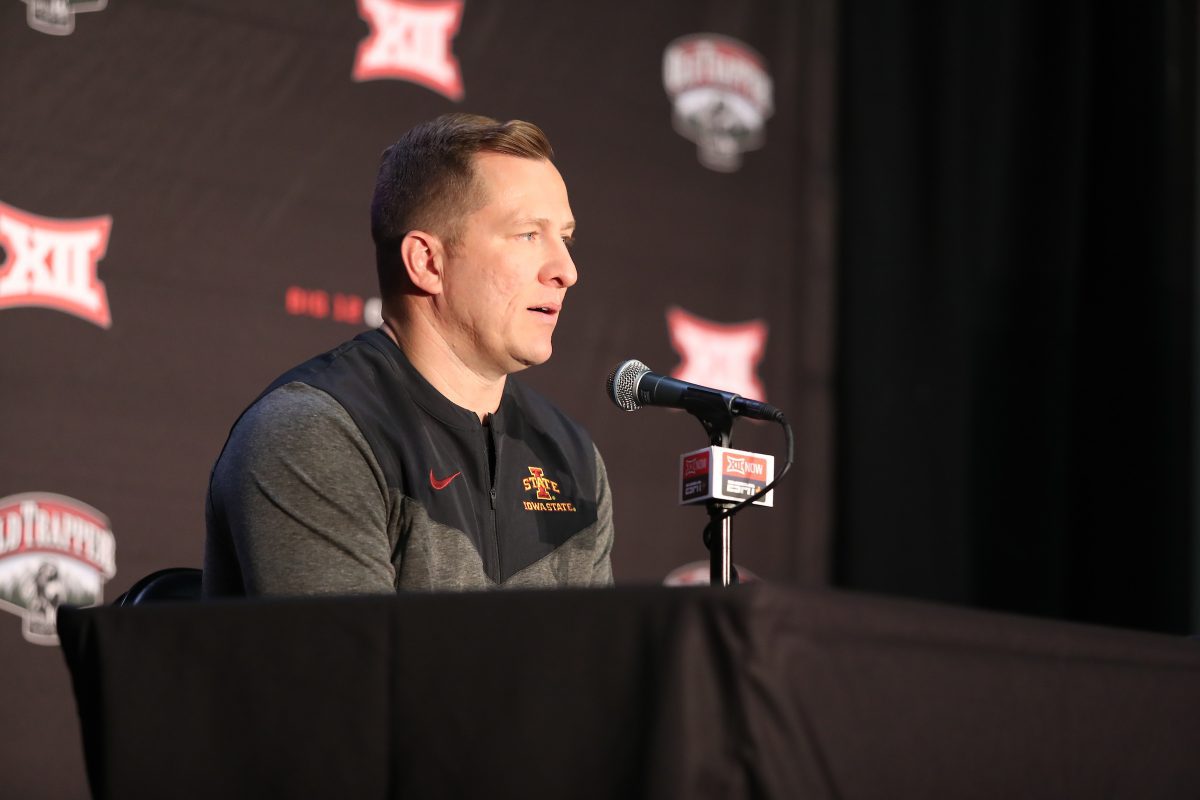 Stunning news broke Wednesday afternoon that the Iowa State Cyclones had dismissed guard Caleb Grill from the program. Head coach Otzelberger released just a brief statement on the decision, after which Grill released a lengthy one of his own.
Now Otzelberger has met with the media and provided a much longer statement on the matter. He did so Thursday morning.
"So, Caleb and I have known each other I think for probably somewhere around six years," Otzelberger started, when asked by a group of reporters. "We've had a relationship. And you develop a bond. You care for somebody. You want them to be successful. I've had a belief in him for a long time, enough of a belief in him to want him here with us at Iowa State. And you want them to be successful. You want him to be successful. I'd say even as things move forward, I'm a fan of Caleb Grill and I want Caleb Grill to do well, and I'll continue to have his back moving forward, however he wants to do that.
"And at the same time, you know, it's really important as the leader of this program that the decisions that we make every single day, always, are in the best interest of our program, as much as I want a certain individual like Caleb to be successful. And with our team, we've got a lot in front of us still this year. And our guys have a tremendous focus. We had a great practice this morning, and we have a great opportunity come this Saturday.
"So, I'm always going to be there for Caleb. I'm always going to support him and continue to support him, based on a relationship that goes back many years. But we're gonna turn our focus to do what we need to do to be successful and win our game Saturday and continue to improve with our team this season moving forward."
Otzelberger then addressed the mental health aspect of things. Grill mentioned in his statement that that had an affect on the situation.
"So, what I can say is, you know, regarding mental health, it's important to me that all the young men in our program understand that mental health is a priority for us and their well being," Otzelberger said. "And mental ability to be at their best and feel good is something that we treat very seriously and we care about. And it's important that our guys know all the resources that are available to them, and we encourage them to utilize those resources. And those resources will continue to be available for everybody that's a student of Iowa State University. We'll make those available, and they'll continue to be available for Caleb as well, if he chooses to utilize them.
"So, we put mental health really high value on making sure our guys' health and wellness and that they're feeling great is a priority, and we'll continue to encourage and do that for everybody that's a student athlete in our program to make sure those resources, they know they're there and they can utilize them."
Grill participated in 25 games this season, starting 22 of those. He averaged 9.5 points, 4.0 rebounds and 1.4 assists per contest, so his loss is impactful.
Iowa State is reeling after having lost each of its last four games, including a 72-69 setback to West Virginia this past Monday on Senior Night. It's now dropped six of its last seven overall.
And this news of Grill's dismissal is only the latest in a long list of bad events recently in Ames after Iowa State raced out to a 13-2 start to the 2022-23 season.
The Cyclones have one game remaining in their regular season, an 11:00 a.m CT contest at Baylor on Saturday morning. They're currently the No. 6 seed in the Big 12 and would also face Baylor in the opening round of the conference tournament if the season ended today.