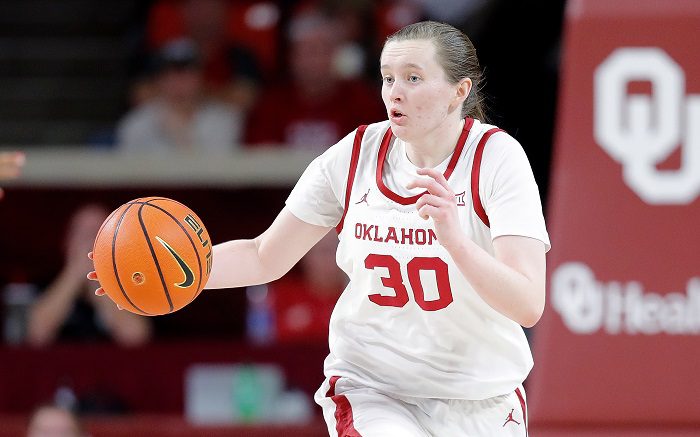 There were four Big 12 women's basketball matchups across the conference on Wednesday. Here are three thoughts on those games.
Wild Night in Norman
Oklahoma (23-5, 13-4) beat Kansas State (16-14, 5-12), 90-86, in overtime. That doesn't do the game justice.
It was senior night for Oklahoma. Time to honor and celebrate three of the program's best players — Taylor Robertson, Madi Williams and Ana Llanusa. And the Sooners did. For a half, it looked like a glorious evening from OU's perspective. The Sooners were up 45-29 at halftime and were up at one point by 22 points.
Well, Kansas State turned it ON in the second half. The Wildcats outscored the Sooners in the third quarter, 28-13, to cut the lead to single digits. The Sooners wilted under the Wildcats' defensive pressure, committing 24 turnovers in regulation. Kansas State got the lead in the fourth quarter, fell behind again by a half-dozen points and then rallied back thanks to 33 points off turnovers.
But Kansas State went 1-for-4 at the foul line in the final seven seconds and left the door open a crack for OU's Skylar Vann, who hit a lay-up with 1.4 seconds left to force overtime at 78-all.
In OT, Llanusa's lay-up 24 seconds left gave OU an 87-84 lead. Kansas State's Gabby Gregory missed a 3-pointer. Oklahoma got the ball back, Williams drew a foul and made one free throw to make it a four-point game. A Serena Sundell layup with 1.7 seconds left cut the lead to two. Kansas State fouled Skylar Vann and she made both free throws to put an end to the most compelling game of the night.
Some unreal numbers in this game. Vann, who will return next season, had a career-high 23 points. Williams had 19, Robertson had 15 and Llanusa had 10. Forward Liz Scott added 11 points and nine rebounds.
Sundell had a career-high 33 points. The only thing that could have made it better was her free-throw shooting (9-of-16). Jaelyn Glenn had 21 points, Gabby Gregory had 16 points (with none in the first half) and Eliza Maupin added 14 points.
Oklahoma remains in a first-place tie in the Big 12 with Texas with one game to play.
Kansas State's chances of making the NCAA Tournament as an at-large team are done. But I hope the WNIT takes this team. The Wildcats could do some real damage there and get prepped for what could be an incredible 2023-24 with the return of center Ayoka Lee.
Mountaineers Mount a Run
West Virginia is on the NCAA Tournament bubble, if you believe ESPN. Oklahoma State is not. The two teams met in Morgantown and the Mountaineers won, 71-67.
So, big win for West Virginia (18-10, 9-8). The Mountaineers will go to Baylor for Saturday's finale and can't finish worse than .500 in league play. Beating Oklahoma State should be something that gives the committee something to think about.
Madisen Smith had 22 points and JJ Quinerly had 15 for West Virginia. Isis Beh added 10 points.
Oklahoma State (20-9, 10-7) is still going dancing but, short of a big run in Kansas City, I think the Cowgirls can kiss getting off the No. 8 or No. 9 seed line goodbye. Lexy Keys had 13 points, Lior Garzon and Taylen Collins each had 11 points and Terryn Milton had 10 points. But the engine that makes it all go, guard Naomie Alnatas, had just five points in 24 minutes and fouled out.
Elsewhere
Kansas had Iowa State at home and the Jayhawks outlasted past the Cyclones, 98-93. Kansas (18-10, 8-9) had a 17-point lead early in the fourth quarter and nearly lost it. But, with the win, the Jayhawks probably solidified their NCAA Tournament resume after dropping to Last Four Byes in the most recent ESPN Bracketology.
Zakiyah Franklin set another career high in scoring with 31 points. Wyvette Mayberry added 22 points and Taiyanna Jackson had 15 points and eight rebounds.
Iowa State (18-9, 10-7) just isn't able to play with the consistency it was able to a season ago. ISU may lose its national ranking next week and any hope of a home sub-regional in the NCAA Tournament is likely done.
Ashley Joens had an incredible evening, scoring 33 points and grabbing 14 rebounds before she fouled out. Denae Fritz had the best game of her season, scoring 26 points in a losing effort. Lexi Donarski added 14 points. Emily Ryan had just two points, but 10 assists.
Texas Tech (18-12, 6-11) handled TCU (7-21, 1-16), 66-49, in Lubbock. The Lady Raiders are doing everything they can to put together a case for the NCAA Tournament. They entered Wednesday not even on ESPN's bubble of teams out of the tournament. A win over the league's last-place team is unlikely to help.
Tech's Bre'Amber Scott had 18 points, while Jazmaine Lewis and Bailey Maupin had 10 points each.
TCU's coach, Raegan Pebley, will step aside when the season ends, likely in Kansas City at the Big 12 Tournament, unless the Horned Frogs have something up their sleeves. Lucy Ibeh had 14 points to lead TCU.
You can find Matthew Postins on Twitter @PostinsPostcard