Kansas Jayhawks
Top 30 Small Forward Marcus Adams Names Kansas Among Final Three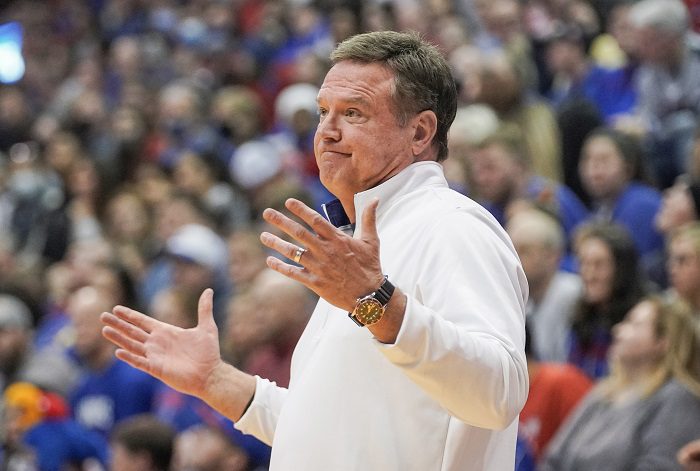 Bill Self and the Kansas Jayhawks are one of the finalists for Top 30 small forward Marcus Adams' services. The Harbor City (Calif.) Narbonne standout named them among the three he'll choose from next week, which also includes the local UCLA Bruins and Syracuse Orange.
Adams is set to make his decision on March 7. That's after he visited Kansas this past weekend and is set to do so at UCLA on Saturday.
The 6-foot-8, 200-pound phenom had the following to say about each of his suitors, via 247Sports:
On the Jayhawks: "Kansas is a finalist because of Coach Self, Coach [Kurtis] Townsend and the rest of the staff. They are really great coaches. I also really liked Allen Fieldhouse when I went on my visit because of how different it is. The players were friendly and the student section was great as well."
On the Bruins: "It's close to home which is good for my family. The campus is pretty cool, the team, and the coaches. UCLA has great history and overall a great program with good academics."
On the Orange: "Coach [Jim] Boeheim, Coach [Allen] Griffin and the staff are great. Syracuse doesn't have the best record right now but they still have a good team with great guys, and a legendary coach."
Adams is the nation's No. 157 overall prospect, No. 38 small forward and No. 13 player in the Golden State, with a three-star and 0.9222 rating, according to the industry-generated 247Sports Composite. But, as mentioned, he's the country's No. 29 overall prospect, No. 11 small forward and No. 4 player in the Golden State, with a four-star and 96 rating, per 247Sports.