Big 12 News
Gary Patterson Stepping Away from Role With Texas Football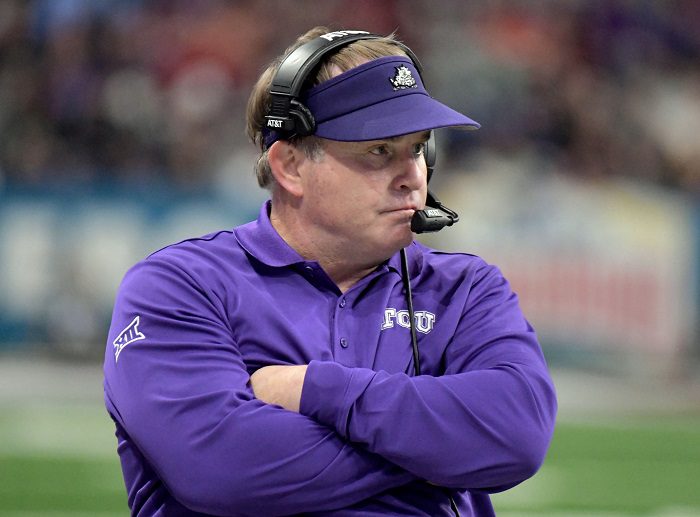 After spending a year as the "Special Assistant to the Head Coach" in Austin, longtime TCU head coach Gary Patterson is stepping away from the Longhorns program, as reported by Horns247 on Thursday.
Patterson says that he "learned as much as he contributed" in his parting message to the program and says that he hopes to help college football on a bigger scale in the future.
"I'm so appreciative of Steve Sarkisian, the players and fans for my time at Texas this past year," Patterson told Horns247 on Thursday. "I loved my time in Austin. I jumped into that role right after leaving TCU, and I put off a lot of stuff foundation-wise, because I wanted to be a sponge. I wanted to see how the coaches on staff there (at Texas), who have been at places like Alabama and Washington, recruit; how they handle practice; and how they handle things like NIL (name, image and likeness).
"I learned so much and have so much respect for guys like Pete Kwiatkowski and Jeff Choate and Bo Davis, and really, really enjoyed the players. Who knows? Maybe I'll get to August and I'll want to come back — if Sark would have me. But right now, I feel like I need to take some time for my wife, kids and grandkids while also looking to see if I can help college football on a larger scale."
After mutually agreeing to part ways with TCU after 21 seasons in 2021, Patterson almost immediately took the job with Texas. Now he says he will take some time with his family and relax.
"I didn't take any real time for family after leaving TCU and going to Austin," Patterson said. "I need to take my wife, Kelsey, on a nice vacation and spend some time with my kids and grandkids."
R.C. Slocum, former Texas A&M head coach and a friend of Patterson's, recently told Patterson to compare his remaining life to a roll of 100 pennies after Slocum successfully battled a form of cancer known as Hodgkin's lymphoma.
"I turned 63 two weeks ago," Patterson said. "And R.C. said, 'If we're lucky, we get 80 good years.' So he broke open a roll of 100 pennies and then took away the pennies until there were 17 left. Then he looked at me and said, 'We gotta make sure we're spending our pennies wisely.' So, the way I look at it, I just spent my 18th penny in Austin, and hopefully I have 17 left."