Big 12 Basketball
Oklahoma State in 'Next Four Out,' Texas Tech Falls off Bubble in Latest Bracketology from Joe Lunardi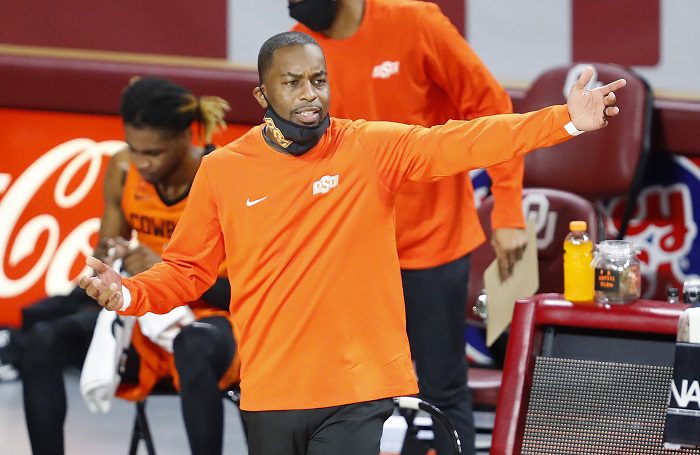 Joe Lunardi has released his latest set of Bracketology Friday, and matters continue to get worse for Oklahoma State and Texas Tech, as they prepare to play in the regular season finale this weekend in Lubbock. The ESPN expert known as 'Joey Brackets' now has the Cowboys out of the field as one of the 'next four out' teams, while the Red Raiders are completely removed from the bubble.
That's after they both suffered losses earlier in the week. The Cowboys' to Baylor at home served as their fifth straight. The Red Raiders' four-point setback at Kansas was only their second straight after a four-game winning streak, but their major struggles earlier in the season already had them in a perilous position.
West Virginia, also still on the bubble, remains at No. 41 and is hanging on to one of the last four byes. Unless disaster strikes, the Mountaineers appear to be in good shape after their 72-69 victory in Ames and season sweep of Iowa State at the beginning of the week.
Speaking of Iowa State, which just suffered the unfortunate news of guard Caleb Grill's dismissal, it's still among the list of teams that are clearly safe to be a part of the NCAA Tournament field. The others include Baylor, Kansas, Kansas State, TCU and Texas.
Earlier this week, Kansas also assumed the No. 1 seed in the Midwest Region, and it stays there. That's significant because the Midwest is located in Kansas City, just 30 minutes or so from the Jayhawks' campus in Lawrence.
Lunardi has previously had Kansas pegged as the No. 1 seed in the West Region, which is hosted in Las Vegas. Houston was set to be the top-seeded team in Kansas City. But the two have now flipped, as Kansas has jumped to No. 2 overall and Houston fallen to No. 3 in Lunardi's rankings. Alabama is the top overall seed at this point.