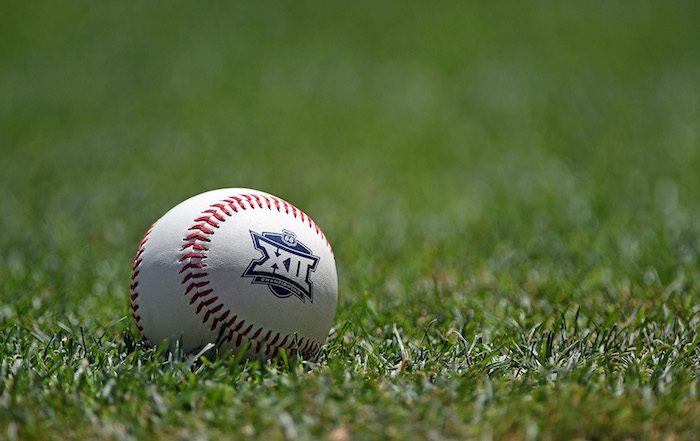 Is there anything better than cold beer and baseball? It's a combination that is hard to beat during the season. No matter what kind of beer you drink (or how many), let's take a look at some of the best action on the Big 12 baseball diamond from Friday with a nice six pack.
Best Game
Texas at Cal State Fullerton
Although the Longhorns didn't come out on top, this game had my attention on Friday night. The Titans got things started in the second inning as they took a 1-0 lead but then Texas woke up. The Longhorns scored all of their five runs in the fourth inning as they had a commanding 5-1 lead. However, that lead would end up dwindling away as the game went on. Cal State Fullerton would tie the game at five later in the fourth inning before taking the lead and the victory on a wild pitch in the eighth inning. It was a tough loss for Texas, but it was one heck of a game to watch.
That's the ballgame.

Horns drop game one, 6-5. #HookEm

— Texas Baseball (@TexasBaseball) March 4, 2023
Biggest Win
#12 Oklahoma State over Austin Peay
This certainly wasn't a matchup I had circled on my calendar but the Cowboys sure put a hurting on Austin Peay on Friday. The Cowboys wasted no time in this game to get on the board as they scored six runs in the first inning. Marcus Brown capped off the first inning with a big two run shot and then his teammates poured it on in the next inning. Oklahoma State went on to score all 19 of their runs in the first four innings before run ruling Austin Peay in the seventh inning. I know this wasn't the best matchup on paper but it was still huge for Oklahoma State to win with such ease in this one.
Worst Loss
#24 Texas Tech vs Rice
The Red Raiders came into the weekend with a perfect record of 10-0. They have taken care of business over the first two weeks of baseball but ended up falling short on Friday afternoon. They took on Rice down in Houston for the Shriners Children's College Classic and couldn't get the job done. The offense struggled throughout the game as they managed to score just two runs and struck out 12 times. That is very unlike Texas tech and their lack of offense costed them in the opening game.
Friday MVP
Oklahoma State INF David Mendham
There was plenty to like about Oklahoma State's performance on Friday but the star of the show was David Mendham. He went 4-4 at the plate and drove in three runs in the process. He got the game started with a double and then added a few more RBIs later on. David deserved the Friday MVP award after his performance against Austin Peay.
Pitcher of the Day
TCU RHP Ryan Vanderhei
Out of all the great performances on Friday, I thought TCU's Vanderhei was money against Michigan. He pitched six full innings and gave up just three hits while not allowing a single run to come across. Ryan was also able to strike out eight batters in the process which is pretty incredible as well.
Best Home Run
Oklahoma INF Jackson Nicklaus
Jackson certainly caught my eye for the MVP, but he ended up here instead. Nicklaus hit two home runs against Cal which included this home run that gave the Sooners some life in this game.
Full Scoreboard
Rice: 3, #24 Texas Tech: 2
#12 Oklahoma State: 19, Austin Peay: 2
#10 TCU: 6, Michigan: 0
Oklahoma: 9, Cal: 5
Kansas State: 4, Army: 1
Belmont: 7, Kansas: 5
Youngstown State: 7, Baylor: 5
Cal State Fullerton: 6, Texas: 5