Big 12 News
Bill Self Believes the Big 12 is Better This Season Than Last Season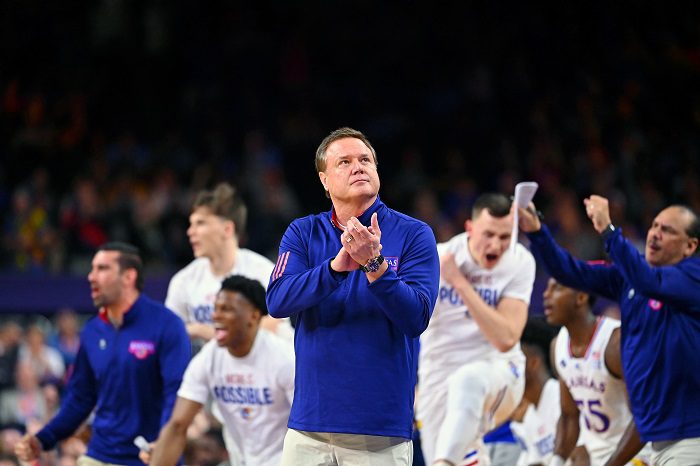 The Big 12 Conference champion Kansas Jayhawks found a way to end their season right where they started the previous season, atop of college basketball's best conference.
While it may seem routine at times in the eyes of fans, the level of competition in the Big 12 Conference is the best it's ever been, leaving head coach Bill Self to speak up and commend the rest of the league.
"I'll be honest with you, I always envision us having good years, so I've never not envisioned us having a good year," Self told On3 Sports.
In the aftermath of Kansas' win over the Texas Tech Red Raiders, Self spoke about the toughness surrounding his team, saying, "I think this year's league is better. It's probably not surprising after we got into the year. But if you told me before the year that this team would do what they've done this year and accomplished what they've accomplished so far this year, I would have said that would probably have been a little bit of reach. We're 6-4, we've got to go run off seven in a row to put us in position to win to get at least a share of it. That didn't seem very likely at that time. But the kids are tough. They find a way to win, even when we're not very good. And then that was certainly what happened tonight."
The Jayhawks' path to winning wasn't all sunshine and rainbows, however. The team needed to dig deep and find some grit if they were going to compete for the title. Following three straight losses at K-State, 83-82, TCU, 83-60, and Baylor, 75-69, the team battled back and found enough energy to go on a run.
The Jayhawks got their revenge against K-State, TCU, and Baylor and looked drastically different than they had in the previous weeks. After another spectacular season, the reigning national champion head coach Self has cemented himself as the face of college basketball coaching.